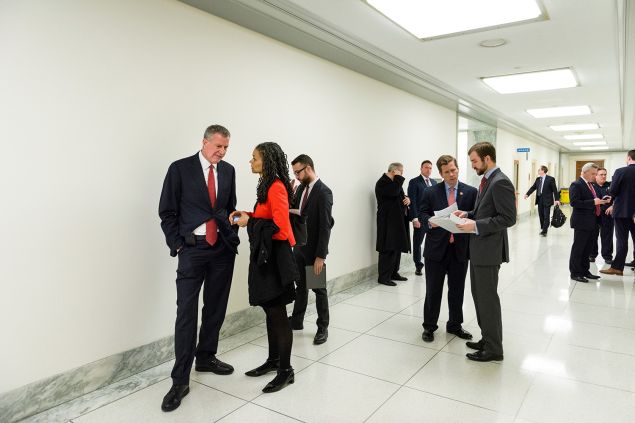 Mayor Bill de Blasio claimed again tonight that he did not break any laws when he had a private consultant who represents various real estate interests participate in discussions about his rezoning proposals—but said he will disclose his interactions with outside advisers in the future anyway.
On Thanksgiving Eve, the de Blasio administration dumped thousands of emails in partial compliance with NY1 and the New York Post's Freedom of Information Act request. The correspondence revealed that Jonathan Rosen—co-founder of the political consulting and lobbying firm BerlinRosen—had participated in meetings about the mayor's Mandatory Inclusionary Housing program, an initiative that overhauled the city's building regulations.
"I have said and I really feel this strongly: we've handled things appropriately. It was on advice of counsel from the very beginning, my counsel in the mayor's office but at the same time, it's obviously become a distraction," de Blasio said during his weekly "Mondays with the Mayor" segment with Errol Louis on NY1. "So going forward, the policy I'll set in place is that for any of these individuals—you know the five of them—who offer advice on a government-related matter, that will be disclosable going forward in the event of a FOIA request."
The tabloid and news station took the mayor's office to court to force it to turn over communications with five outside advisers, including Rosen. The administration, for its part, has insisted that such exchanges are not subject to disclosure—with former Counsel to the Mayor Maya Wiley referring to them as "agents of the city" in May.
Tonight, though, he announced the city is going to alert the advisers that they have to think carefully about what they say—an approach he admitted was the best way to combat the large degree of attention the issue has received.
"I think that's the smart way to handle it from this point on to say, 'Look okay, new ground rules now. Before, we had ground rules from our counsel's office saying this is confidential so that it could be very candid advice but going forward, you know, if you advise on a government matter, it's going to be disclosed so choose your words wisely and act accordingly," de Blasio said.
The mayor insisted in last week's segment that there were no legal or ethical issues inherent in his decision to have Rosen sit in the room while members of his administration discussed his vast rezoning proposals. He said that his administration had cleared all aspects of Rosen's participation with the city Law Department.
BerlinRosen's clients include a number of top developers, including Two Trees, SL Green and Forest City Ratner—companies whose principals have either donated to the mayor's campaigns or contributed to his now-defunct "shadow government" political nonprofits, primarily Campaign for One New York. BerlinRosen has also handled communications for Campaign for One New York as well as the mayor's election and reelection efforts.
The mayor acknowledged that such a move will likely affect the advisers' candor with him but also reiterated that he thinks the new policy will help bring back attention toward the other work the city is doing.
He also said the city will continue to follow the rules governing non-government matters such as campaign matters, noting that the city is not mandated to disclose such communications.
"I think it stands to reason that if you wanted to say something to me and you knew it was going to be published, you're gonna say it likely in a very different manner so in terms of emails, sure," de Blasio continued. "But I think again, this has become a distraction. It shouldn't be a distraction, we've got much more important issues to work on. So I'll hold that policy going forward."
But he would not accept that NY1 and the New York Post had won the battle, maintaining still that he and his administration had comported themselves properly.
"I believe we acted appropriately and we followed ground rules given by our own counsel and we're standing by that," de Blasio said.