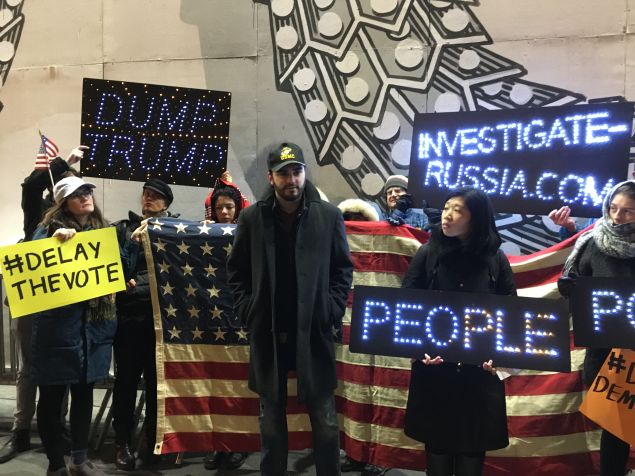 A group of roughly two dozen millennials and veterans gathered outside Trump Tower to call on the Electoral College to "delay the vote" scheduled for Monday night pending the completion of an investigation into Central Intelligence Agency claims the Russian government plotted to install President-elect Donald Trump in the White House—prompting a confrontation with a few Republican voters who showed up to crash the rally.
A growing consensus has emerged among members of the intelligence community and politicians of both parties that the Kremlin orchestrated the damaging email hacks that plagued Hillary Clinton's campaign, in order to help Trump—an often gushing admirer of strongman Vladimir Putin—capture the presidency. Behind tonight's protest was progressive youth group All of Us 2016.
Yong Jung Cho, one of the co-founder of All of Us, said "hundreds of thousands" of Americans feel the country and its political system are now in crisis.
"We the people will defend our democracy," Cho said, urging electors to hold off on formally handing Trump his victory next week. "And we need the Electoral College to delay the vote on Monday. If the Electoral College does not delay the vote on Monday, then they must vote to stop Donald Trump from becoming president."
Postponing the final state-by-state tally would in fact require an act of Congress, which seems unlikely given its present Republican tilt. But a bipartisan group of electors has petitioned Director of National  Intelligence James Clapper to disclose all known information about Moscow's role before they meet next week.
The protesters walked quietly from the Apple Store on Fifth Avenue and approached Trump Tower, where a police officer told them that they could not enter the area and had to go another route. The protesters eventually set up around the corner, with some passersby grumbling that demonstrators were filling up the sidewalk.
They eventually formed a line against the wall at the suggestion of another cop and the protest finally got energized—the protesters began yelling chants such as "Defend democracy, delay the vote!" and "No Trump, no KKK, no fascist USA!" Demonstrators raised signs with slogans such as "#DelayTheVote," "DUMP TRUMP," "INVESTIGATE-RUSSIA.COM" and "PEOPLE POWER."
Tim, a Trump supporter and Queens resident who declined to give the Observer his full name, suddenly appeared at the rally, holding a "Trump Pence 2016" poster. He yelled, "She would have lost anyway!" multiple times as one the activists spoke. One protester who was part of the rally told him that they "hate Hillary too!" and that that was not the point of the rally.
When Tim repeated, "She would have lost anyhow!" again, one rally participant responded, "Go back to Russia!" and another participant yelled back, "Are you cool about your Klan roots, racist?" When Tim shouted back, "She didn't visit Wisconsin since April. You think Wisconsin would've voted for her?," the participant yelled again, "Go back to Russia!"
When Max Berger, one of the co-founders of #AllofUs, to speak, spoke he pointed repeatedly in Tim's direction. The activist said that a "racist misogynist who threatens millions" cannot become president—one person observing the rally yelled "Ad hominem, ad hominem" right after—and argued that the federal government cannot become a family business and saying that foreign dictators will not determine who becomes president of the United States.
"Make no mistake: if Donald Trump becomes the president, he will mean the end of American democracy as we know it and Vladimir Putin knows it, too," Berger said. "Putin supports Trump because they are both dictators who do not believe in justice and liberty for all. Putin supports Trump because they are both greedy men who use hatred and violence to divide us."
A woman passing by the rally approached the protesters and shouted multiple times for for them to "respect the president!" One of them shot back, "Did you respect Obama?"
Alexander McCoy, a member of Common Defense PAC, a group of progressive veterans, served in the United States Marine Corps Sergeant for six years. He said that the hacks were an insult to the country's core values.
"I served overseas in U.S. embassies where my job was to protect our diplomats and the United States Mission abroad from hostile countries like Russia," McCoy said. "And so with horror I came back and have now seen my own countries, my own country, my home interfered with by brutal dictators who mean us harm."
Waleed Shahid, another co-founder of All of Us, said that it is "absolutely ludicrous" that Republicans like House Speaker Paul Ryan have acknowledged Russia's interference in the race but have also claimed that it had no impact.
"They claim to love America but the Trump administration has made a bunch of deals with Vladimir Putin," Shahid said. "A foreign dictator is installing the next foreign dictator. How can they claim to love America if they're in cahoots with a foreign adversary?"
After the protesters walked back to Fifth Avenue, a woman named Andrea—who refused to provide her full name—told the protesters when they were discussing the outcome of the event that her sister was the Democratic National Committee staffer who led the investigation into Trump's ties. She alleged her sister warned the party leadership about what Russia was doing and that it would leak damaging information before the July convention, but said that the committee did not listen to her.
"So when DNC leaks happened, she resigned from the DNC and she's been working independently investigating Russia's involvement," she said, alluding to a breaking NBC News report that Putin had a personal hand in the hacks. "It's very serious, it's very deep."
Disclosure: Donald Trump is the father-in-law of Jared Kushner, the publisher of Observer Media.