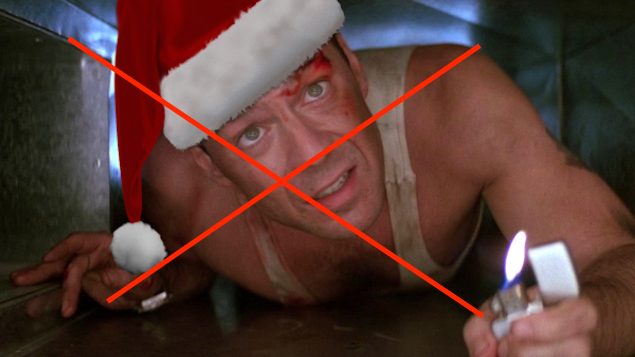 "What's your favorite Christmas movie?"  says the smirking asshole. He doesn't wait for you to answer. "Want to know mine? Want to know my favorite Christmas movie? It's Die Hard. Die Hard is my favorite Christmas movie." The smirk has now taken over his face. This person is now a walking smirk.
Yes, Die Hard takes place on Christmas Eve. You are so clever for pointing that out. You are so quirky and unique. You are the male Zooey Deschanel. You are a Chuck Palahniuk protagonist. I bet you had the best ironic posters in your dorm room at Rutgers. But Die Hard is not the best Christmas movie, not by a fucking long shot.
"But it's about a man reconciling with his family!" you say, your smirk only empowered by the chance to argue with a woman. "That's the most Christmassy thing of all."
Ok, sure. Die Hard is about reconciling with family. But it's mostly about explosions, and a weird accent, and a sort of conceived robbery plot when you think too much about it. It is a fun action movie that takes place on Christmas Eve for some built-in pathos. Bruce Willis shrieking "HOLLY!" 8,000 times doesn't make it any more about Christmas. That's just his wife's name. They don't get clever Christmas points for that.
You don't need to make your case anymore. I agree with you: Die Hard is a Christmas movie. But it is definitely not the best one. I can think of like, ten better Christmas movies off the top of my head.
Home Alone. A Muppet Christmas Carol. Elf. It's a Wonderful Life. Nightmare Before Christmas. Jingle All The Way. Gremlins. Hell, you could make the case that Eyes Wide Shut is a Christmas movie. If you want points for going with an unexpected pick, why not choose Kubrick's weird sex nightmare?
The-freaking-Holiday is a 10-times better Christmas movie than Die Hard. Yes, it has Cameron Diaz in it and she somehow manages to both overact and underact in every scene. But do you know what that movie also has? A charming Jude Law as a literary single father, and Kate Winslet, and a gorgeous score, and a delightful subplot about an old Hollywood screenwriter.  You get to see this beautiful modern LA mansion and then an adorably charming English cottage so all aspirational aesthetics are represented. Don't sleep on The Holiday. It's aces.
Really, the point of this article was just to remind you that The Holiday is a really enjoyable film. Sure there's not much chemistry with Jack Black but don't even pretend it makes the overall film any less charming. I'd like to see John McClane travel across an ocean alone to deal with the loneliness of being a single woman head on with elegance and grace. Yipee-ki-yay, motherfucker.