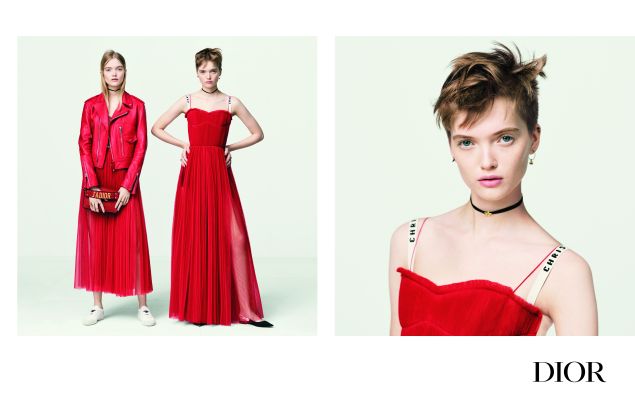 Dior's very first female artistic director, Maria Grazia Chiuri, is an unabashed feminist. Or at least, that's the message that she's spreading with the feminine frocks with a backbone, which were included in her debut collection at Dior.
She unveiled this concept in Paris, at the maison's September 2016 fashion show. That front row was packed with positive female role models, including celebs like Jennifer Lawrence, Natalie Portman, Rihanna and Marion Cotillard, as well as the esteemed feminist Chimamanda Ngozi Adichie. They took in airy tulle dresses in deep red, t-shirts emblazoned with bold statements like "We Should All Be Feminists," and jackets that were a haute take on buckled up fencing uniforms.
Now, Chiuri has delivered another pro-female view of the collection, in the form of an ad campaign shot by Brigitte Lacombe. It stars models Ruth Bell, who opened the aforementioned show, and her twin sister May. And you better believe that this campaign goes much deeper than just an arrangement of pretty pictures.
No doubt that even the choice of Lacombe, a celebrated photog who has shot the likes of Kate Moss, Meryl Streep, Hillary Clinton and Zaha Hadid (among a few talented men, too), was also deliberate. "Maria Grazia Chiuri is strong and direct, open and generous. She has a very clear idea about how women should be portrayed and looked at, which is a point of view that I share and understand," Lacombe revealed in a statement, along with the images. The partnership with Lacombe won't end here; Dior has enlisted her to take part in a forthcoming photo project, titled "The Women Behind the Lens."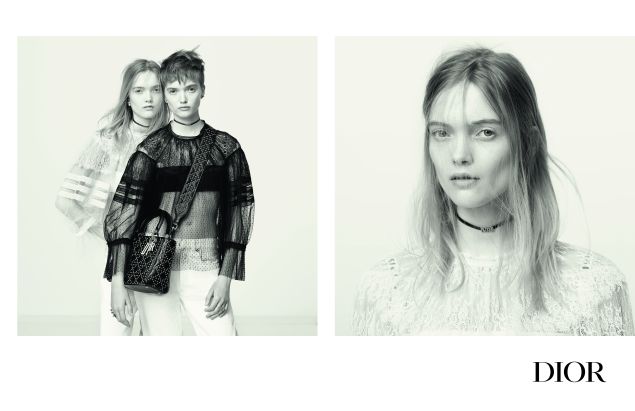 "I strive to be attentive and open to the world and to create fashion that resembles the women of today," Chiuri said about her designs at Dior's September show. "Fashion that corresponds to their changing needs, freed from the stereotypical categories of 'masculine/feminine', 'young/ not so young', 'reason/emotion', which nonetheless also happen to be complementary aspects."
A sheer blouse might not be the most obvious expression of feminism, but if you read between the lines that Chiuri has put on those Dior tops, you'll see that it allows the purest, unaltered female form to shine through.