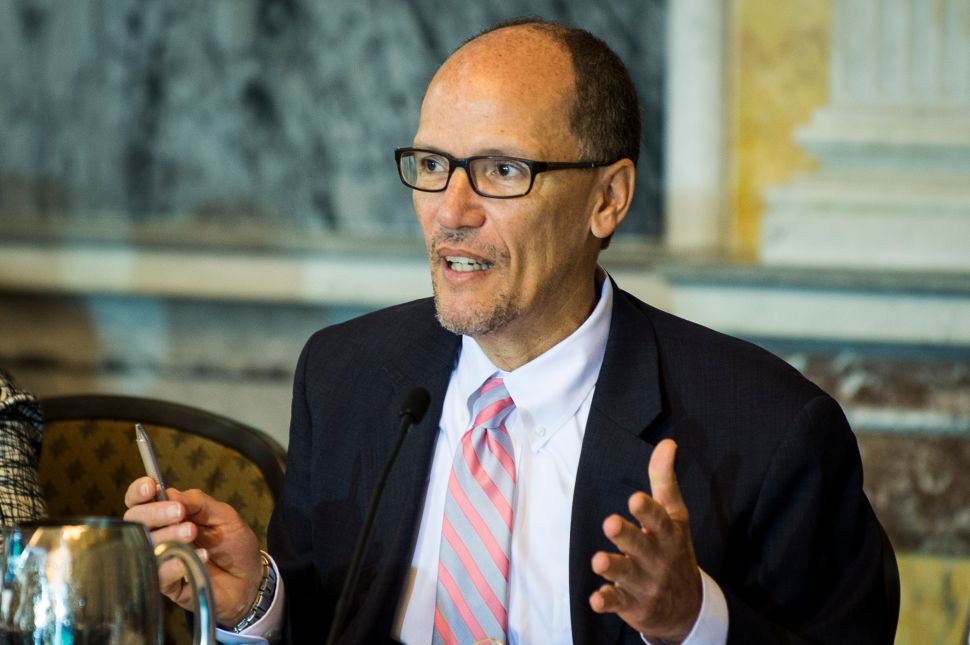 Bernie Sanders supporters have criticized Secretary of Labor Tom Perez's bid for Democratic National Committee (DNC) chair, citing Perez's initial support for the Trans-Pacific Partnership agreement (TPP) and his avid campaigning for Hillary Clinton during the democratic primaries. Perez has also favored corporations, big banks and wealthy donors over working and middle class Americans.
In 2014, the hedge fund Renaissance Technologies asked Perez's Department of Labor for permission to use a 401(k) to invest in Medallion, a profitable fund set up by billionaire James Simons—who donated $11 million to pro-Clinton Super PAC Priorities USA during the 2016 presidential election. Bloomberg reported in 2015 that the exemption granted by Perez's Labor Department was the second afforded to Medallion, enabling the fund to skirt millions of dollars in taxes on investments. The hedge fund is in fact notorious for its tax-evading practices: In 2014, Renaissance Technologies was criticized by a bipartisan senate committee for disguising short-term profits as long-term capital gains to avoid $6 billion in taxes.
Despite pleas from several leading Democrats in Congress, in 2015 the Department of Labor granted waivers to Credit Suisse to continue managing billions of dollars in pension fund assets. The waivers were required due to Credit Suisse pleading guilty to tax evasion. "When the Department simply waives the disqualification provisions on a seemingly automatic basis, it undermines firms' incentives to obey the law," wrote Reps. Maxine Waters, George Miller, and Stephen Lynch in a 2014 letter to Perez. In 2015, Sen. Elizabeth Warren called for public hearings on whether such waivers should be granted to big banks that violate the law. On December 21, the Department of Labor granted one-year exemptions for money managers from several big banks convicted of currency price fixing to continue serving their clients.
Even though several Democrats attacked the Department of Labor in 2014 and 2015 for automatically granting waivers to bankers after they were found guilty of financial crimes, they are now seriously considering placing the person who presided over this immunity for big banks in charge of the party.
Perez not only supported the TPP, but claimed that it deserved fast-tracking, and continued doubling down on his support for the agreement even after Clinton and most labor unions publicly opposed it.
Just a couple weeks after Perez officially announced his bid for DNC chair, his campaign is complicated by regulations under the Hatch Act, which limit the extent to which he can run while serving as secretary of labor until Obama's administration officially ends in late January.
Perez serving as DNC chair would be a step backwards for the Democratic Party. They are in dire need of a leader who can bring in meaningful reforms without the same reliance on corporate and wealthy donors that former DNC chair Debbie Wasserman Schultz and Clinton's presidential candidacy embodied.