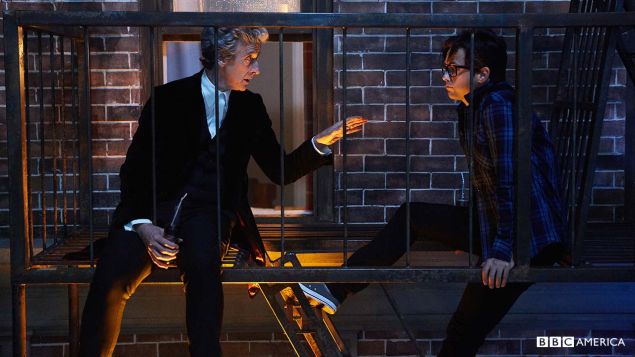 "No hope. No plan. No problem!"
The Doctor's mantra is one we could all employ at the end of 2016 – a year completely devoid of hope, plans and, more importantly, any adventures from our favourite Time Lord. Until now, of course.
'The Return of Doctor Mysterio' is not only a return to a fun romp for the long-running BBC science-fiction show but also to the light-hearted nature of superhero blockbusters (a trait missing in many Marvel and DC movies of late).
The titular Doctor is, of course, everyone's favourite Gallifreyan – the Doctor (Peter Capaldi). 'Mysterio' is a name given to him by Grant, a young boy obsessed with superhero comics. Whovians may be already be aware that Doctor Mysterio is what Doctor Who is called in Mexico, a country which, and this may surprise you, has a strong fanbase for the Time Lord's adventures.
Grant meets the time-traveler in New York, where the Doctor is trying to fix some localized disruption, (see the 2012 episode 'The Angels Take Manhattan' for the reason why) and unwittingly becomes endowed with special powers after mistakenly swallowing "The Ghost of Love & Wishes." This is gem stone/on-board computer which knows what its user wants, and then makes it happen. In this case, it turns comic fan Grant into a superhero.
In the show's longest pre-title sequence (over nine minutes!), writer Steven Moffat sets the tone by packing in more laughs than your normal sitcom; from comparing the Doctor to Santa, to the Doctor's revelation that Clark Kent IS Superman, to the very knowing reference to an "invasion" every Christmas. The gag rate doesn't let up.
This results in a much more cheerier and lighter performance from leading man Capaldi, who is on top form and as charmingly alien and oddball as ever. Accompanying him is his new companion Nardole, played by UK comedian Matt Lucas who made his debut in last year's Christmas Special, 'The Husbands of River Song'. Again, Moffat's hilarious script gives Lucas much to get his comedy chops on – this is a wonderfully entertaining double act.
But the LOLs don't end there. Grant grows up to be, well, an older version of Grant who indulges in moonlighting as a superhero known as The Ghost when he's not doing his day job, being a nanny. Played by Justin Chatwin (Spielbergs's War of the Worlds), he delivers a neat line in Christopher Reeve-style Superman reassurance:
"I certainly hope that this experience hasn't put you off a career in journalism," he says to investigative journalist Lucy (Charity Wakefield) after saving her.
The Superman films of the 70s and 80s — the "proper" ones according to writer Moffat — are a clear influence for the tone, with lots of quick changes between Grant and The Ghost; the biggest laugh saved for when he has his mask off, ready to reveal his true identity to Lucy, and then very quickly replaces it when she thinks Grant has never lied to her. And the difference between "wet" and "mild-mannered" also displayed Moffat's keen comedic brain.
Speaking of brains, the main thrust of 'The Return of Doctor Mysterio' sees brains invade the Earth and inhabit human forms (neatly utilizing the superbly realized, head-splitting life forms seen in 'The Husbands of River Song') in order to enslave humanity. Straight out of the pages of a comic book, the brains with eyes are certainly the creepiest element of the story.
With their plans starting in New York — location shooting in Bulgaria doubling up for the mean streets of Manhattan — and attracting attention from the aforementioned Lucy and the Doctor (in a slightly similar way to Donna and the Tenth's Doctor reunion in 2008's 'Partners In Crime'), it's not too long before good is fighting evil.
Whovians will rejoice in the mentions for UNIT, the adorable Osgood and the fall out from his one night with his wife, River Song (which began at the end of last year's festive episode and lasted twenty-four years), a gorgeous synth-infused score from maestro Murray Gold, and the possible return of the brains in the future.
'The Return of Doctor Mysterio' does have some slight flaws, however. Some fans may be slightly tired of seeing the Doctor visit someone as a youngster and then again in later life (a trick also performed in 'A Christmas Carol', and with Amy and Clara). On the cast front, Aleksandar Jovanovic's Dr. Sim is little more than a sneering European bad guy and Charity Wakefield's earnest Lucy is a little one-note to engender any real interest.
Time does indeed make the heart(s) grow fonder and 2016 is much improved with the return of Doctor Who to our screens. Putting Marvel and DC to shame, Steven Moffat and the Doctor Who team have delivered the perfect antidote to real life and served up a blockbuster that can be enjoyed by all. Simply, super.