How are you spending your Christmas Day? Getting up early? Opening and giving presents? Hitting the drink a bit earlier than you normally would on a Sunday?
For millions across the world, Christmas Day means only one thing – Doctor Who.
More importantly, this is the first piece of new Doctor Who that fans have been able to enjoy since last year's Christmas Special. 'The Return of Doctor Mysterio' finds Peter Capaldi back in the TARDIS (and in New York!) on Christmas Day on BBC America.
We'll have our thoughts on the new special immediately after it airs but, before then, let's take a look at those festive episodes so far…
11. 'The Doctor, the Widow and the Wardrobe' (2011)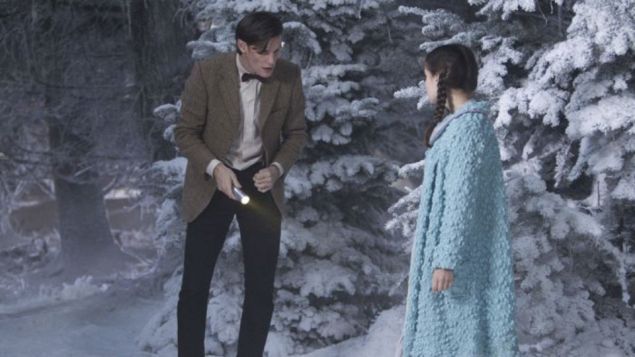 A Narnia-flavoured episode seemed like an entrancing idea (after all, there was a wardrobe that was bigger on the inside in that series) but, sadly, this wasn't a classic slice of Who. Although very, very Christmassy and Matt Smith was as charming as ever as the Eleventh Doctor, the guest cast – Bill Bailey, Arabella Weir and Alexander Armstrong – felt slightly wasted.
10. 'The Husbands of River Song' (2015)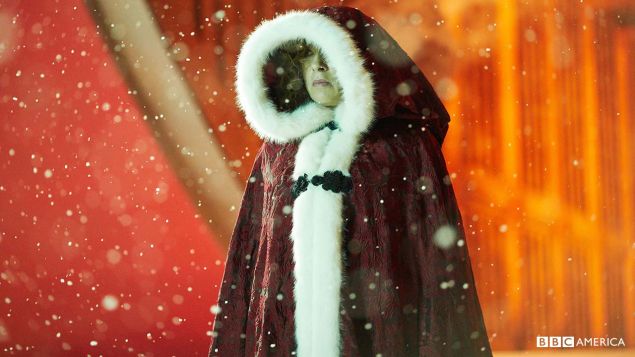 The Doctor was reunited with his beloved River Song (Alex Kingston) though this time it was Peter Capaldi she was faced with, a very different prospect to her former lovers in the shape of David Tennant and Matt Smith. Kingston sparked well with her co-star, displaying her usual sexually driven humour. Again, however, the comedic talents of Greg Davies and Matt Lucas were slightly under-utilized.
9. 'The Time of the Doctor' (2013)
Finales can be difficult, no question. And Christmas eps themselves are never an easy beast. Not to mention coming off the back of the tremendous 50th Anniversary special, 'The Day Of The Doctor'. Writer Steven Moffat had a challenge on his hands, a real challenge.
Matt Smith, as always, is terrific, and handles everything with his usual comedic aplomb but tying up the strands of the Eleventh Doctor era and dumping some new info on the audience regarding his regeneration cycle somewhat muddied the plot. On the plus side, it did feature a sensational farewell scene, including some heartfelt and inspired lines from Moffat, delivered tearfully and heroically by the outgoing Smith.
8. 'Voyage of the Damned' (2007)
Occasionally, the Doctor Who Christmas Special feels like a blockbuster and no more so here than this disaster movie pastiche on the small screen. The Titanic, a spaceship version of course, found itself under attack endangering the lives of those traveling – and this is where our buddy, the Doctor, steps in.
The Tenth Doctor, played by David Tennant, was mourning after a pretty bleak meeting with his nemesis The Master (John Simm) and was holidaying on the intergalactic starliner. And why not? He deserved it. The cast is a fun bunch and headed by international pop sensation, Kylie Minogue. Its running time, though, does drag. Shaving 20 minutes or so off this rather bloated piece of Who could have served everyone better.
Fact fans note: in the UK, this episode has the highest audience viewing figures, with 13.8 million tuning in on Christmas Day, 2007.
7. 'The Next Doctor' (2008)
UK TV heavyweight David Morrissey (also a star of AMC's The Walking Dead) could have well been cast as the Doctor at some point and here Russell T Davies presented us with the notion of a possible future Doctor. Playing with the nation's curiosity about who would replace Tennant (he had already announced his departure from Doctor Who), half of the episode was a wonderful mystery for both the Tenth Doctor and the audience.
It is Christmas though and, as ever, it's not perfect – the Cybermen are woefully used and come off poorly.
6. 'The Snowmen' (2012)
2012 was a rough year for Matt Smith's Eleventh Doctor. He'd just lost his best friends the Ponds (Amy and Rory) to the Weeping Angels in New York and was sulking in Victorian London.
But out of his darkness comes cheer in the form Jenna Coleman's Clara, making her second appearance on the show (having first appeared earlier that year in 'Asylum of the Daleks'). There's also the Paternoster Gang — Madame Vastra, Jenny and Strax — on hand for LOLs and friendship. It's one of the most Christmassy outings and writer Moffat does his party trick by turing the familiar into creatures of horror; in this case, snowmen.
5. 'The End of Time' (2009)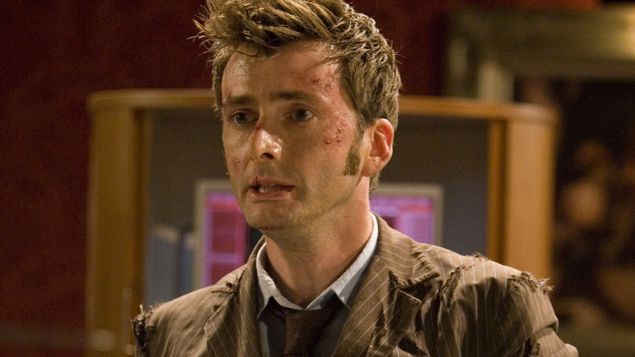 For some, it's still too soon to talk about David Tennant's finale. This hugely emotional story wound up the Tenth Doctor era in the most distressing of fashions. Just what Jesus would have wanted.
4. 'A Christmas Carol' (2010)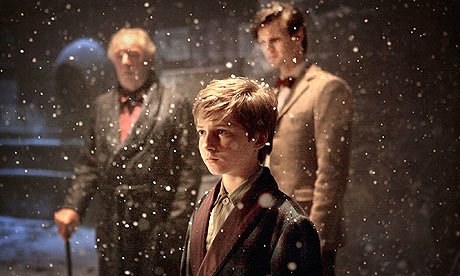 Given that Dickens actually starred in Doctor Who (well, in the personage of actor Simon Callow at least), it's no surprise that one of the writer's finest pieces of work received an homage. 'A Christmas Carol' will never be bettered than when in Muppet form but the timey-wimey tale is perfect for the Time Lord.
It was the first festive outing for Matt Smith as the Eleventh Doctor and was gifted a glorious and Christmas-tastic setting, an impeccable co-star (Harry Potter's Michael Gambon) and a sumptuous score and song from composer Murray Gold.
3. 'The Runaway Bride' (2006)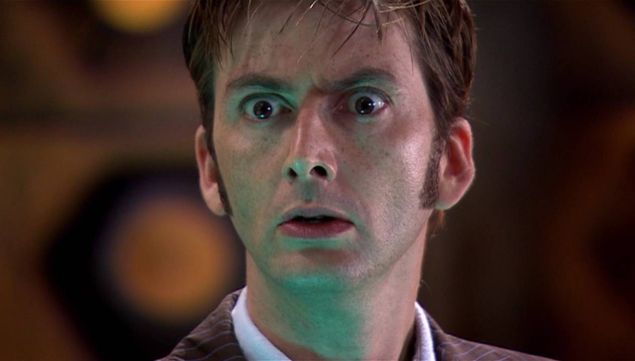 Kicking off the tradition of having a notable guest star in the Christmas Special, UK comedy legend Catherine Tate became companion for a night opposite David Tennant. Donna Noble's brash and no-nonsense approach to TARDIS traveller was just what the Tenth Doctor needed after losing his GF Rose to a parallel world. The episode was an explosion of joy, fun and action.
Tate proved to be such a hit that the actress was asked back and Donna would travel with the Gallifreyan once more in 2008's outstanding Season Four.
2. 'The Christmas Invasion' (2005)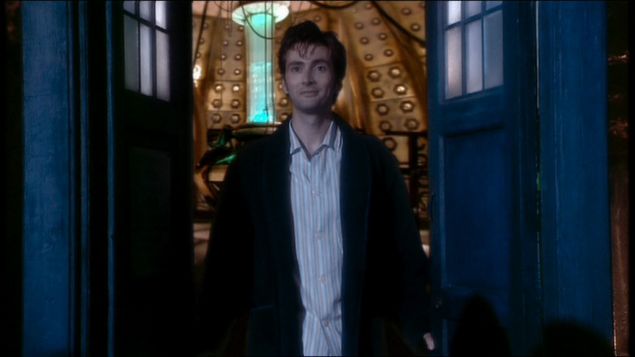 The very first Doctor Who Christmas Special! (Note for fans who suggest the 1965 installment 'The Feast Of Steven' was the first – although this was broadcast on Christmas Day, it was not a special episode.)
This was the debut outing for David Tennant having regenerated from Christopher Eccleston in the previous ep. Though he was really only present during the closing half hour, Tennant steals the show with his immediate charm and likability, taking Doctor Who into a new era of popularity. Writer Russell T Davies was clever enough to make this a fun, blockbuster hour for the show ensuring that the Doctor Who Christmas Special was to become a staple of the day for years to come.
1. 'Last Christmas' (2014)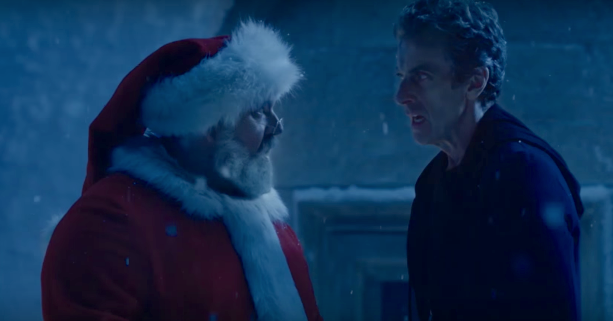 It has plenty of snow. It's got elves and a reindeer. It's even got Santa Claus himself. But this slice of horror and psychological terror is far from being "Christmassy". The Twelfth Doctor faced the wrath of the Dream Crabs in this Alien / Inception / The Thing inspired outing.
Moffat plied the references on thick like booze at a Christmas party but kept us thinking and guessing as to just exactly what was going on. The ending displayed a more upbeat Peter Capaldi than we'd seen in his first season, showing his character was still regenerating through personality traits.
'The Return of Doctor Mysterio,' will air December 25 on BBC One at 5:45 p.m., and 9/8c on BBC America. It will also be screened in select theaters on Tuesday, December 27 and Thursday, December 29.