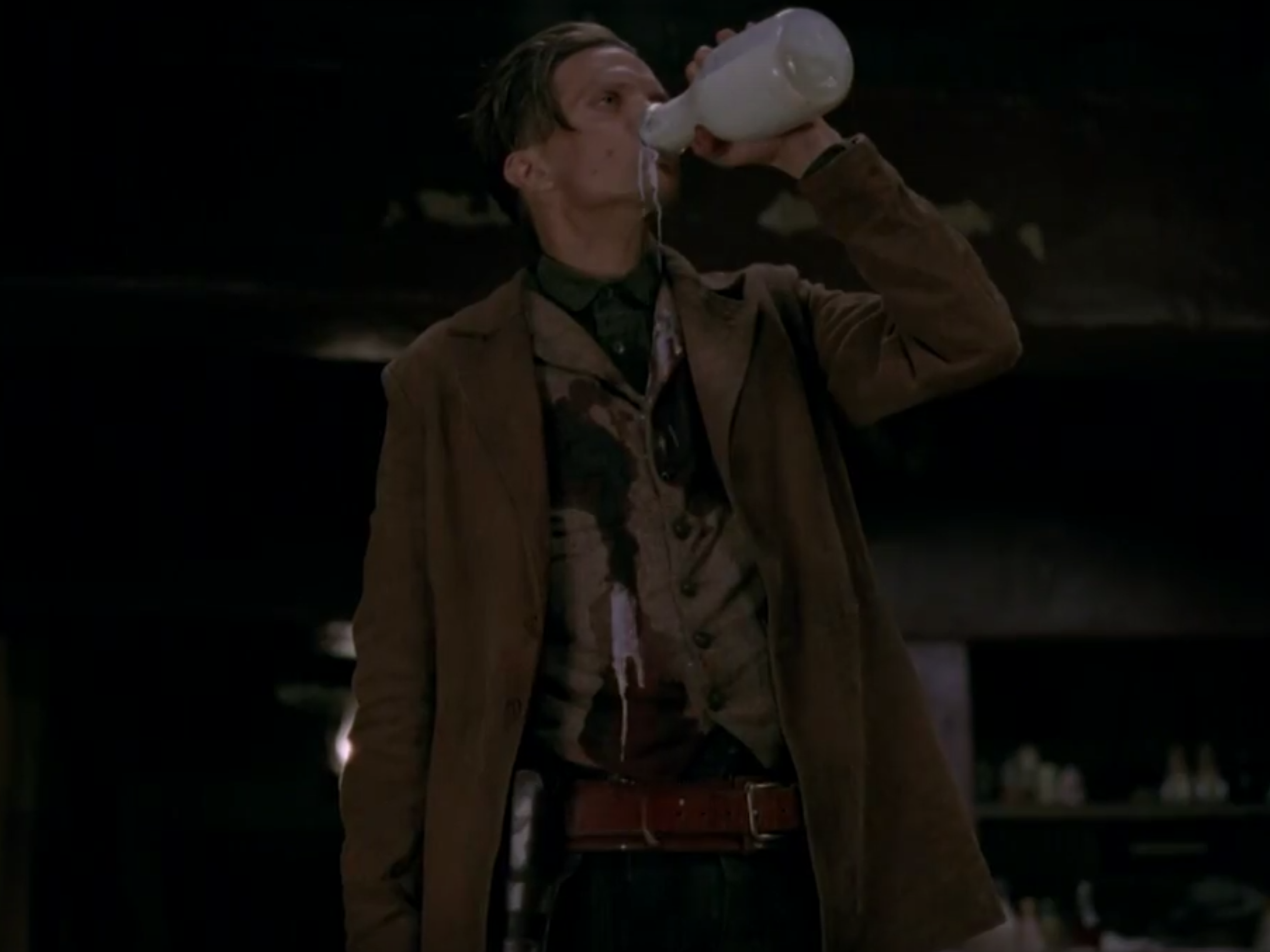 What the hell is going on?
No, that isn't a joke. I'm 100% serious. What in Bernard's artificial beard is happening right now?
That's the question I keep asking myself every Sunday night when I pause HBO's Westworld because the Dominos guy has arrived with my large pie and hot wings. As I devour my artery-clogging goodness and review the episode's first half, I find myself feeling like Dolores. I know there's something a little off, but I just can't quite put my finger on it.
I'm not a hater; I actually REALLY like Westworld a lot. But the Internet is acting like it's the second coming of The Sopranos.
Are we really sure Westworld is as GREAT as everyone is making it out to be?
HBO's heir-apparent to Game of Thrones is built around stoking speculation, teasing mysteries and raising big questions more so than it is about developing characters and, you know, actually making sense sometimes. Showrunners Jonathan Nolan and Lisa Joy have created a world in which anything and everything can and should be questioned by audiences. They've built Westworld's foundation on secrecy and confusion. That smoke-and-mirrors formula has seduced me as a viewer, but it hasn't overly endeared me to its characters and themes. The heavy focus on ambiguity has engaged fans and spurred so much theorizing that the JFK conspiracy looks quaint by comparison, but it has also made the payoffs less satisfying.
Take the penultimate episode "The Well-Tempered Clavier." Audiences should feel devastated for Bernard as he discovers (again) that his entire existence is a lie. But instead of feeling gutted for a main character, we're more interested in the reveal that he's an Arnold operating system and that Dolores may have killed the original. It's just one of many instances in which Westworld emphasizes WTF moments over character development. The first season – while exciting, entertaining and ambitious – is stuck in its own loop in that way.
Uproxx's Alan Sepinwall summed it up pretty well:
"The series asks all these interesting questions about consciousness and life and morality, and puts that material in the hands of some world-class actors, but it holds the audience (this member of it, anyway) at too great a distance and inevitably places its characters secondary to its mysteries."
This makes me think of Dr. Ford. Has there ever been such a well-presented but thinly sketched out villain? Because Anthony Hopkins is so damn good at doing Anthony Hopkins things, we've all ignored the fact that we really have no idea why his character is doing any of this. What are his motivations, his desires, his end game? We understand nothing about him beyond his twisted god complex.
Like the reveries igniting past memories in our hosts, I can't shake the feeling that I've been here before. The idea of sentient robots is as common in pop culture as gunfights are in Sweetwater. Blade Runner, The Terminator, The Matrix, Humans, Ex Machina. The list goes on and on. Give credit to Westworld for presenting this same material in a new and thought provoking way (we all agree on the multiple timelines theory, right?), but it's not exactly breaking new ground.
Another glitch I have with Westworld is its sustainability. I'm all for shows giving fans a puzzle to piece together. After all, LOST was my first true TV love thanks to all of the theorizing that went into it. But like LOST (and most first loves, for that matter) this model of mystery is doomed to end in disaster.
"When you guess a twist correctly, catch a curveball coming way in advance, what do you win beyond the shiny prize of self-satisfaction?" Liz Shannon Miller of IndieWire wrote. "It's a thrill, to be sure, to know that you guessed right. But what happens to the thrill of being shocked or surprised, of trusting the narrative to unfold on its own terms?"
"…Creators today are now being challenged to pull out all the stops in order to stay ahead of their audiences, these millions of brains working together to skip ahead in the story. But the drawback to this is that we seem to lose patience with actually being told a story."
How does Westworld carry its momentum over several seasons if both its characters and its viewers are constantly lost in the maze? Do the writers have satisfying answers to the mountains of questions they're raising? It just doesn't seem like a viable long-term strategy.
How does Westworld carry its momentum over several seasons if both its characters and its viewers are constantly lost in the maze? Do the writers have satisfying answers to the mountains of questions they're raising? It just doesn't seem like a viable long-term strategy.
Westworld reminds me of a host who hasn't "remembered" yet; it looks and feels like the real deal, but inside it's just well oiled machinery. The show is big and beautiful and complex, but it's also just the slightest bit hollow and detached at times.
Vulture's Sean Collins highlights this flaw in his discussion of Westworld's over reliance on familiar tunes to substitute for emotional resonance:
"Westworld can hijack all the show-stopping songs it wants," he wrote. "But unless and until it has the confidence to rely on the impact of its own images and ideas, and the chops to back it up, the result will always feel as empty and unearned as that player piano. The keys move, the notes come out, but the artistry is absent."
So, yeah, I'll definitely be tuning in this Sunday for the season finale. I want answers and am interested to see how they wrap this whole thing up. But I have the sinking suspicion I'll find myself asking the same question yet again.
What the hell is going on?