Back in October, model Erin Heatherton put her West Village apartment on the sales market.
Her decision to part ways with the two-bedroom, 2.5-bath condo came after reports she was reportedly being sued by her neighbors at 1 Morton Square—they alleged she "regularly causes and allows unreasonable levels of noise and bass vibrations to emanate from the unit…disturbing the condo's residents and interfering with their ability to use and enjoy their units." She denied the allegations, but we can understand that having one's neighbors sue you may result in a less welcoming feeling.
So Heatherton listed the 1,345-square-foot apartment with Sotheby's International Realty brokers Debbie Korb and Malick Diop, asking $2.85 million for the unit. It's still lingering on the market, but it seems the former Victoria's Secret model (and former Leonardo DiCaprio girlfriend, because she's blonde and modeled for Victoria's Secret) really wants out of the place, as now she's listing it as a $15,000-per-month rental.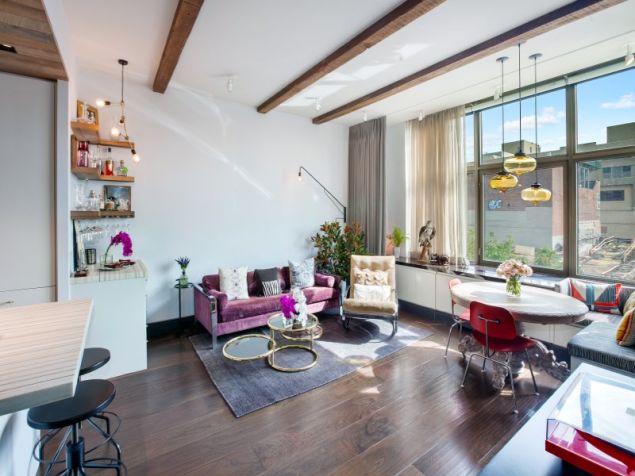 We also know a bit more about the apartment now, which is described as "magical." Heatherton gut renovated the place after she bought it in 2012, and in doing so, managed to raise the ceilings and insert wooden beams, per the listing. She also added a Japanese soaking tub, steam shower and sauna in the bathroom, and there is striated marble throughout the baths and in the chef's kitchen. And, of course, she added "volumes" of storage space in the renovation.
As we've noted before, it seems 1 Morton Square may have lost some of it's celebrity appeal, as the likes of Mary-Kate and Ashley Olsen, Oliver Stone and Amy Poehler all departed the building, though Daniel Radcliffe is still there. Still, living in a ex-Victoria's Secret model's discarded home isn't too shabby. Sure, it might not come with Leo, but there is that massive walk-in closet…