With the impending arrival of 2017, people everywhere are planning out their New Year's resolutions. A new wellness-focused lifestyle is at the top of the list for many, with people packing their January full of workouts and declaring, "new year, new me!" even if it's the same old you. But for those who spent the majority of 2016 working out, or at least paying a monthly gym membership and promising themselves they would, it's time to reassess how much fitness classes really cost, especially in New York.
In Manhattan and Brooklyn, where a new trend is introduced every day, the majority of specified classes cost close to $30 for the opportunity to sweat profusely in a small studio. For those channeling their inner Angel and indulging in modelFIT or SLT, it's closer to $40. Even New York's ClassPass memberships are more expensive than other cities. And while working out is necessary and saves money in the long run, is it really worth it to drop thousands of dollars a year on a specific boutique fitness activity, instead of heading to the nearest gym or attempting a yoga pose in your bedroom?
When I started considering a modelFIT membership (at $40 per class and $425 for a monthly membership) and consulted friends who were horrified with that number, I wondered how much other people were doling out for their own workouts. So, I surveyed 50 people to find out how much they really spent in a year, and whether they were proud or mortified about that number. Some called it an investment, while others bemoaned the thousands spent going to specialty classes.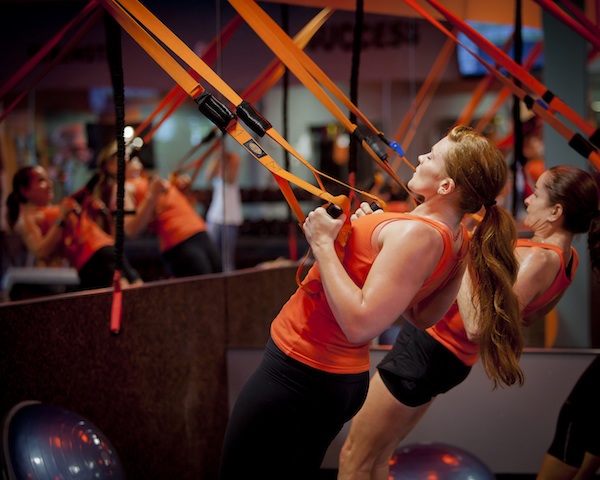 Unsurprisingly, those outside of New York spent much less than the thousands fit New Yorkers were dropping, as classes and gym memberships were much less money. ClassPass was a popular options in areas where it's still inexpensive, as were Pure Barre and OrangeTheory.
For some who hired trainers and invested in fancy athleisure, the numbers quickly added up. "I am not proud of the amount of money I spent, but that's unavoidable," a young Boston woman explained. She spent thousands last year on a personal trainer and investing in equipment for new activities, including swimming, cycling and trail running. "Being active is a huge part of my life and I'm open to talking about that to anyone because I think everyone should be more active," she said.
"Honestly, I spend the bulk of my income on physical fitness," a 23-year-old in Kips Bay who spent more than $3,000 on working out admitted, calling SoulCycle classes her therapy. "I think that living in a big city, finding peace is hard. But, when I walk into the studio, I'm able to be completely alone and focus on myself."
When it comes to overpriced athleisure, some were embarrassed about the price but believe spending more than $100 on leggings means they'll actually last. One 29-year-old in Mississippi said the cost of Pure Barre was irrelevant because she enjoyed going, but called buying expensive leggings "soul crushing," albeit necessary to run outdoors. Jessica, a 30-year-old in Brooklyn Heights, deemed Lululemon "motivating" since it forced her to workout. An Upper East Sider admitted she buys certain brands because "I work out in the city and I think trainers will treat me differently or won't give me as much attention if I look like a slob, or look like I won't spend money on another session."
One East Village-based publicist and self-proclaimed SLT addict admitted to spending more than $13,000 on working out. "I validate it because it's a genuine source of happiness for me, every day I get to be with a group of people I have built strong relationships with through the classes we all take together. Ideally, yes I would like to spend less in the coming year. Realistically? It won't happen," she admitted.
"It is better to spend money on a workout class than out at a bar," one young woman in Yorkville said. So the next time you bemoan dropping thousands on a high-priced, bougie boutique workout class, just remember—it's a better investment than an overpriced cocktail.