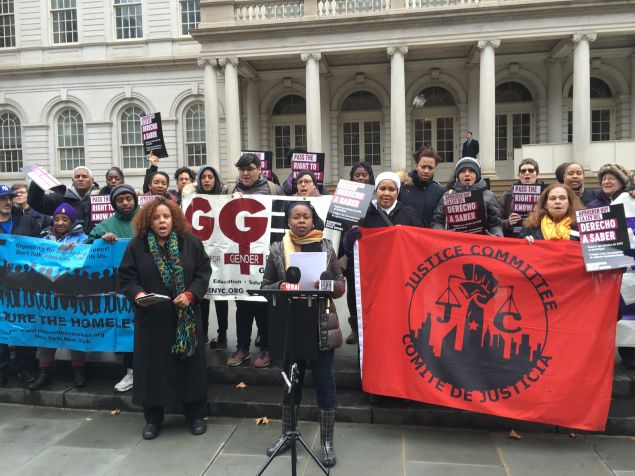 Feminist leaders in New York City said at a rally outside City Hall today they believe City Council Speaker Melissa Mark-Viverito will eventually come out in support of a package of police reform bills which have stalled in the Council because of her opposition and obstruction.
In July, the speaker told Council members in a meeting that the long-stalled Right to Know Act—two bills which would require the city's cops to identify themselves when stopping an individual without a warrant and to let that person know that they have the right to refuse a search if the officer does not have a probable cause—would not come up for a floor vote, even though both had majority support. Mark-Viverito sparked controversy by claiming in August that it would not be "responsible" to let bills become law simply because more than half of her colleagues support them, even after one of the measures acquired enough co-sponsors to override a promised veto by Mayor Bill de Blasio.
But Monifa Bandele, spokeswoman for Communities United for Police Reform, expressed optimism this afternoon that the speaker will come through for groups like hers in the end.
"I know there was that perspective that happened but we're confident that with our partnership with the speaker, with collaborating and bringing more and more voices to her, that she will understand the urgency of making this law," said Bandele, who is also vice president as well as chief partnership and diversity officer for MomsRising.
Bandele said that she has not heard directly from the speaker, though. In exchange for Mark-Viverito's use of parliamentary tactics to block the Right to Know Act from advancing, the NYPD agreed to incorporate some of the legislation's provisions in its Patrol Guide.
Bandele argued that arrangement is insufficient because there are already rules in the Patrol Guide that are "regularly violated, regularly ignored." But she pointed out that police reform advocates have been able to make some strides in their efforts to make police officers liable for civil rights violations and to curb the use of the "stop-and-frisk" tactic.
"Two years ago, we had the Community Safety Act," she said. "Now we have the Right to Know Act and we're pushing for greater accountability all along the way. We had a huge victory last year around having a special prosecutor for New York State. And so all of these are pieces that come together to promote accountability."
More than 130 feminist leaders and organizations that work to improve the lives of women—cisgender and transgender—and gender non-conforming people sent a letter today to Mark-Viverito. They also sent the missive to Vanessa Gibson, chairwoman of the City Council's Public Safety Committee, and Councilwomen Laurie Cumbo and Helen Rosenthal, co-chairwomen of the Council's Women's Caucus.
The activists asserted passing the legislation is imperative given the recent election of President-elect Donald Trump, who has bragged about using his wealth and influence to sexually assault women. They added women experience gender-specific forms of humiliation and abuse during police interactions—what they said were unique experiences of sexual harassment and assault as well as unlawful "gender searches."
The organizations also cited the fact that, in May, the Young Women's Initiative Mark-Viverito created recommended adopting the act's proposed policies.
"It has worked," Bandele added. "In fact, many of the sponsors are supporting the bill for various reasons, including the reasons that we laid out today. So we are building momentum every day."
And they argued that the renewed push for police reform is directly connected to the fact that Trump is the country's new president.
"There's also a different urgency right now," Joanne Smith, founder and executive director of Girls for Gender Equity, said. "So when we think of, again, this time of the year, we think of who is coming to power, I mean, the difference is clear, the change is clear, it's comparable, we're affected by it and impacted by it every day. I do believe that the speaker will pass the bill."
Tina Luongo, attorney-in-charge for the Legal Aid Society's criminal defense practice, credited the de Blasio administration with doing "some really incredibly progressive things in terms of some of the issues," but would like to see the city go further.
"The speaker has commissioned to close Rikers, she has pushed for bail reform, she has pushed for data transparency," Luongo said. "So let's be fully transparent. Let people who are arrested and searched and dragged through central booking and handcuffed and fed minimal food while they're behind bars."
Mark-Viverito's office cited similar achievements in their response to the rally.
"Whether by launching the nation's first Young Women's Initiative, successfully changing how the NYPD interacts with the communities that they serve, or by leading the national dialogue around the feasibility of closing Rikers, the speaker has been and will continue to be a staunch defender for all New Yorkers," said spokeswoman Robin Levine, who made no reference to the Right to Know Act.
Disclosure: Donald Trump is the father-in-law of Jared Kushner, the publisher of Observer Media.