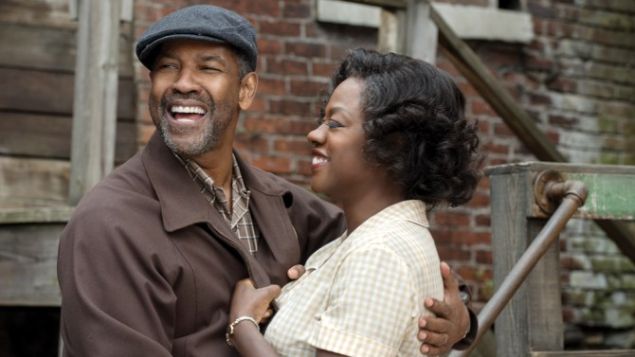 Fences, the film adaptation of the Pulitzer Prize-winning play by distinguished playwright August Wilson, was produced and directed by Denzel Washington, who also stars, in the role he played to great acclaim on the Broadway stage. Reprising a role originated by James Earl Jones in 1983, Washington won the Tony award in 2010, and so did his co-star, the great Viola Davis. They are both marvelous, but despite his smooth transition from stage to screen in a difficult role (a marathon of words!) and his eagerness to eschew all attempts to "open up" what is basically a one-set theater piece, Fences remains a filmed play without much movement—claustrophobic and rooted to the proscenium.
---

FENCES ★★★★
(4/4 stars)

Directed by: Denzel Washingston
Written by: August Wilson
Starring: Denzel Washington, Viola Davis and Stephen Henderson
Running time: 138 mins.

---
Never mind: Even if the typically bad manners of today's TV-weaned audiences, desperate for commercial interruptions and potty breaks, make it impossible for them to concentrate, filmgoers hungry for the poetry of words and the beauty of art should not be deterred. Fences is a labor of love and attention must be paid. You don't get writing or acting of this caliber every day, and in this particularly dreary year of second-rate everything, this movie is something special.
A family drama, set in a rundown black working-class neighborhood in postwar Pittsburgh in the 1950s, Fences is about the struggling Maxsons. Patriarch Troy Maxson (Washington) is a garbage collector who once had a shot at sports stardom in the Negro League, but there was room for only one black hero at a time, and Troy lost out in the major leagues to Jackie Robinson. After that, he never got the right breaks because of segregation and ended up serving prison time for murder in self-defense. Concealing his deep rage behind a bombastic, boisterous, hard-drinking demeanor that keeps his friends bemused and wondering what he'll do next, Troy has some dark secrets festering inside. Troy's wife Rose (Davis) has stood by him through the highs and lows of his disappointing life for 18 years of a marriage that is beginning to show cracks in the marble. Now, their teenage son Cory (Jovan Adepo) is in line for a football scholarship, which annoys Troy so much that it brings out the inner furies and regrets he's been hiding through the years.
Troy not only wants to prevent his son from becoming the same kind of failed athlete he once was, but he's also keeping a secret from Rose—a mistress who is about to give birth to his illegitimate child. Tensions mount, personalities clash, and when the loyal, long-suffering Rose finally explodes, the screen trembles with her passion.
Viola Davis' Rose is the symbol of the matriarchal strength that held so many turbulent black families together during the civil rights movement, and when her usual tenderness and patience turns to a proclamation of defiant independence, the emotional impact is unforgettable. The bad times come in cycles, and the only way the dysfunctional Maxsons can get through them is to stick together, in the name of family. But when Rose is faced with the challenge of raising her husband's new baby, her resolve understandably crumbles at last. Her job has always been to keep the peace, bridge the gaps between Troy and his sons, and solve everyone's problems except her own. When she lashes out at last with the question she's kept bottled up inside for 18 years while baking biscuits and frying chicken, out come the tear-choked words: "What about my life, what about me?" It's a wrenching scene that packs a wallop.
In the best ensemble work of the year, other characters who roam in and out of the Maxson house are Lyons (Russell Hornsby), Troy's 34-year-old son from a former relationship, a musician who badly needs financial help for his own family but can't even get a $10 loan from his indifferent father without a violent scene; Troy's brain-damaged brother Gabe (the excellent Mykelti Williamson), a World War II veteran with a metal blade in his head; and Bono (terrific Stephen McKinley Henderson), the loyal buddy who listens tirelessly to Troy's jokes and tirades and seems to be a permanent fixture at Rose's dinner table.
The glue-all that keeps them together is the confident star, in one of the most demanding and triumphant roles of his career. His tough guy with raw feelings is a volatile Rubik's cube of blustery verbiage and self-centered cruelty who needs to articulate what's on his mind and in his heart without the education to show him how but with a lot of complex attitudes and ideas—about racism, parenthood, manhood and duty. The action centers on the house and backyard, where he bullies everyone around and spends his spare time building a fence to close off the outside world. The fence is a metaphor for all the fences that surround every character in August Wilson's world. After years of procrastination, if the fence is ever completed, Wilson implies the other fences will mend themselves.
Fences doesn't look or feel or sound like a movie, and a lot of the power is sealed off by too many close-ups that rob the audience of the feel-good satisfaction of observing the subtleties of change that an audience in a theater can perceive by watching everyone on a proscenium stage interact simultaneously. Still, it's the artistry on view that charges the emotions, and Denzel Washington's affection for August Wilson's words and the artists involved in bringing Fences to the screen conspire beautifully to make this one of the year's most intelligent and captivating films.