Planning a winter getaway to hit the slopes this season? Now, it no longer matters if you don't have a romantic interest to bring along, because you can find one on the way up mountain. LuvByrd, one of the many dating apps for fitness enthusiasts (there's a dating app that pairs with a fitness tracker, Sweatt for folks who want to workout together and MeetMeOutside for skydivers), launched a speed dating event with Loveland Ski Area for single skiers.
The event is turning into a regular occurrence on the mountain. Last year was their first event ever, and their second ski session happened on Saturday, all while you were swiping through Bumble at home, cocooned in blankets.
If awkward conversation in a tightly enclosed space while wearing countless layers isn't enough to entice you, there was a raffle, including all the ski gear you need, and also beer to make the entire ordeal less awkward.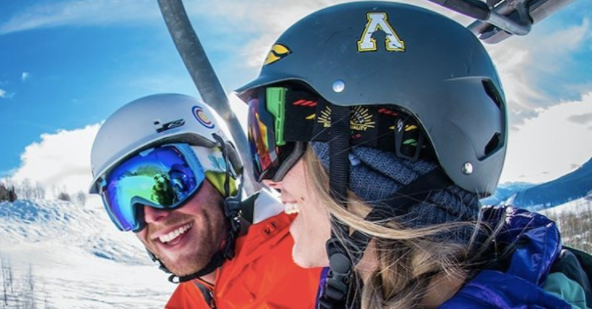 The best part of the romantic encounter might be that there's no need to obsess over what to wear, as it will all be hidden underneath puffy coats. Of course, there's always the option of rocking a Onepiece for a truly warm experience.
If you missed out on the chairlift speed dates, there will be fresh snow and opportunities at the Colorado resort in the new year. Mark your calendar for their next event on February 11, just in time for the perfect Valentine's Day meet-cute.
Last year, there were 200 singles, with closer to 400 this time around. Luckily, you're not stuck with your lift date forever. Singles can choose to ski down the mountain with their new suitor, or they can leave them behind and try their luck on the next lift. It's just like ghosting, only you're destined to see them at some point in the snow.