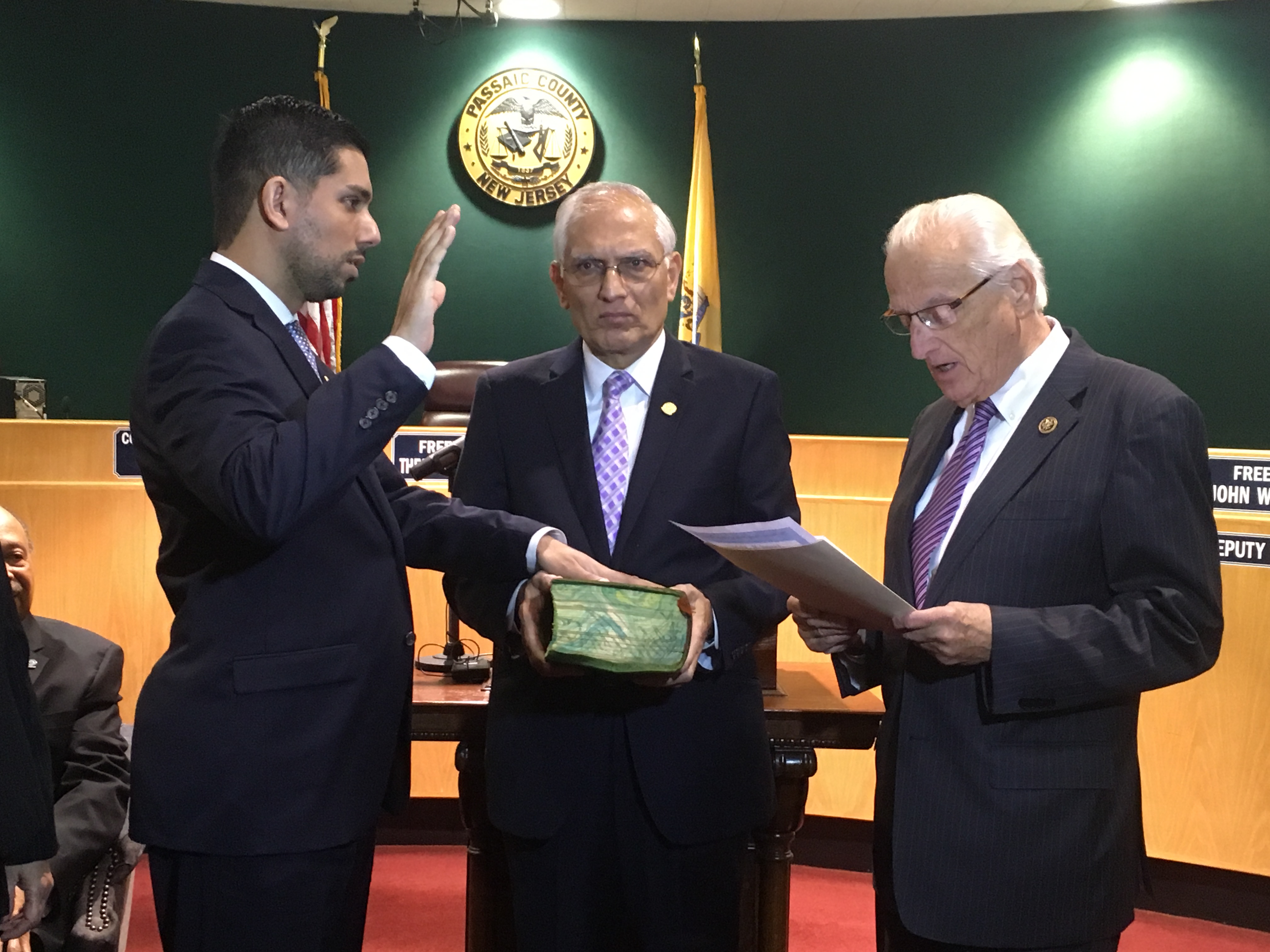 PATERSON, N.J. – Assad Akhter was sworn in as the newest member of the Passaic County Board of Chosen Freeholders on Friday. He is the first South Asian-American and first Muslim-American to serve on the county's governing body.
The Passaic County Democratic Chairman/State Democratic Chairman John Currie spoke in recognition of Akhter, whose parents hail from Pakistan. Currie called Akhter's swearing-in a "truly historic occasion."
"He has worked in our communities and throughout this ninth congressional district, he has worked with many projects directly with the freeholder board," Currie said of Akhter, currently deputy chief of staff for district 9 Congressman Bill Pascrell.
Pascrell sworn in Akhter and said a few words about the new freeholder before the swearing-in. According to Pascrell, Akhter's ascension to the freeholder board represents a "coming together" for members of different communities.
"This is a great country, the greatest country in the world. But this is a great event. It brought us together," Pascrell said.
According to Akhter, he is "overwhelmed" by the support he has received when entering his new role. He said he is proud to be the first Muslim in the role.
"This freeholder board represents our county, it represents who we are. I am really appreciative of this chance," Akhter said. "A lot of people talk about ethnic identity and understanding… I don't think your identity needs to be everything but I think it is a darn shame if you forget where you came from."
Akhter also said that he is proud to be chosen for this role at a time when the national political climate is what it is. In his comments, Akhter alluded to the election of President-Elect Donald Trump and statements he made while on the campaign trail regarding Muslims.
"I know a lot of people are hurting because of what is happening nationally. This is not the time to entrench, this is the time to advance. We can't stand around and we can't for other things to happen," Akhter said.
The event was well attended with the likes of state Senator Nellie Pou, Assemblyman Gary Schaer, Assemblywoman Shavonda Sumter and Passaic County Clerk Kristin Corrado, among others. Attendees also included a number of local elected officials including Teaneck Mayor Mohammed Hameeduddin.
Former Freeholder Hector Lora was also present. Akhter is replacing Lora on the freeholder board. Lora stepped down earlier this year to become the acting mayor of the city of Passaic after Mayor Alex Blanco resigned due to corruption charges.
According to Akhter, he will not be leaving Congressman Pascrell's office immediately. Instead, Akhter said he plans to stay on for at least the next few months.
The event was also a bit sweeter for Akhter because of timing. In addition to his swearing-in ceremony, Friday was also his birthday. The swearing-in ceremony was followed by community announcement and prayers at the Islamic Center of Passaic County.