Georgia, the country located in Eastern Europe, not the state in the Sun Belt, isn't the first place anyone would expect to find a bustling industry of emerging fashion designers, where creativity can be found even in the sleeves of garments. Just as the region is considered to be one of the cradles of civilization, it currently stands as a cradle of burgeoning fashion talent.
Let's get the obvious out of the way and mention that one of today's most sought-after designers, Demna Gvasalia, hails from Georgia. As co-founder of the Vetements fashion collective and the current creative director of Balenciaga, perhaps he shines as the brightest beacon of Georgian creativity. Shining with a slightly dimmer wattage is David Koma, the creative director of Thierry Mugler. Though he only spent a handful of his formative years in Georgia, later moving to Russia and then London, Koma returned to his birthplace this past November to attend Mercedes Benz Fashion Week, which was held in the Georgian capital of Tbilisi.
Along with a crush of international editors and buyers from Italy, France, India and Turkey and a crowd of street-style photographers that chase after the global fashion calendar, the multiday event was an international affair and is now in its fourth season. Though the international attendees may not have been familiar with the names shown on the schedule, the inventive designs presented on the runway proved to at least be memorable.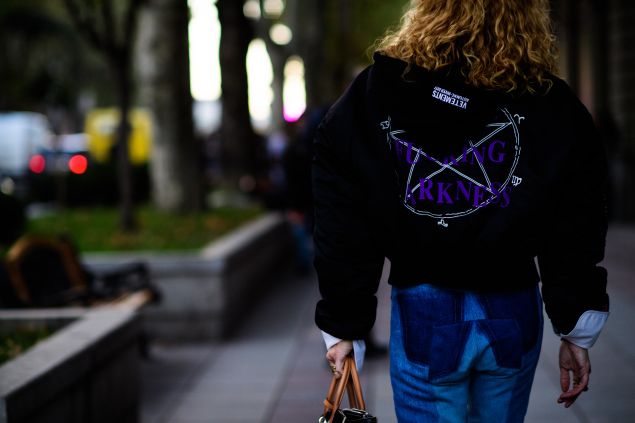 ***
The founder of this particular Mercedes Benz Fashion Week, Sofia Tchkonia, is a bit of a celebrity in Tbilisi. With high cheekbones and a slender build, she's a striking figure but is certainly grounded in reality. "I have big ambition, but I think that Georgia can be a fashion capital of this part of the world. We have something to show in terms of creativity," she told the Observer. "I think it can be one of the—not next to Milan, Paris or New York—but it can be one of the interesting fashion weeks of the world." However, she has faith that Georgian fashion can rise above that of Russia and Ukraine, where Mercedes-Benz also hosts a bi-annual fashion weeks.
Tchkonia makes a good point, as visiting Georgia is a breath of fresh air. The country has broken free from its Soviet chains (as it has done in the past, time and time again) and seems to be constantly reinventing itself. Tbilisi is ripe with trendy hotels, restaurants and bars, ones that would fit in on the New York, London, Paris, Milan scene. Instead, these are plopped down alongside charming, crumbling architecture and shinier, modern buildings. The mix of high and low, old and new, plus the delightful absence of obvious tourists, makes visiting Georgia a far more refreshing visit than most European cities have to offer.
If that sounds appealing, well, it also happens to be part of this fashion week's draw; Tchkonia likens being the creative director of MBFW to doing PR for the country itself. "Guests and designers can understand that this country exists, and not just in a political way, but we have fashion, we have art, we have an interest in young people. I think it can do a lot, not only for the designers but for the country as well."
***
But Mercedes Benz Fashion Week still does plenty for local talent. Consider, for example, George Keburia. Though most of his peers chose to show at Moma Tbilisi, the local modern art museum, this homegrown talent opted to show at the nearby Holiday Inn. Attendees sat in standard issue conference room chairs, lined up in a nondescript conference room; a DJ was spinning tunes from a folding table in a corner. Models stomped across the boring grey carpet in violet pantsuits emblazoned with bamboo shoots and crescent moons; there were also shimmering blue dresses with flounces of tulle and flood pants with mid-calf ruffles. Keburia was inspired by Japanese schoolgirls, so he did offer pleated skirts but paired them with a bondage-esque jackets, which strapped across the chest with rows of buckles. Lurex played a leading role in this fresh, young lineup, as did a lobster motif, and perhaps most charmingly, each of the models had long, colorful marabou feathers attached to the corners of their eyes.
In a May 2016 interview with i-D, Keburia explained how the tumultuous history of his mother country played a leading role in his collection: "Some details from the current collection, especially gun prints, are influenced by the economic and political consequences of the Georgian civil wars in the 90s," he explained. "The gun print was used to reflect the difficult and dark times the country went through, and the rainbow colors were used to undermine that darkness, and make it more optimistic." Those pieces were frequently spotted on the fashion show circuit in Tbilisi this November; "it" girls were snapped wearing Keburia's black sweaters with bold punches of color, plus a rather subtle machine gun embroidered on the pocket. Though they may not have realized it, their cheeky sweater was more of a political statement than anything else.
For a quick primer on other brands to know, there's Lalo, the reigning leader of inventive knitwear that's nothing like your mother's cashmere twinset, over-the-top Alexander Arutyunov, whose inclination toward cartoon-like themes and unabashed use of bright wigs has drawn comparisons to Jeremy Scott. Situationist, a label founded by Irakli Rusadze in 2008 (when he was only 17 years old), was clearly inspired by Vetements this season, as blazers with over-exaggerated shoulders and chiffon polka dotted dresses might prove. But the brand's white corset, layered over a white T-shirt, paid homage to the Georgian flag and perhaps drew the most attention and subsequent social media shares.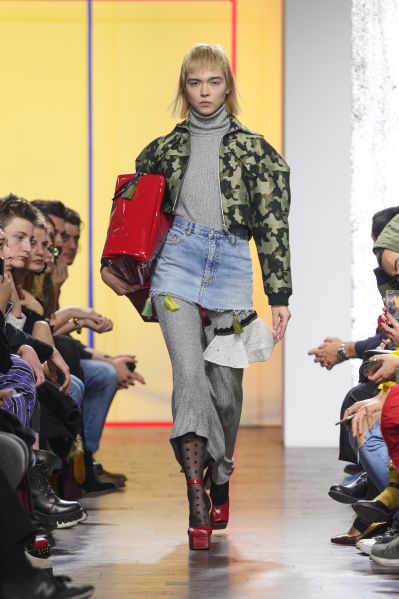 Bessarion Razmadze was born in Tbilisi and often shows there, but he has since moved to Moscow, where his Bessarion namesake label is based. As the closing show of this fashion week, post-Soviet themes were woven into the vibrant Bessarion range, where gold sequins and fastidious rows of silk-covered buttons competed for the spotlight, all accessorized with tassel-festooned fanny packs. Avtandil was a favorite of the international crowd as well: Set on a scene of red lights and smoke, there were an abundance of slashed seams, extra-long sleeves, oversized denim and plenty of logoed details.
Lela Eloshvili runs her own fashion label, Eloshi, which was founded in 2012 with the intention to dress elegant women who aren't afraid to flaunt their individuality. But she's also another figure on the scene working to promote Tbilisi talent. In 2013, Eloshvili founded MADE IN GEORGIA, a concept store with outposts in Tbilisi and Batumi (the second biggest city in Georgia) that serves to spread awareness for this Caucasus country's design talent. "Mercedes Benz Fashion Week is amazing, the guests are amazing, this whole project is very important for us," Eloshvili told Observer after her show.
We doubt that this is the last you'll hear of Georgia, and it's talented circle of designers. Tchkonia has to agree: "We have more and more people that come to the Fashion Week, like lots of big names, designers and bigger buyers. The designers are trying really hard. I can see from season to season how they grow. So I can see how there's a big potential."