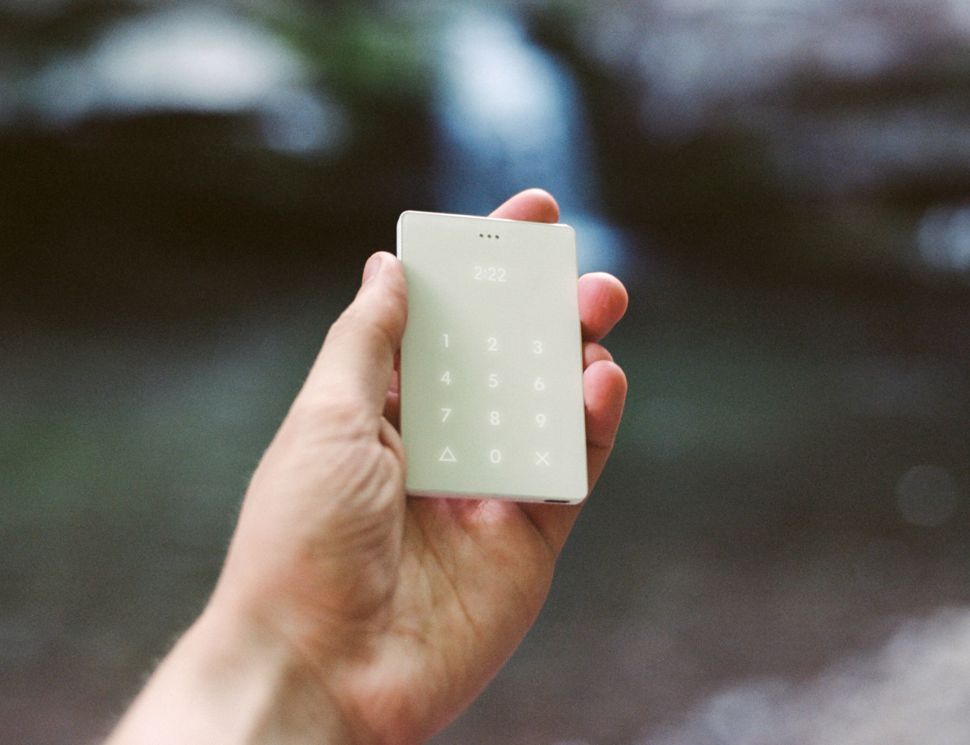 If anything brings you to Manhattan before Sunday, consider stopping by The Glass Room. It's a series of art exhibits sponsored by the Mozilla Foundation that dramatizes our contemporary corporate and government-run state of surveillance. At the very back of the space they have consultants who help overwhelmed visitors plan to take a digital detox. If we use our devices less, the overlords will know less about us.
But what if you want to disconnect, but you still want a quick way to reach someone when it's important?
Last year, we wrote about The Light, a voice-only phone that works with your existing mobile plan that was then seeking funding on Kickstarter. It lets you leave the house and have emergency access, including nine programmable phone numbers. It also lets callers reach you at your existing phone number.
It's about the size of a credit card (maybe of a few credit cars). It looks nice. It's designed with neglect in mind.
A spokesperson for the company contacted the Observer to let us know that the devices are shipping now to Kickstarter backers and other people can order them.
More importantly, their pre-order price is set to jump 50 percent after Thursday. Customers who order before December 16 can get a light for $100, when the price goes up to $150. Either way, users will pay $5 per month month for access to the Light's service, which lets you use your own number on a Light phone, no matter where your real phone is (that is, you can leave it at home).
If you want to give the Light as a gift, the device won't make it before the holidays. That said, they are promising to send a card that stands in for the object until it comes. The card looks a lot like their actual phone, which should follow in the spring.
For anyone who wants to be free of text messages and email notifications but needs to be there if the babysitter calls, this mobile device could be your solution.