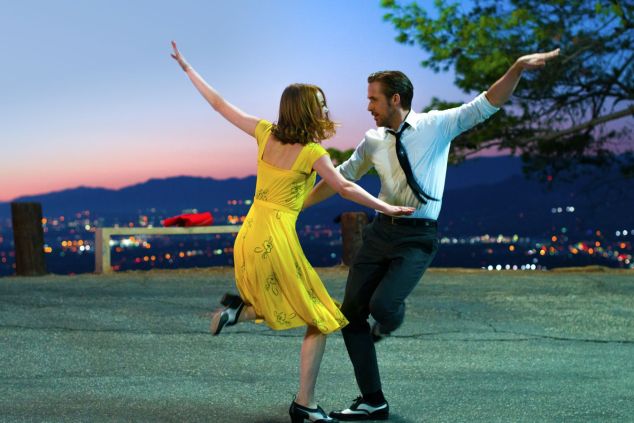 When it comes to the overpraised, overrated and disappointingly mediocre La La Land, I'm out on a limb with a saw in my hand. Preview audiences at this year's film festivals applauded vigorously. Critics went out of their noodles lavishing undeserved adjectives. Editors assigned pointless essays on why movie musicals matter. Hype and Oscar buzz surround it. Most important, it's making money. The usually reserved and always cynical New York Film Critics Circle, of which I am the longest-standing member (or maybe I should say the longest member still standing) awarded it the prize for Best Film of the Year, shocking the entire film community on both coasts, including the people who made La La Land.
---

LA LA LAND ★★★
(3/4 stars)

Written and directed by: Damien Chazelle
Starring: Ryan Gosling, Emma Stone and Rosemarie DeWitt
Running time: 128 mins.

---
The querulous derision that followed is completely understandable, because as much we all herald the return of great movie musicals, this is not one of them. A. A. Gill, the brilliant British critic who died earlier this month in London at 63, said it all in an essay called "To America With Love" when he wrote, "America's genius has always been to take something old, familiar and wrinkled, and repackage it as new, exciting and smooth." This explains a great deal about La La Land and the misguided reaction to it. The movie comes off as a well-intended tribute to the fabulous MGM musicals of the great Vincente Minnelli, made by people who have never seen one.
Like most film musicals, good and bad alike, you can write the plot on the head of an icepick. The old-fashioned screenplay, by the ambitious writer-director Damien Chazelle, reeks of mothballs. It centers on a year in the doomed romance between a wannabe actress named Mia (Emma Stone), demoted to waiting tables in the Warner Brothers coffee shop (a gimmick stolen from Doris Day in It's a Great Feeling) and an aspiring jazz pianist named Sebastian (Ryan Gosling), miserably relegated to playing Christmas carols in a Hollywood watering hole run by a mean-spirited boss who is no music lover (J. K. Simmons in a cameo as a favor to director Chazelle, who guided him to a Best Supporting Oscar in Whiplash).
They meet-cute in the sweltering heat of a typical pre-Christmas traffic jam where car radios play "Jingle Bells" while frustrated drivers leap from their stalled vehicles, singing and prancing through an irrelevant rock number about gridlock called "Traffic." I guess the point (or at least the objective) is to make Los Angeles look as bad as it is, when anyone who has ever been trapped on a California freeway knows no movie could ever do that. But it does try. In a series of rude encounters, the star-crossed lovers run into each other with disastrous results in contrived settings borrowed or based on other people's movies—everything from the joy of The Artist to the vulgarity of Baz Luhrmann's Moulin Rouge.
They leave a screening of Rebel Without a Cause, drive up to the Griffith Park Observatory where that movie was filmed, and dance around the planetarium. They pause on a park bench to sing a love song, then slowly waltz through a sappy love song in choreography derived from Fred Astaire's legendary "Dancing in the Dark" number in Vincente Minnelli's The Bandwagon—a classic that is superior in every way and holds up beautifully no matter how many times I see it. Ryan Gosling can't sing and Emma Stone is no Cyd Charisse. When he croons a love song, he's so flat and out of tune it made me wince. His dancing is better but rudimentary, which is surprising considering his early years in the Mickey Mouse Club. Together their charisma wouldn't fill a demitasse.
The movie sags badly in the middle, like a worn-out mattress that needs new springs. Months of separation—while she struggles to write and star in a play that flops and he tries to earn enough money playing the kind of New Age music he hates in order to finance his dream of someday opening his own jazz club—has a wearing effect on the film's trajectory while you patiently wait, hoping something will move the plot along. There's a fantasy epilogue, with a finale which I would hardly define as optimistic or uplifting.
Looking through the lens of originality, I fail to see much evidence in La La Land of freshness and imagination. It pleads desperately for a better score than the second-rate throwaways provided by the music and lyrics of pop songwriters Benj Pasek and Justin Paul. Still, in fairness, director Chazelle's passions to overhaul movie musicals and rescue the genre from stagnation are worthy of applause. Were Louis B. Mayer alive today, he would have dubbed the two stars with people who know how to carry a tune, but it's fun to watch them go through the motions. The dialogue gains sparkle when he goes ecstatic about keeping the dying art of jazz alive in the style of his idols, Louis and Bird and Monk and Miles, and the instrumental passages, where he simulates playing jazz riffs with the drive and swing of Bill Evans, are downright thrilling. He has charm and appeal, and she has big doe eyes and a heart-shaped mouth like a Louis Sherry chocolate. The cinematography by Linus Sandgren is sumptuous.
So in spite of its flaws, La La Land has moments of pleasure and satisfaction that are worth the price of admission. It's not that it's a bad movie; it's just not an outstanding entertainment, the way great movies (especially musicals) should be. But I hope it signals an open door for more to follow.