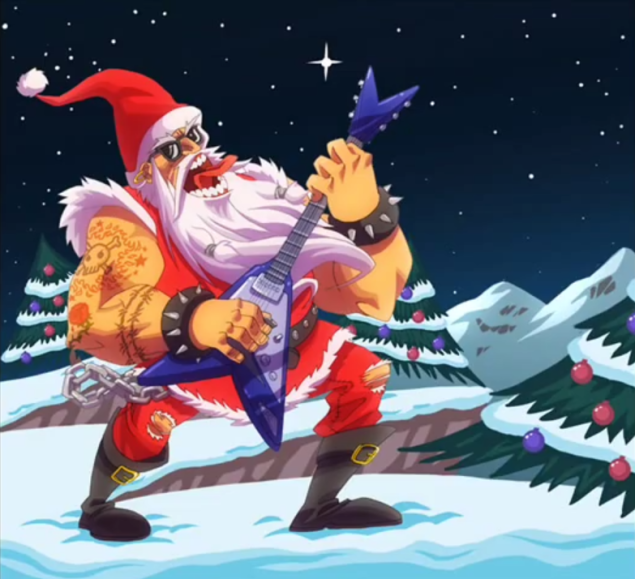 It's time to bust out the swear jar. Christmas is here again and nothing gets me cursing a blue streak quite like bad Christmas music.
And every year the season seems to start earlier. Wherever you go you are sure to be bombarded with muzak and tacky decorations. Whatever you are, Christian, Muslim Hindu, Buddhist, Zoroastrian, Jewish or Eggnogstic, there is simply no getting around Christmas, whether you're compelled to make the holiday "merry and bright" or choose to hang with the Grinch.
As your faithful sonic civil servant I feel it is my duty to help you through the next few potentially treacherous weeks with a (mostly) palatable playlist of yuletide hits, from famous to obscure to the truly bizarre.
Few Christmas songs teem with regret like the Youngsters' 1956 R&B single "Christmas in Jail," in which the protagonist is pulled over "in the wrong lane [while] feeling no pain." Promise as he might that he "ain't gonna drink and drive no more," this Youngster will be happy when he's out the pokey and partying with his pals on New Year's Eve.
[youtube https://www.youtube.com/watch?v=cM38kN4AOys&w=560&h=315]
Sure to spike your eggnog is pianist Charles Brown's standard "Merry Christmas Baby." Although covered by everyone from Elvis Presley to Ike & Tina Turner and Otis Redding, none of them could match the lesser celebrated Charles Brown's subtle, sultry blues. With "Please Come Home for Christmas" (1960) Brown's gentle soul sounds crushed as he sings "There will be no more sorrow, no grief and pain, I'll be happy, happy, once again…"
With their proto-rap 1965 single "Don't Believe In Christmas" Tacoma, Wash., garage rockers The Sonics speak to a nation of malcontent teenagers who "didn't get nuthin' last year!" In their fuzz-tone, reverb-drenched Louie-Louie-inspired "Santa Claus," disillusioned lead singer Gerry Roslie once more grouses after he winds up with "nuthin,' "nuthin,' "nuthin!'"
There is simply nothing like Otis Redding's take on "White Christmas" (from Atco's fantastic 1968 collection Soul Christmas) as "Mr. Pitiful" sobs over Booker T's gospel-tinged organ, overcome with sorrow, barely able to deliver the song's famous lyrics. "Lord have mercy!" he cries, his dreams of a perfect holiday shattered. "May your days be merry and bright," Otis sighs, before slinking, heartbroken and alone, off into that cold, snowy night.
[youtube https://www.youtube.com/watch?v=uwCcVRH8idA&w=560&h=315]
From the comedy/swing duo Homer & Jethro comes their 1968 release Cool Crazy Christmas featuring "Santa Claus The Original Hippie" who "can take a trip without LSD." This whacky track features plenty of Jethro's legendary hot mandolin picking over a perky '60s rhythm perfect for doing "The Twist."
Clarence Carter's "Back Door Santa," (another great track from Atco's Soul Christmas) features funky horns and punchy drums, as his husky vocals describes a backsliding St. Nick who makes "all the little girls happy while the boys are out to play." In the same vein is Albert King's 1974 down and dirty groover "Santa Claus Wants Some Lovin,'" chock-full of cheap double-entendres and King's stinging trademark blues riffs.
[youtube https://www.youtube.com/watch?v=cmSo7KOHKzE&w=560&h=315]
Recorded on October 15, 1968, Canned Heat's "Christmas Blues" [find the "Extended Version," which clocks in over seven minutes] is white boy blues at its best, featuring a guest-spot by Dr. John on piano, along with some howling harmonica from Al "Blind Owl" Wilson, Bob "The Bear" Hite's vocals and Henry Vestine's snarling guitar.
1968 also brought us James Brown's "Santa Claus Go Straight To The Ghetto" a fun and funky reminder of what Christmas is all about—giving, particularly to the less fortunate. Following the assassination of Martin Luther King Jr, the Godfather of Soul devoted himself to the civil rights cause, traveling the country performing free shows in America's inner cities. In the spirit of old Saint Nick, JB would provide three thousand Christmas dinners that year for New York's neediest.
[youtube https://www.youtube.com/watch?v=ryKRcVqsph8&w=560&h=315]
Also released in 1968 was finger-style guitar wizard John Fahey's New Possibility, arguably the most tasteful collection of Christmas music ever committed to wax. Fahey's solo acoustic guitar renditions of these age-old melodies teem with spirit. Stand-outs among the album's fourteen tracks include "Joy to the World," "Auld Lang Syne" and "Christ's Saints of God Fantasy."
Laura Nyro was a beautiful contradiction, a hot mess of sensuality and intellect. Her music leapt joyously from girl group soul to socially provocative folk to jubilant Broadway fanfares, to smoldering torch ballads. Her expression was both singular and unbound, fueled by a siren's voice that soared from a whisper to a wail in .006 seconds.
[youtube https://www.youtube.com/watch?v=4fw5WXJh01c?list=PLKiEBsOXrNf4Gk_puDBafCP0RvmU06WeZ&w=560&h=315]
Nyro's "Christmas In My Soul" (from her 1970 release Christmas and the Beads of Sweat) transcends the realm of seasonal listening. "Laura was the purest artist I've ever met. She had absolutely no desire to sell product. She didn't give a damn. I would tell her, 'Darling, some of us would like to make a living around here," the Rascal's keyboardist and Nyro's producer, Felix Cavaliere laughed.
"We all got out there at times, but that's where she lived! Even the name of her album was trouble. Columbia Records warned her 'If you put the word 'Christmas' on the record cover it's going to come right off the shelf as soon as the holiday season is over.' I said, 'Laura, what are you doing? Everyone is gonna think it's a Christmas album! Take the damn name off it. Who cares? But as you see, guess who won that one? She didn't really care. Columbia was right. The stores pulled it right off the rack, but it has stood the test of time. Her music was so friggin' good. I'm thrilled she's finally in the Hall of Fame. People should know her. She's been below the radar long enough."
[youtube https://www.youtube.com/watch?v=cQaJn11t94M&w=560&h=315]
"Joy to the World"—no, not that old Christmas carol we grew up with ringing in our ears every winter but a Charles Brown-style yuletide blues from the 1971 album Journey by John Simon, a top-notch pianist and songwriter in his own right, but best known as the producer of classic albums by The Band, Simon & Garfunkel, Leonard Cohen, Blood, Sweat & Tears and Janis Joplin to name a few. With his wife gone our singer/protagonist finds himself alone in a "living room [that] ain't fit for living in." But a ray of hope arrives at the tune's end as he moans "but I got a feelin' it'll all be fixed on December the twenty-sixth."
Singer/songwriter John Prine's heart-breaking (yet vaguely hopeful) waltz "Christmas in Prison" (from his 1973 album Sweet Revenge) portrays a homesick prisoner celebrating the holiday with "turkey and pistols carved outta wood."
[youtube https://www.youtube.com/watch?v=NJ6kJ7GWtv0&w=560&h=315]
And then there's Mud, the proto Brit glam-rock band whose "Lonely This Christmas" hit Number One on the UK charts in December, 1974. Led by Les Gray, a cross between an Elvis imitator and Al Pacino as Michael Corleone with a mullet, these fops may have been phony as the tinsel on a X-mas tree but you still have to love their socks in their Christmas video.
If you've ever longed for someone you love at Christmas time, The Pretenders' "2000 Miles" (from 1983) will second that emotion, as the shimmering notes fall like diamond snowflakes one by one from a Byrds-stylt jingle-jangling electric 12-string guitar. Chrissy Hynde's spare, evocative poem remains crisp and clear as winter air, laced with wood smoke.
[youtube https://www.youtube.com/watch?v=1SkWIqQ3oLY&w=560&h=315]
How quickly emotions flare around the holidays! No song captures this dynamic better than the Pogues' 1987 holiday jewel "Fairytale of New York." Filmed in a black and white noir style, the video portrays lead singer Shane MacGowan at the piano, undoubtedly sloshed with a dangling cigarette, lost in reverie. Everything is hearts and roses until a drunken row explodes between Shane and guest singer (the late/great) Kristy MacColl. Insults fly as he calls her "an old slut on junk," to which she replies, "Happy Christmas your arse, I pray god it's our last!" It's all rather touching.
"We Wish" from Christmas With The Ghostly Trio is an underground classic (the original release from 1987 was pressed on red translucent vinyl! And has become quite collectable, bringing a pretty penny on E-bay) that took holiday music to the brink of lunacy.
An uneasy marriage of Albert Ayler-style free jazz by way of Peter Balestrieri's honking, skronking alto sax, with Geoff Worman's whacked whammy bar surf guitar, all anchored down by Tim Taylor's edgy, growling, bass (think Bill Wyman/1965 era Rolling Stones). Produced by Violent Femmes' original drummer, Victor DeLorenzo, the music of this legendary Milwaukee trio surprisingly featured no drums. Years ago when I sneaked this platter onto the turntable at one of my mother's annual Christmas parties, she immediately glared at me and snapped, "Turn that off! It's ruining everything!"
[youtube https://www.youtube.com/watch?v=DAtZBE5XXFo&w=560&h=315]
Although it's not officially Christmas until I watch Porky Pig stutter through "Blue Christmas," the video to Leon Redbone and Dr. John's "Frosty The Snowman" has. Over-the-years become a seasonal must-see, along with Art Carney as the magical drunken Santa Claus in the classic Twilight Zone episode Night of the Meek. Released on Redbone's 1990 Christmas Island the mumbling crooner, Redbone and good Doctor trade verses recalling the fate of the doomed yet gleeful snowman, who, although rapidly melting under a strong winter sun, promises the kids "I'll be back again someday!"
Redbone's album also featured a remake of the Andrew Sisters' 1947 recording of "Christmas Island." Complete with weepy steel guitar, the campy Pacific fantasy begs the question, "How'd you like to hang your stocking on a great big coconut tree? While Ernest Tubb's version from his 1964 album Blue Christmas is quite good, the top track on that collection remains "Trimming My Christmas Tree with Tear Drops," as Tubbs moans "There'll be no Merry Christmas this year."
[youtube https://www.youtube.com/watch?v=R8pTGKiXvHs&w=560&h=315]
It's impossible to pick a best of track off The Blind Boys of Alabama's 2005 holiday disc Go Tell It On the Mountain. From the title track with Tom Waits, to "Joy to the World" with Aaron Neville, "Away in a Manger" with George Clinton and Robert Randolph to the downbeat "In the Bleak Midwinter" with Chrissie Hynde and Richard Thompson. Just play the whole thing!
Apparently singer/songwriter Sufjan Stevens is obsessed with Christmas and has been recording an on-going series of yuletide songs for years. While his eight-minute rambling monologue at the "X-Mess Singalong Yuletide Disaster Pageant" recorded at the Bowery Ballroom, NYC on 22/12/12 (see "That Was The Worst Christmas Ever!") borders on surreal, it's his mind-warping, "hysterically American" "Christmas Unicorn" (released November 13th, 2012) that steals the fruitcake. The song's shimmering electronic coda is sure to take you for a wild trip down Candy-Cane Lane.
[youtube https://www.youtube.com/watch?v=qAmmxo4bd90&w=560&h=315]
They say if you want something done right you've got to do it yourself.
Although there are quite a few of timeless gems listed above, I felt the only way to survive this holiday season was by reinventing some of these haunting old war horses myself. In this age of the selfie, Facebook narcissism and the president elect putting his family business ahead of public interest, I too will risk all decorum and taste by including a track by my band TriBeCaStan, from our 2015 yuletide EP Coal Again.
So here, if you dare, is "Little Town of Bethlemayhem."
[youtube https://www.youtube.com/watch?v=rFyyKcrm5M4&w=560&h=315]