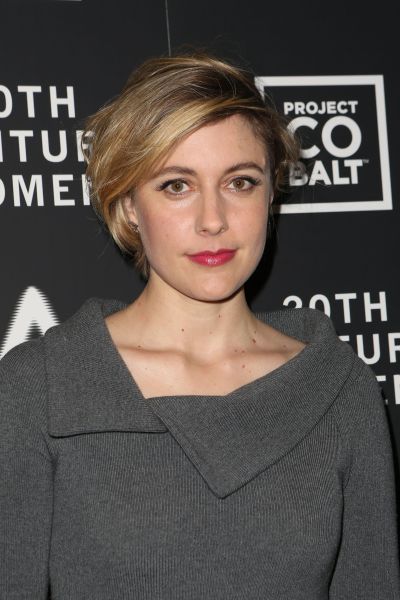 There's a bit of Diane Keaton to Greta Gerwig: smart, idiosyncratic and appealing, both neurotic and loose-limbed and glowy. But the proof that Keaton and Gerwig came-of-age in different generations is the way in which Gerwig, 33, has taken the reins of production, turning from muse to master, so early in her career. After rising in the acting ranks, even co-starring in Allen's To Rome with Love, the Sacramento native and transplanted New Yorker both wrote and acted in her director-partner Noah Baumbach's Mistress America. She's currently in post-production on her feature writer-directorial debut, Lady Bird, starring Saorse Ronan and Lucas Hedges. Meanwhile, Gerwig currently has three films in awards contention—Jackie, Maggie's Plan and 20th Century Women—and is a potential supporting nominee for the latter. As Abbie in Mike Mills' semi-autobiographical period dramedy, Gerwig plays an aspiring photographer who returns home to Santa Barbara from New York in 1979 after being diagnosed with cervical cancer—and moves in with Annette Bening's chain-smoking earth mother Dorothea.
After a brief face-to-face amidst festive partiers toasting the season with drinks courtesy of Fox Searchlight at the Park Hyatt, Gerwig called the Observer for a longer chat about 20th Century Women—and navigating 21st Century Hollywood.
How much of your character was on the page?
Greta Gerwig: Most of my character was on the page. Mike [Mills] wrote a very detailed intricate script—not only the dialog but also the images running alongside. It was very collage-like. A lot of the details of who Abbie was were in the script: her hair color, how she dressed, the photographs she took, her kink of wanting to role play [during sex]. It was based on his sister in large part because she had grown up in Santa Barbara with Mike and had gone to art school. She was into punk music and went to CBGB's and got cervical cancer when she was in her 20s because her mother had taken DES. She had to return to Santa Barbara. In a week her life had changed.
In the movie, Abby is not Dorothea's daughter. She's a boarder. Why make that change?
Mike isn't really interested in making films from a place of autobiography. He's more interested in using it as a jumping-off point because he knew the heart and soul of that world. He feels that that's his best shot if he starts with something he really knows. But he didn't have a slavish devotion to what his life was—it was just a point of contact.
'I didn't know, but learned to love, the all-female punk bands like The Slits, The Raincoats: they were great, dirty, raw and alive,' says Greta Gerwig. 'I also learned to listen to Black Flag.'
What research did you do to play Abbie?
Mike sent me a lot of art books from the 70s. I had photography lessons where I learned how to use old cameras and develop film. I listened to punk records. I like music from the 70s anyways but my taste is David Bowie and Talking Heads. I didn't know, but learned to love, the all-female punk bands like The Slits, The Raincoats: they were great, dirty, raw and alive. I also learned to listen to Black Flag. It always seemed like I couldn't get a handle on it; I feel like Annette's character Dorothea felt.
Did the research pay off when you found yourself on set with Bening, Elle Fanning, Billy Crudup and Lucas Jade Zumann?
After doing all this research and work alone, Mike united us for two weeks to rehearse together, which is a long time for a movie. We didn't specifically work on scenes. We did a lot of improve and character building, and we had dance parties all the time. We'd each bring in songs that we felt that we related to, and we'd all dance. We had these very strange daytime dance parties. Because of this, Mike makes movies that feel lived in in a way people can't put a finger on.
And at the center of this makeshift family is Annette's divorced Dorothea, a single mom trying to teach her teenaged son Jamie how to be a man.
In a way the finished product does a disservice to how great Annette is. You can't see every take, every attempt—films are necessarily static. She's fabulous in the movie. Watching her work she would relentlessly come at it from different angles. She was completely alive in the moment. Her performance is not planned out in her head. She prepares and once she's on set it's all thrown out the window. She's just looking for the truth in the moment and it's very exciting to work opposite her. It's thrilling and also scary.
Earlier this year you starred in Maggie's Plan opposite Julianne Moore: can you compare the two actresses?
Julianne is very different. Playing opposite her is extraordinary but different: Julianne clicks into something early, not that she doesn't look for what feels alive, she feels more like she's working in subtler tones. With Annette, it was more unexpected, Julianne would refine and refine and refine. She's detailed and precise. That's why they were so electric together on screen in The Kids Are All Right. That's what's thrilling. There's not a sameness in how they perform. It's electric.
In one great dinner table set piece, Abbie introduces the topic of menstruation, unnerving hostess Dorothea.
That was one of the few scenes in which we did a lot of improvisation. Mike gave me the direction to keep pushing it until Annette was really annoyed by me so that's what I did. I did it until Dorothea or Annette wanted to shut me up. It was written into the script but when we were doing it, it got even crazier. Elle's character—everything she has was written down. The one thing that wasn't in the script was Billy Crudup's character describing the end of One Flew over the Cuckoo's Nest when Elle's character said she missed the movie's end because she was, um, busy. A lot of what Billy said was improvised. He's one of my favorite actors onstage or on film. He's great in Jackie. We both did Jackie right after 20th Century Women. 
Was the production process as intense in Jackie, in which you play Jackie O's friend Nancy Tuckerman opposite Natalie Portman?
I had a very different relationship with that film. I had so long to prepare for 20th Century Women. I had about two weeks to prep for Jackie, which shot right after. Inevitably, I had to go a lot on intuition, quick first impression feelings. Playing Nancy Tuckerman worked in part because Jackie Kennedy knew her since childhood. They were close friends and I'm friends with Natalie—I didn't have to fake that. I'm friends with her and in awe. When I'm with Natalie I'm happy and floored.
You're currently in post-production on your directorial debut, Lady Bird. Is there more writing and directing in your future?
I love acting but where I hope to go, and where I'm trying to go, is more Greta Gerwig pictures.
Is there more opportunity now for women directors?
I fucking hope so. It's so demoralizing looking at these best-of lists. It's not talked about enough. Every year five dudes are nominated for Best Director. There have only been four women nominated in the history of the Oscars. Twenty deep it's all dudes and it's a shame. It's almost like it's so bad that people think it's the way it is. And yet, this year alone, we saw female-directed films like Andrea Arnold's American Honey, Certain Women by Kelly Reichardt, Rebecca Miller's Maggie's Plan, Ava Du Vernay's 13th. These are serious female filmmakers. Mia Hansen-Love's Things to Come and Maren Ade's Toni Erdmann: These are world-class filmmakers. It's a systemic issue that starts with the financiers, directors and journalists—as long as the conversation is dominated by men it's always going to be niche.