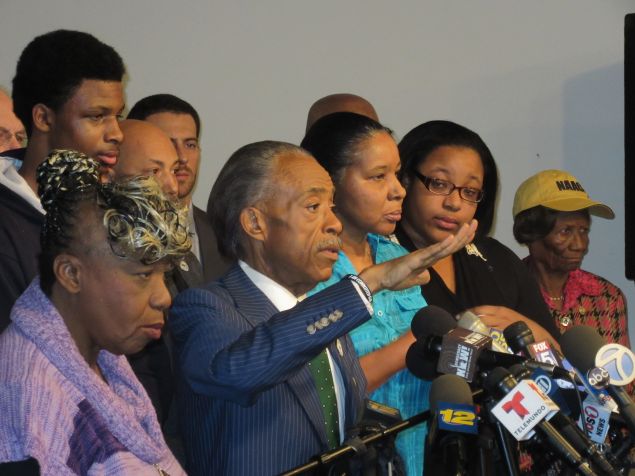 Two years to the day after a Staten Island grand jury decided not to indict the cop who killed Eric Garner, The Rev. Al Sharpton demanded the City Council pass a bill illegalizing the chokehold maneuver the officer employed—a bill that Council Speaker Melissa Mark-Viverito has obstructed, and Mayor Bill de Blasio has vowed to veto.
Sharpton hosted Garner's mother, Gwen Carr, at his weekly Saturday gathering at the Harlem headquarters of his National Action Network. In a wide-ranging speech, the controversial civil rights leader again laid into President-elect Donald Trump and argued that the selection of Alabama Sen. Jeff Sessions for U.S. Attorney General boded badly for the ongoing Justice Department investigation of Officer Daniel Pantaleo, who has remained on the force since ending Garner's life.
Queens Councilman Rory Lancman's legislation making the use of a chokehold a crime has 28 co-sponsors, representing a majority of the Council's 51 members, but has remain stalled in committee due to opposition from the mayor and the speaker.
"We must have criminal, and solid criminal behavior attributed to police that take the law beyond what is understandable or palpable. Gwen Carr and others stood, and we stand with them, to say that the New York City Council needs to support legislation that would make police using the chokehold a crime, punishable as a criminal act. And everyone involved in City Hall needs to move toward that right now," said Sharpton. "We been waiting two years on the feds to move. We should not have to wait on the City Council. They can make that a law rather than a policy."
At present, the NYPD Patrol Guide forbids the use of the chokehold, but the regulation lacks the force of law. The mayor has repeatedly argued that cops must have discretion to use the technique in instances where their lives are in peril.
In his address, Sharpton also called for a push to make Gov. Andrew Cuomo's short-term executive order giving Attorney General Eric Schneiderman jurisdiction over cases where law enforcement kills a potentially unarmed civilian into law in New York State—and in other states. He added that he intended to see Pantaleo fired from the NYPD, something the department has insisted must go through a formal internal proceeding after the conclusion of the federal investigation.
"We are not going to let this go. We are not only going after his civil rights violation, we are going after his job, and we are going after law established in the City of New York," said Sharpton. "Eric Garner will not be forgot. History will change because of what they did to Eric Garner."
Carr, for her part, spoke of her personal pain at her son's death and echoed the NAN head's demands.
"I thought my heart would just fall out when I heard that verdict," "The chokehold law—we must get that in place, into action. Even though it's too late for my son, it might save your son, your nephew, your grandson."
Sharpton strongly backed de Blasio's 2013 bid for mayor, because of the then-candidate's opposition to aggressive "stop-and-frisk" policing. The mayor hosted the black activist on a panel with then-NYPD Commissioner Bill Bratton in the aftermath of Garner's killing, arousing outrage from police unions.
The African-American leader claimed, incorrectly, on Saturday that de Blasio "has not taken a stance" on the chokehold legislation. He also indicated that he would back the mayor for re-election next year—if for no other reason that he is the only Democrat in the race.
"You have nobody running but the mayor. I do not support ghosts. So don't be asking me whether I'm going to support Mayor de Blasio or Casper the Friendly Ghost," he said.
Many have speculated that Comptroller Scott Stringer, Bronx Borough President Ruben Diaz Jr. and Brooklyn Congressman Hakeem Jeffries might primary de Blasio, though none have yet announced their intention to do so. Real estate developer Paul Massey has kicked off a bid to challenge the mayor as a Republican.
Disclosure: Donald Trump is the father-in-law of Jared Kushner, the publisher of Observer Media.