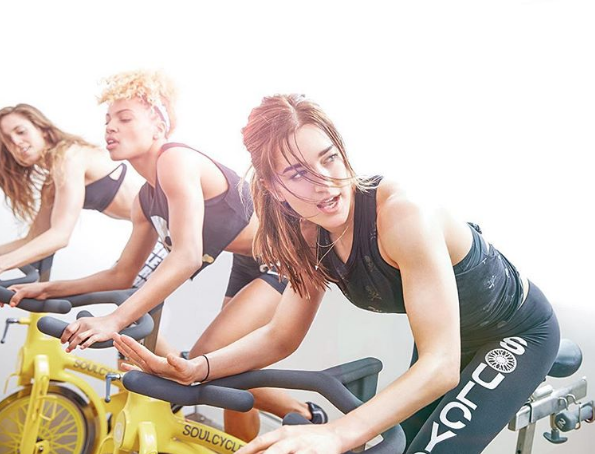 It's the most wonderful time of the year, considering all the lights, festive decor and Vince Geraldi's A Charlie Brown Christmas playing on repeat at Starbucks. But it also happens to be super stressful, as there seems to be an event every night of the week, which comes coupled with guilt and/or FOMO from not attending said event, delicious-but-unhealthy food around every corner, and those annoying Polar Vortex situations. In other words, December can be a very challenging month, health-wise. A study published in the New England Journal of Medicine found that in the U.S., Germany, and Japan, the greatest amount of weight gain happened around major holidays. How can you not gain weight when one of the most common beverages served during this time is a nog (consider that an 8-oz glass of it is equal to the caloric intake of three glasses of wine, eight Oreo cookies, or a 10-ounce filet)?
'Tis also the season for common colds and flus. According to a recent survey from Fast Company of more than 23,800 workers across North America and Europe, 75 percent say they would go to work when they were sick and just be miserable. Twenty percent of respondents said they always go to work when they're ill, and 55 percent of respondents said they'd only take a sick day if their symptoms are severe (read: people are going to work looking like a cast member of Walking Dead.) Only one-quarter of the respondents said they'd stay home, to either work from home (10 percent) or take the day off (15 percent).
It's one thing to sit at a desk (and cough all over it) when you aren't feeling so hot, but could you imagine hopping on a stationary bike four times a day and motivating a class of 60 to push, climb, lift weights and tap it back, all while music is blaring for 45 minutes? Thats what you have to do if you're a SoulCycle instructor. It's hard to take a sick day when you have students who have mustered up the energy to show up to class and who expect their instructor to be there with bells (and hopefully some Beyonce) on. SoulCycle CEO Melanie Whelan recently told Forbes, the company's instructors really act as "inspirational coaches. They create a musical, physical, and spiritual experience." How does an inspirational coach navigate the unhealthy, party-filled season? What super powers does it require?
Christina Phillips, who has been with SoulCycle for three and a half years, and teaches regularly at the West Village, FiDi and the brand new West 60th studio, says strategic planning (and sleep) is key. "I have to be very smart with my daytime for playlists, obviously classes, time to refuel and time to nap! It makes a difference in my day—holiday party or not!" she told the Observer. She also tries to drink a lot of water and grab the Citrus Super-C and a Cold Warrior from Juice Generation. Phillips says the Cold Warrior literally saved her once before she taught a class.
Fellow instructor Samantha Jade, who teaches regularly at Chelsea, Noho and Soho, says plenty of water, citrus juice and post-class ginger shots at Juice Generation are a huge help. If she feels a cold coming on, the ginger fireball drink from Juice Press stops it dead in its tracks. Once again, she stresses the importance of sleep. "Rest and fuel! Whether it's making sure I get extra sleep by going to bed early or taking a nap midday."
Part of the strategy for staying so fit and having the strength to teach so many classes a day requires the instructors taking classes themselves. "To stay strong and balanced you must cross train. I find that Pilates is the best compliment to SoulCycle, because you're able to support the work we do in class by strengthening the tiny stabilizing muscles," said Jade. Phillips takes barre, HIIT classes, yoga and finds that just walking her dachshund around the West Village keeps her in top shape.
https://www.instagram.com/p/BNzQEinBM3M/?hl=en
Though the instructors manage to stay healthy for their classes, they definitely can tell when their students may have partied a little too hard the night before. "Saturday mornings are very telling of the evening prior. I can tell by their energy levels and the look in their eyes. Holidays and the beginning of outdoor 'brunch season' are when this is most apparent!" Phillips said. But as they say in class, half the battle is just showing up (and then about another quarter of that battle is getting on the bike.)
Jade thinks people are riding even more right now to sweat out those holiday toxins. "Whether they are hitting the parties hard or not—they're showing up and sweating it out." And if they are really struggling, Phillips pulls out the big Christmas guns. "I have a DJ Snake version of "Jingle Bells." That's always a hit and you can't go wrong with Mariah's "All I Want For Christmas Is You." All the juice in the world can't compare to that song.