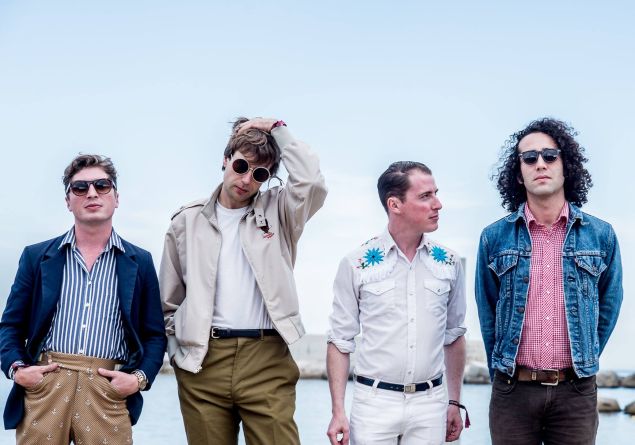 You know you've made a special album when you're making plans to celebrate it a mere decade after releasing it.
That's exactly what the Canadian art-rock group Islands has on their hands with their majestic 2006 debut LP Return to the Sea.
The band formed the year before from the ashes of the celebrated-but-short-lived British Columbia indie-rock act The Unicorns (who reunited for a string of shows in 2014), and following a respite journey to Los Angeles, the new combo, led by former Unicorns frontman Nicholas Thorburn and drummer Jamie Thompson, were hard at work in a friend's newly constructed studio in Montreal beginning work on the blueprints for their first missive under the Islands handle.
For Return to the Sea, the band eschewed the lo-fi indie-pop of the Unicorns in favor of the more high-end innovative sweep of The Soft Bulletin by The Flaming Lips or Sparklehorse's It's A Wonderful Life, working in collaboration with a slew of prolific friends including Richard Reed Parry of The Arcade Fire, Wolf Parade's Dan Boeckner and West Coast underground hip-hop magnates Subtitle and Busdriver to create a mid-decade classic that defied all expectations of what an indie band in the 2000s should sound like.
In November, Manque Music reissued a 10th anniversary edition of Return to the Sea, and now Islands is further celebrating with a New York concert at Webster Hall on December 10 where the band—who also released two great new albums this year on Vagrant (Taste and Should I Remain Here At Sea?)—will perform their debut in full with a string section and special guests.
The Observer recently spoke with Thorbun about the surprising influences behind some of his best songs and what it feels like to be revisiting his seminal masterpiece a mere 10 years after he released it.
[youtube https://www.youtube.com/watch?v=cCSruBkbQ2I?list=PL60B5AA04984F7042&w=560&h=315]
I've always been mesmerized by the cover art for Return to the Sea. When did you first learn about this Caspar Friedrich painting, The Sea of Ice, and what was the story behind your decision to use it for the cover of the album?
I was batting around band names and album titles during the recording of the album and when I ran them by my friend Adam Gollner, a writer, he recalled the painting. He showed it to me and I knew instantly that it had to be the cover, as it lent a dark, sarcastic double meaning to the album title.
How did you initially come up with the concept of Return to the Sea?
I think nautical themes have always been present in my work, having grown up around water along the west coast of Canada. Some of my earliest memories are being on the ocean or by the sea. It just kind of bled naturally into my work. I knew it had to represent some kind of spiritual rebirth as Islands had very quickly spawned from the remains of my previous band, the Unicorns.
You mention in your notes about how you bristled at the flaws you heard on Return to the Sea. For this reissue, even though it sounds as though you've made your peace with the way your voice sounds and the guitar and drum tracking, did you take advantage of this opportunity to tweak any parts that really nagged you? 
For better or worse, I figured it would be best to leave it as is, the way people remembered it—warts and all.  If I were to make this record in 2016 I would absolutely do things differently, but maybe I'd lose a lot of the charm along the way, alongside those little details that appealed to people.
[bandcamp width=350 height=470 album=2795763512 size=large bgcol=ffffff linkcol=0687f5 tracklist=false]
Was there a particular artist or album that inspired your utilization of string and horn arrangements? Was Richard Reed Parry always your first choice for doing the arrangements? Did you try to reach out to anyone else? Why or why not? How involved were you in the arrangements?
Richard is like a brother. We lived together for years in Montreal, and we have a deep musical understanding—we first bonded over our love of Brian Eno's work on the James records. We arranged a lot of that stuff together, with a few of the other string players. I was heavily inspired by Penguin Cafe Orchestra for the composition and arrangement of these songs, particularly "Tsuxxiit". (Pronounced soo-key, by the way.)
How did you connect with Busdriver and Subtitle for "Whalebone"? How much underground hip-hop were you listening to at the time? Have you been following the Low End Theory/Brainfeeder movement that's evolved since the release of Return to the Sea? It's wild to think the first Islands LP came out the same year as J. Dilla's Donuts and the first Flying Lotus album, 1983. Were you up on all that back then?
Our manager met Subtitle (who goes by his birth name Giovanni Marks these days) at CMJ in 2003 and was transfixed. Through Gino we met Regan [Busdriver] and Daddy Kev who was one of the people who started Low End. Jamie followed a lot of the underground rap scene more than me, but I was very much engaged with it. We rocked Donuts for sure, and I remember rehearsing with Islands in our practice space when we found out about J Dilla's passing.
I'd love to hear more about this relationship between your dad and that orca that inspired "Tsuxiit". What does the name in the title mean as well?
My father worked as a fisheries officer in a very small coastal community called Nootka Sound. Tsu'xiit was the name given to the whale by the local Muchalaht people of northern Vancouver Island, named for their chief who declared that he would return to them as a killer whale after he died. Sure enough, four days after their chief died, a killer whale showed up in the waters there and refused to leave.
My father had to deal with people flocking from all over to see this strange whale that was extremely friendly and curious. It behaved more like a family dog, so people would forget that it was a wild animal, feeding it junk food and dropping their babies into its gaping mouth for a photo opportunity.
There was an attempt to try and reunite it with its family but the tribe blockaded the efforts and the whale ended up living in the harbor for five years before it was killed by the rudder of a large boat. My father believes that the whale was depressed. It was an incredible thing to witness this whale—it would play with the boats and chase them around, desperately seeking any kind of companionship. My dad earnestly regarded this animal as a friend!
You didn't include any bonus material for this release. Was it a case of not having any kind of superlative outtakes or b-sides to expand upon or was it a conscious decision to not trifle with the integrity of the original track listing? What are your thoughts on reissues and anniversary editions that come rife with extra stuff?
I have b-sides from almost every record and I wanted to collect them all on a separate release, which I plan to do at some point. There's some cool stuff on there but tacking them on to this album would feel inconsistent. The record has a nice flow. Stuffing a few lesser songs onto a reissue record never sits right with me. I didn't want to sully the contained album with outtakes or different versions. Didn't appeal to my OCD-esque impulses.   
[bandcamp width=350 height=470 album=3886691953 size=large bgcol=ffffff linkcol=0687f5 tracklist=false]
How have the rehearsals been for the live Return to the Sea shows? I'd love to hear more about your visualization for this show, with the strings and the horns and everything. Are you planning on doing something a little more theatrical?
It's wonderful. We did the L.A. show this past Friday and it was a really special experience. The mood on stage was very joyous and the audience seemed to be in the same frame of mind. It's not overtly theatrical—there's no descending from the ceiling on a wire or anything—but it is a very buoyant show. Lots of guests coming and going and a few strange surprises.
Do you plan on recording these live performances of Return to the Sea?
Nope. You were either there or you weren't. Some things are just meant to exist in the ether.
Who was the most famous person to reach out to you up on the initial release of Return to the Sea to let you know they were a fan? Is there a good story there?
Someone showed me a YouTube video of Jason Schwartzmann holding it up in a Tower Records. I don't know, I guess he was a fan. People are pretty quiet about their feelings about this record. Still waiting for that fan letter from Steve Coogan—that's all I care about.
Islands have released five more albums since Return to the Sea came out in 2006, including your pair of great new albums this year. What do you believe to be the one thing that's remained consistent about this band across all of your work and why? How do you feel the group has evolved since Return to the Sea?
Little old me, I guess. I'm sure there's consistencies but I'm way too close to the tree to be able to articulate the whole forest.