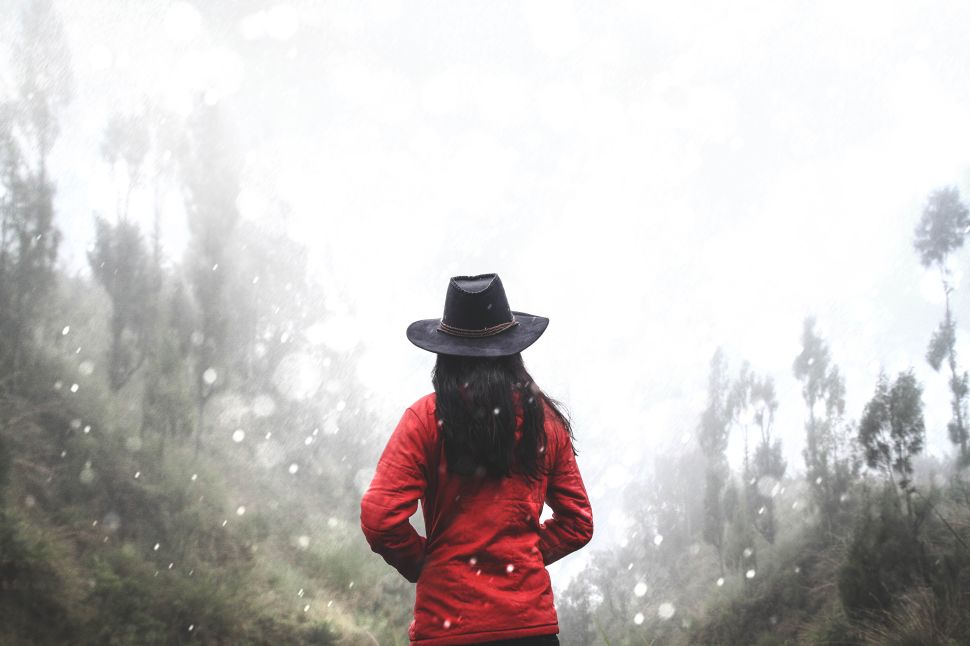 Winter hats, from floppy felt numbers and chic fur Cossacks to knit beanies and deerstalkers, can be both functional and decorative. They can also make your hair greasy, flat, or just plain messy. Not a good look. But there are a few easy ways to preserve your style, even if the rest of you is turning into a very pretty Popsicle.
Never put a hat on hair that isn't completely dry. This is especially important if you have short hair, as it is more likely to be left dented by sticking a hat on damp locks. If you usually let hair air dry, now is the time to invest in a tool to speed things up. Amika's Mighty Mini ($55) is worthy of being your daily hair dryer, even though it's made for travel. Small enough to stash in a backpack or handbag, it's got the power to remove all traces of moisture from your hair quickly.
Make friends with volumizing products. Incorporate as many products as possible that specialize in lifting your hair toward the heavens. Klorane Volume Shampoo ($20) and Conditioning Balm ($16) are a good start. But for maximum volume, you need more help. Phyto Phytovolume Actif Volumizing Spray ($30) is a heat-activated product that will make hair bigger and bouncier, so it springs back from hat smothering much more easily.
Fight the frizz. R+Co Foil Frizz Plus Static Control Spray ($27) will keep fly-aways at bay without sacrificing shine. Anatalie David, owner of The Hair Room JC suggests keeping a stash of dryer sheets (yes, like Bounce) in your bag and rub one over your head when you need to tame your tresses. Sounds like one of those weird hints from Heloise, but it actually works.
When in doubt, you can't beat a good bun. This is especially true if you're trying to make your blowout last in the midst of wet, freezing weather. Before putting on your hat, just twist your mane into a topknot and secure with a few Sephora Collection Quick Fix Bobby Pins ($7), with the ridged side closest to the scalp. Once released, hair will have volume and lift.
Jackie Danicki created one of the first and most popular beauty blogs in 2004, and has consulted some of the world's most iconic brands on digital content strategy and innovation. Jackie blogs at burnedoutbeauty.com, and you can find her on Twitter, Instagram, and Snapchat as @burnedoutbeauty.