In a state of Trump exhaustion a few weeks ago, I sent this dire plea to the Twitter world:
My wish has finally been granted. A new Google Chrome extension called "Make America Kittens Again" does exactly what I requested, with cats. Cats are the best. I love cats, and I'm honestly shocked I didn't think to specifically request cats in my tweet. But I'm thrilled. Download it here.
I downloaded the extension first thing this morning, and already my day is a little brighter as I see kittens atop articles about Trump, his crazy cabinet picks and meetings with tech leaders and others like Kanye West. Here's a comparison of how an Observer article looks with and without the extension: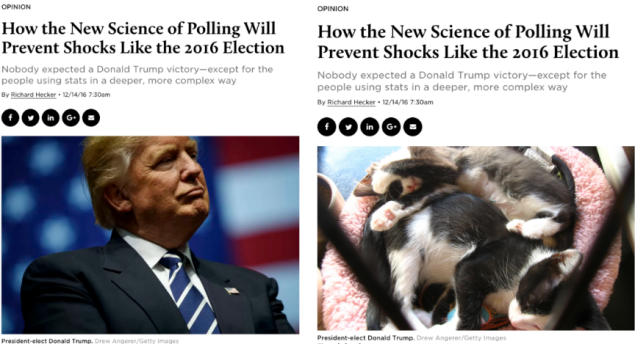 While it's not foolproof and hasn't been working on every single photo, the Chrome extension has significantly lowered the number of times I've seen Trump's face this morning. It even worked on this photo that doesn't picture Trump himself, but rather Trump Tower in NYC.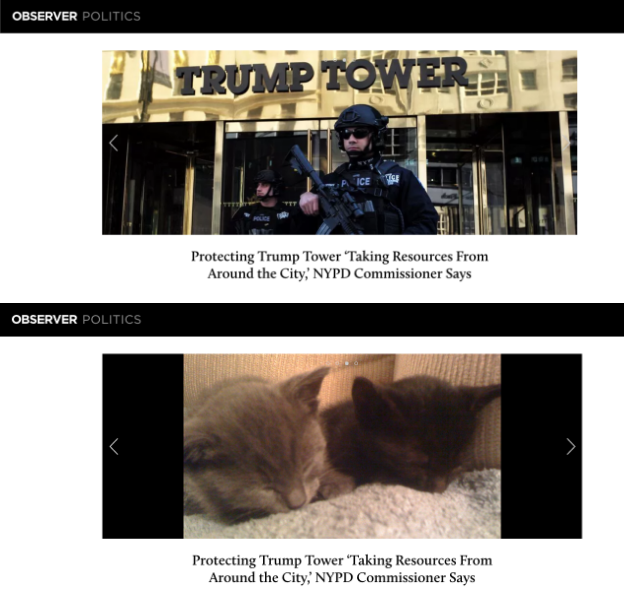 In the Chrome store, the creator of the extension, tomroyal.uk, offers a few reasons as to why he created this:
A) Trump is a disgrace
B) Kittens are lovely 
and C) I couldn't find a Creative Commons photo of a blobfish to use.
Finally, the internet is how it should be again—full of cats.
Disclosure: Donald Trump is the father-in-law of Jared Kushner, the publisher of Observer Media.