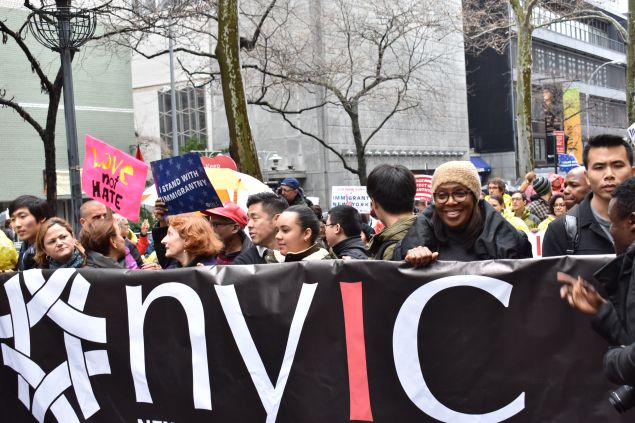 Immigrants, activists and top New York Democrats marched to Trump Tower on Sunday in a display of defiance against President-elect Donald Trump's proposals to deport two million or more undocumented individuals living in the United States
The 1,000-plus marchers, officially called the "March for Immigrant New York," traveled from the Dag Hammerskjold Plaza near the United Nations to Trump Tower. The New York Immigration Coalition organized the march, which was sponsored by 85 organizations representing immigrant rights and advocacy, legal services, labor, faith, civil rights, LGBTQI, women's rights and anti-violence groups.
"We are here to send this message and it's so important to say that all of us—wherever we may be from, wherever our ancestors or we may be from—we are all part of one New York and this is our New York," Steven Choi, executive director of NYIC, to whom attendees responded "Our New York!" every time he asked them, "Who's New York is this?"
City Council Speaker Melissa Mark-Viverito highlighted the resolution she co-sponsored reaffirming New York's status as a sanctuary city, which refuses to comply with federal immigration officials except to remove violent offenders. Flanking her was Brooklyn Councilman Carlos Menchaca, chairman of the Committee on Immigration, who yelled "Si se puede!"—"Yes, we can!" in English—at one point as the speaker addressed the audience.
"We push back against the rhetoric of hate, of this no mandate president-to-be," Mark-Viverito said. "We cannot forget that this individual does not have a mandate yet he is going to attempt roll back all of the progress that we have achieved when it comes to women's rights, when it comes to immigrant rights, when it comes to LGBT rights, right?"
In his "100-day action plan to Make America Great Again," the president-elect said that he would "cancel all federal funding to sanctuary cities," roll back nearly all of President Barack Obama's executive actions, deport what he alleges are "more than two million criminal illegal immigrants from the country" and get rid of visas to foreign countries that won't take them back. He has also proposed to require Muslims to file their personal information with the federal government—which Mayor Bill de Blasio vowed to block through legal action if implemented.
Public Advocate Letitia James said the Trump administration "has a sign up that says, 'No immigrants need apply, only millionaires and billionaires.'" She took a jab at the racial makeup of Trump's administration and noted that Trump's pick for secretary of the Department of Housing and Urban Development, Dr. Ben Carson, is the only person of color in the mix.
"This is an administration that looks like the snow cropped mountains of Colorado plus Ben Carson. Is that right?" James said, as the crowd yelled "No!" and laughed. "I've been to Colorado. Nice place. But we will not allow our immigrant communities or any group of people to feel threatened or victimized."
Congresswoman Nydia Velázquez, a native of Puerto Rico, said New York City's unemployment is lower in New York than many other cities because "we are the beneficiaries of the immigrant experience."
"We are here standing together with one voice to send a message to Donald Trump that we will fight you and we will fight any ill-conceived, mean-spirited federal law that goes against immigrants in this country," Velázquez said.
And she said that the city would oppose the creation of a registry against Muslims and that they expect technology companies to say that they will reject "any attempt to target any group in this country."
"We will fight in the house of Congress," Velazquez said. "We will fight in the courts, and we will fight by marching in the streets of New York, in the streets of Washington, in front of the White House, in front of the Capitol. And let me make it clear to both Republicans and Democrats: we will be watching you."
The marchers were heard chanting "Who's city? Our city!" and "We're here to say, no matter what they say!" and carried posters with slogans such as "NO HUMAN IS ILLEGAL," "Build Love, Not a Wall," "I STAND WITH #IMMIGRANTNY," "NEW YORK REJECTS HATE" and "Keep Families Together!" The New York Immigrant Coalition was seen at the head of the march carrying a banner that said, "NYIC New York Immigrant Coalition united for justice and opportunity."
Aber Kawas, a youth organizer for the Arab American Association of New York, said that in the Bay Ridge section of Brooklyn, Muslims have "been living in collective fear, distress and demoralization" compounded by numerous hate crimes. She called for the preservation of Deferred Action for Childhood Arrivals, an executive order President Barack Obama signed that shielded undocumented youth from deportation, and for the United States to accept a larger number of refugees from Syria.
And she reminded people of the post-9/11 National Security Entry-Exit Registration System under President George W. Bush, which asked undocumented, aged 40 and under Muslim-identified men, Middle Eastern-identified men, South-Asian identified men, North African-identified men to register themselves with the government.
"This has been going and it's going to continue, so we have to fight it," Kawas said. "When I was 16, my own father was deported after three-and-a-half years of being in immigration detention because he registered with NSEERs."
Disclosure: Donald Trump is the father-in-law of Jared Kushner, the publisher of Observer Media.