If you've never been to Sweden's capital, well, there's no time like the present to visit. For one, it was voted best up-and-coming Gay City by Gaycities.com and the people that inhabit the metropolitan area are strikingly attractive. It's the site of the Nobel Peace Prize, a nice place to be during the hectic 2016 year. And during the month of December, the city is littered with festive holiday markets, which makes the short days and the cold weather much more bearable. The city is packed with museums on nearly every topic: vikings, photography, modern art, ancient boats and so on. And for the fashion obsessed, it's the home of Acne Studios, and a slew of other great design houses.
In the wake of the current hygge craze, it's also a cozy city that offers a respite from other more hectic locales. It might not be a glamorous as Paris, but it has a certain European flare. It might not be as close to New York as London is, but it's not too far of a trek.
To further convince you to visit this Scandinavian city, we asked three locals to share their favorite places. From a great coffee shop (with must-order pastries) to the top decor shop in town, here are some more reasons to book a Stockholm trip.
Paulina Liffner von Sydow, founder of Little Liffner
Little Liffner, a chic little handbag line, has been around since 2012, but this year their delicate accessories really took off (they're even available at Net-A-Porter!). The brand's tote bag with metal circles in place of a handle is an "it" girl must have…so make sure to scoop one up while you're in Stockholm.
Favorite shopping neighborhood: Biblioteksstaden
Go-to shops: Nathalie Schuterman carries a sharp edit of the top international luxury brands, COS for great value and Scandinavian style. For cool interior pieces that you'll cherish forever, go to Garbo and Dusty Deco.
Where can your brand be found: Nordiska Kompaniet (NK) has a great selection and is a classic Stockholm shopping experience. A cool indie store in Södermalm called Nitty Gritty carries a great assortment of Little Liffner as well.
Best beauty shops: COW Parfymeri is an absolute must; they have great products, amazing atmosphere and unbeatable location.
Best local brands: Acne Studios' store at Norrmalmstorg is perfect, Rodebjer for Scandinavian fashion with an arty twist and Filippa K for great basics. 
Top fika stop: Il Caffè has delicious coffee and a cool vibe for relaxing after a day of serious shopping
Sacha Mitic and Juan Rosenlind, co-founders Sachajuan
You're probably familiar with Sachajuan's aqua blue bottle of Ocean Mist, which is one of the most effective sea salt sprays on the market. But did you know that long before that spray came to fruition, Sacha Mitic and Juan Rosenlind were household names on the Stockholm hair scene? The duo have a sleek salon in Stockholm's Sturegatan neighborhood, that is worth a visit, at least to check out the other clients in the space. "We have the same group of "daring" customers in Stockholm as in NY, but also the ones that prefer a classic but modern approach," the haircutting duo told Observer.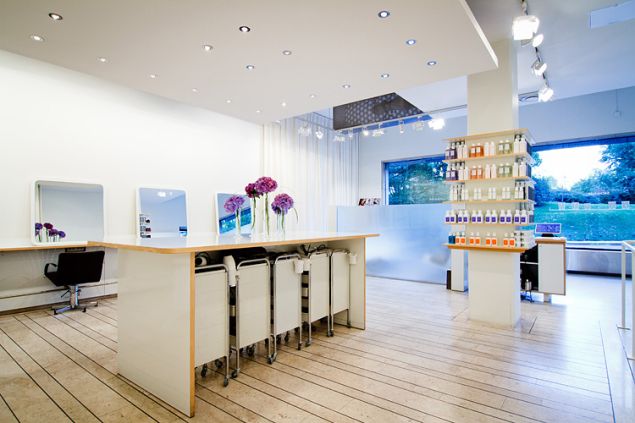 Favorite part about Scandi culture:
Sacha Mitic: The unique possibility of outdoor life founded on "Allemansrätten," the customary law that allows everyone public access to nature. Especially in the summertime with the "white nights," when the sun goes up at 4AM and stays up until 11 PM.
Juan Rosenlind: The Swedish cuisine and cooking, based on traditional ways of preparing food for the winter season.
Favorite shopping area:
S.M.: In the area of the Golden Triangle surrounding Biblioteksgatan.
J.R.: South of Folkungagatan (SOFO) in the south part of Stockholm.
Ideal afternoon in Stockholm:
S.M.: Brunch at Teatergrillen and a visit at the museum Fotografiska, to see world class photos.
J.R.: Lunch at Sturehof, an iconic Swedish style bistro restaurant with a great vibe and mix of people.
Top fika stop:
S.M.: SostaBar. It's not specifically Swedish but the best Italian espresso in Stockholm.
The best place for menswear:
S.M.: Paul & Friends!
Where to find the best furniture:
S.M.: Asplunds.
J.R.: Nordiska Galleriet.
Alexander Lervik, Inventor, entrepreneur and designer at Alexander Lervik
The Scandis are known for their fresh, clean and modern designs, and Alexander Lervik is one of the country's top export. With a lengthy two-decade career, this designer specializes in clean, simple creations. We trust his minimalist aesthetic, so his shopping suggestions are sure to be a hit, too.
Noteworthy design shops: Svenskt Tenn in the city center, for contemporary and exclusive Swedish design. The interior department at the NK department store is good, too. Hamngatan Street, also in the city center features international design, from today.
The best place for menswear: Haberdash and APLACE.
Your favorite Swedish brands: In the fashion field, it's Whyred and Hope. In the home interior field, I would say Teenage Engineering, Tingest and No Early Birds.
Favorite shopping neighborhood: Södermalm, it has small design brands and local shops, spread all over the island. Sofo and Mariatorget have a lot of that, too, plus restaurants and cafes.
Top fika stop: The best coffee you can find at Johan/Nyström on Swedenborgsgatan Street. The best Swedish pastry, go to Fabrique and try the Kardemummabulle.
Where do you find inspiration in Stockholm: To watch the beauty of the city, I go up to Monteliusvägen and pick a bench. From there, I do some sketching and look out over the city from the top of the hill, with the Riddarfjärden lake and the City Hall in front of me. That gives a lot of inspiration. Otherwise, I go around at the streets of Södermalm and watching people, fashion and visit stores.