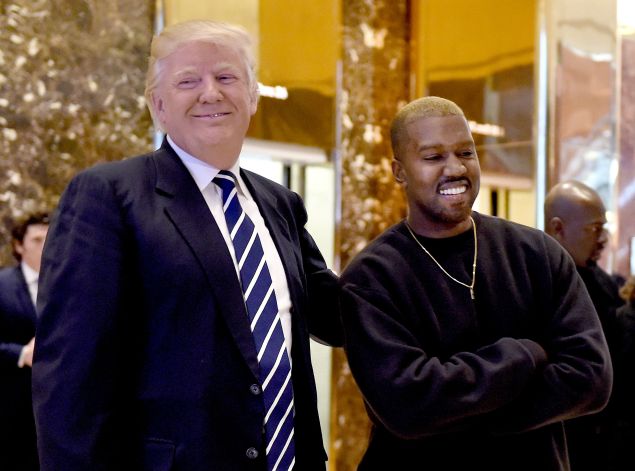 Kanye West and Donald Trump have a lot in common. They're both mononymous public figures and master trolls, inexorably linked by their bizarre, think-tank-bolstered egotism. And considering how Kanye recently claimed to be millions of dollars in debt, the two men seem to have a similar sense of business savvy, too. So when Kanye paid Trump a visit to Trump Tower yesterday, their meeting didn't really seem all that strange.
After all, Kanye did shout out Trump in a rant before descending into tabloid-nectar psychosis, which you'll do well to remember I predicted earlier this year, thank you very much.
These two men are known to hijack whole news cycles stories, bound as one, but how are the two connected beyond countless "Who Tweeted It?" pieces? And what are we to make of E! News' unnamed source close to Kanye who claimed they met to discuss Kanye becoming an "ambassador of sorts," in an "entrepreneurial leadership role"?
Whatever the true nature of this meeting, it too dominated yesterday's news. Both men have successfully leveraged their "look at me" shtick by forming an alliance with the only other personality who sucks up as much air as they do. What a deal!
As with most telling revelations about both of these men, the answer as to what this could possibly be about seems to be buried in the very 24-hour news cycle that their trolling so often manipulates and subverts.
Last week while Trump visited Louisiana on his victory tour, The Washington Post Editorial Board reported on a disturbing amendment, "quietly inserted into the annual National Defense Authorization Act by Republican House leaders [that] would abolish the broadcasting board and place…international news and information operations under the direct control of a chief executive appointed by the president. The new executive would hire and fire senior media personnel and manage their budgets."
Sounds an awful lot like a media czar.
The board in question is The Broadcasting Board of Governors, which was created to ensure that U.S. Government broadcasting can reach other countries where the local government might otherwise try to suppress international news from its citizens.
But critics of the board argued that because its members worked part-time, they lacked the involvement needed to effectively monitor a significant amount of foreign governments' relationship with their respective media outlets. Hence, the attempts by a Republican-controlled Congress to dismantle it are feasible.
This is a problem because, as stated above, the new amendment that seeks to dismantle the board also seeks to let the president decide whom this "chief executive [that would] hire and fire senior media personnel" would be. Sounds an awful lot like a media czar to me.
"The point of board governance was to prevent direct political interference in programming by the White House, State Department or other agencies," wrote The Washington Post. "The new reform…enhances that executive's power and makes him answerable to the White House rather than the bipartisan board. A new advisory panel will be created, but it will be toothless: Its members will also be nominated by the president from a pool provided by Congress."
How would Kanye stand to profit from the White House having this much control of the media? This is where his gallivanting at Trump tower gets scary.
As Kanye has been documented to make music by committee, the two men seem to have a similar strategy for making decisions and releasing products—present yourself to the world as a seeming iconoclast who acts brash, impulsive and "from the gut" but, in reality, take ownership of decisions created by several other people and entities. If the "corporations are people" adage of the right wasn't enough, now Kanye and Trump are out to prove that the opposite is true—people are corporations, too.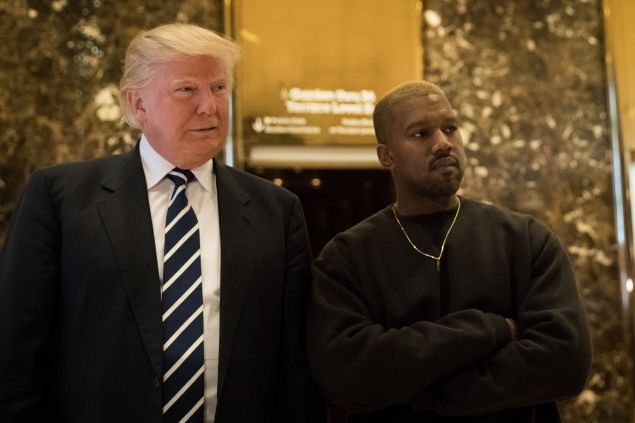 So if Trump elects a media czar, a propagandist, to earn some cultural currency through arranging smoke and mirrors, can you think of a better and more witting participant than Kanye? He who called Trump's style of leadership "the future"?
For evidence of Kanye's pro-grade media trolling skills, we need only look at his return to Twitter yesterday, in which he somehow managed to not look like an asshole. Kanye tweeted that "I wanted to meet with Trump today to discuss multicultural issues. These issues included bullying, supporting teachers, modernizing curriculums, and violence in Chicago. I feel it is important to have a direct line of communication with our future President if we truly want change." He capped off the string of tweets with one final, frightening prognostication—"#2024." Pretty big talk for a guy who didn't even fucking vote.
This isn't the first time Kanye's teased a presidential run, but it's worth noting that Kanye's seemingly moved back the timeline from 2020 to four years later, presuming a second term for the president-elect.
So when all of Kanye's newfound political views are taken part in parcel with this under-reported amendment to the National Defense Authorization Act, his meeting with Trump seems more than suspect. As many have memed, Kanye dyeing his hair blond days before he visits Trump Tower for a photo-op seems terrifyingly on-brand.
Trump would likely appoint someone to oversee the dissemination of information who has a similar grasp of how the masses absorb information, how that information is processed, and how quickly it's forgotten.
Supporters of Kanye who still have their souls will likely only remember the last bit of context pushed out by him on Twitter, his explanation for meeting with Drumpf, because that's how his manipulation of the news cycle works.
Then there will be those suggesting that Kanye's been victimized by Trump in his fragile mental state. And if the latter is true, if this is another facet of the psychosis Kanye entered following his wife being robbed at gunpoint and the anniversary of his mother's death, then what does it say about Trump that the two seem so similar in business acumen, in temperament, and in diversionary media rollout strategies?
What it says is unmistakably horrifying.
At Thanksgiving dinner last year, my girlfriend's aunt chastised me for even mentioning Trump and Kanye in the same breath, shortly after Kanye first teased a presidential run. One was an entertainer, she said, and one could very well dismantle the entire free world. Now that those lines are blurring, let me just say that I'm sorry, Aunt Susan, and I hate to say I told you so.
The future prospect of Kanye as head of Trump Radio is still as absurd as it sounds, but absurdity and unlikelihood have fast become two different things in this brave new world we're now living in. Why would Trump outsource the responsibility of mitigating what information leaks out to international media outlets to someone else, when he admittedly enjoys it so much?
Trump would likely appoint someone to oversee the dissemination of information who has a similar grasp of how the masses absorb information, how that information is processed, and how quickly it's forgotten. It's more than likely he would find another troll of his caliber.
"I'm so appalled, Spalding ball, Balding Donald Trump taking dollars from y'all," Kanye sang on 2010's "So Appalled". "Baby, you're fired, your girlfriend hired, but if you don't mind, I'ma keep you on call. We above the law, we don't give a fuck about y'all." 
With all of the media collusion at home, it's easy to forget that the journalistic independence of outlets abroad is wholly scarier, and in countries like Russia, state-run.
"If Congress's intention was for U.S. broadcasting to rival the Kremlin's, it may well get its wish," wrote The Washington Post.
This amendment is another step in that direction here at home, and terrifying though that may be, the prospect of having Kanye West involved makes the premise infinitely more terrifying still.