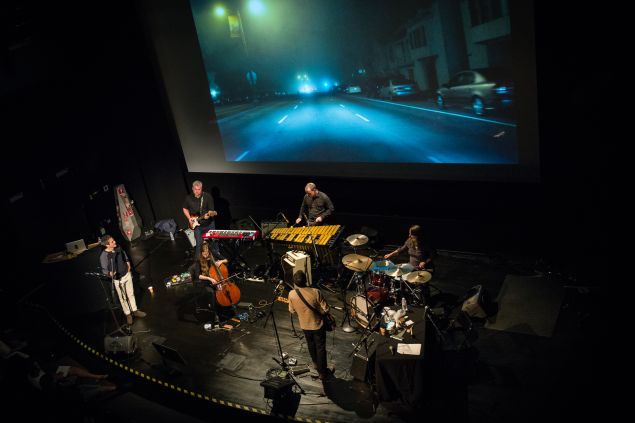 Let's be honest: how many emails did you answer while watching Ava DuVernay's riveting 13th? And exactly how many times did you check Facebook during Ezra Edelman's 467 minute epoch-defining Oscar favorite OJ: Made in America? On second thought, perhaps those numbers are best kept between you and your God, as is all that laundry that you folded while keeping half an eye peeled on Matthew Heineman's essential Cartel Land or, for that matter, the Snaps you shared while catching up with Frontline.
The truth is—and few of us care to admit this—documentaries, while often the most rewarding and involving forms of media out there, get the short straw when it comes to our modern entertainment consumption. We tend to view them as the call to Grandma of movie watching: enriching, important but with an air of requirement that when faced directly causes us limp off and watch another episode of Outlander. The issue? Docs just don't smack of fun the way, say, another traipse through the Marvel Universe does. Also, because they often deal with thoughts and concepts that challenge and force us to introspect, documentaries often leave us feeling lonely, a sensation accentuated when they are watched alone on pocket devices and foldaway screens.
New York-based filmmaker Sam Green has devised a solution to this universal yet unacknowledged issue of documentary's second-place status in our media-saturated lives. Like Dr. Frankenstein, he made them come alive. For the last six years, Green, Oscar-nominated for 2003's The Weather Underground, has been working in a form he has pioneered called "live documentary"—a video clip and photo-based lecture-performance featuring Green, his work, and live musicians.
"If you make a movie, a traditional movie…you put it out in the world and it is done. The world changes and your movie doesn't and suddenly it just doesn't work in the same way that it did. I like doing it this way because it is very nimble."
"I am endlessly interested in the possibilities of this form," says Green, who along with animator Brent Green performs a series of four shows at the Brooklyn Academy of Music starting Wednesday, December 7; the performances are part of BAM's Next Wave Festival. "It is so elastic and so sensitive. If you make a movie, a traditional movie—and I've made a lot of them—you put it out in the world and it is done. The world changes and your movie doesn't and suddenly it just doesn't work in the same way that it did. I like doing it this way because it is very nimble. It is a sensitive and organic kind of work."
The form also gives the Michigan-born, UC Berkeley-trained Green—a man much more accustomed to an editing bay or a research library—an opportunity to experience the rock star rush of live performance alongside actual rock stars. The group assembled for the BAM shows include soundtrack composer Brendan Canty of Fugazi, his brother and former Nation of Ulysses' drummer James Canty, and Montreal-born cellist Rebecca Foon of Silver Mt. Zion.
The project marks the fourth time that Brendan Canty has worked on with Sam Green, beginning with The Weather Underground. While the band will largely improvise for Brent Green's pieces, the compositions for Sam Green's films and presentation are set, albeit fluid enough for changes and interpretation. "The collaborative aspect to these projects is really interesting," says Canty, who has the luxury of two days of rehearsal leading up to the BAM shows. "They provide their own arc and allow for so much more space to play with."
For the filmmaker, the responsiveness of the form he helped to put on the map was put in sharp relief during Sam Green's recent West Coast tour of his piece, The Love Song of R. Buckminster Fuller, a collaboration with the legendary Jersey band Yo La Tengo, originally commissioned in 2012 by the San Francisco MOMA. That jaunt kicked off with a show in San Diego the day after the election, in front of an audience as shell-shocked as most of the rest of the nation.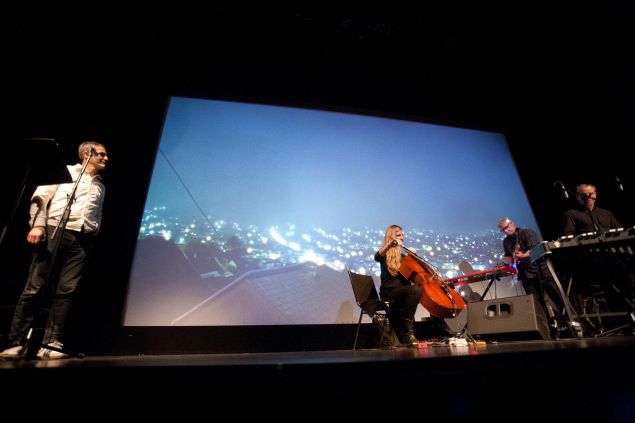 "Let's just say that was a radically different show then the show we did the Monday before in Philadelphia," says Green, who recently became a father for the first time. "The audience was completely different and the world was completely different. It sounds sort of touchy-feely but when you're on stage you are exchanging energy with the audience: you are feeling what they are feeling. Performers know all that and have been through all of that but as a filmmaker it is something quite new and surprising."
Chief among those surprises? Just how quietly powerful the act of pushing away from your computer and engaging collectively in a gentle yet probing exploration of the life and mind of Fuller, one of the 20th century's most singular architects and system theorists, can be. "My work is not overtly political at all, but there was a political and social significance to just simply getting together with other people," says Green, who speaks in a kind of permanently astounded cadence reminiscent of the actor Owen Wilson. "What are the things you like least to do on that day: either be at home on Facebook or watching the news. So the idea that you could have this escapist collective experience with other people is cool."
As Green explains it, he stumbled into the live cinema form accidentally when he was putting together his 2010 film Utopia in Four Movements and was trying to figure how to make the film work without relying too much on that documentary bane, the talking head. He work-shopped the film in front of a live audience, and he found it an ideal way to present topics covered by the film, which included vignettes about the world's largest shopping mall and the history of Esperanto.
"A documentary about utopia that everybody's going to watch at home while they're checking Facebook sounded like an utter tragedy to me; I recoiled from it"
"A documentary about utopia that everybody's going to watch at home while they're checking Facebook sounded like an utter tragedy to me; I recoiled from it," explains Green, who premiered the 75-minute film with a live musical performance courtesy of musician Dave Cerf at the Sundance Film Festival. "So the idea of a live documentary, that made sense. It was a case of form really fitting the subject."
As audiences try to figure out how to categorize this relatively nascent form—Green was greatly inspired by Canadian filmmaker Guy Maddin's Brand Upon the Brain!, a silent film that toured in 2006 with a live orchestra, Foley artist, and Isabella Rossellini as narrator—they sometimes brand his work with a label at which Green bristles.
"The whole TED Talk thing is the big land mine that you have to reckon with and somehow get around," says Green. "There is a style to those that is really not me. The tone is so recognizable: they tend to have either a geeky techno worshipfulness to them or there's the Malcolm Gladwell vibe where it's, 'Here's this little thing that's changing the world!' I've always made films that I would want to see, so I'm not going to make that."
And unlike TED Talks, the form embraces the randomness and mistakes that are inherent to any live performance. For the four BAM shows, Sam Green and Brent Green (no relation) have given themselves a simple edict: no two can be alike. So they will be switching up the short pieces they will present. For Sam, they include a rumination on San Francisco fog, an exploration of what it means to carry the fleeting title of the oldest person in the world, and an exploration of the intimate private recordings of jazz legend Louis Armstrong, who used to surreptitiously keep his reel-to-reel running when he was hanging out with friends.
"At that time, he needed to have a squeaky clean image, but I think he wanted for the world to know what he was really like when he was gone, to have a more candid picture of who he was," says Green, who culled the Armstrong material from the more than 600 home recordings housed at Armstrong's Queens College archive. "A part of him wanted the world to know that he was super into smoking pot. He smoked pot every day and loved it."
While Green has hit a nerve with his live documentaries—his shows tend to sell out rather quickly, though you can try stand-by for the BAM events—he plans to return to traditional documentaries an expanded version of the oldest person in the world piece. But now that he has been at it for more than six years, the documentarian has gotten hooked on the danger, surprise, and community that are essential to the live form he is pioneering, and is currently working on a live documentary about the Kronos Quartet and their 40-year history.
"You know how comedians are so miserable in real life and on stage that is where they really are who they are?" he asks rhetorically. "I'm not anything like that, but I have certainly noticed that there is an addictive quality to doing this, to being in front of an audience, and that is striking."