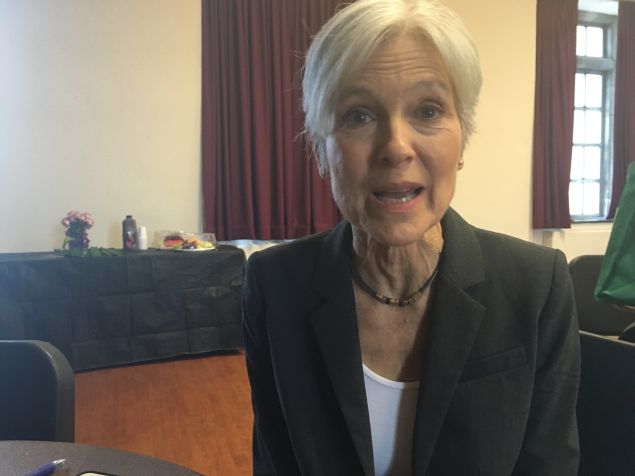 Green Party presidential candidate Jill Stein maintained today that her recount efforts in three states that swung narrowly for President-elect Donald Trump on Election Day are rooted in fighting "electoral racism," despite opposition from her own running mate—who warned the audits could undermine the larger war against "two racist, capitalist/imperialist parties."
After a successful crowdfunding campaign to raise the necessary money, Stein filed a petition for a review of votes cast in Wisconsin on November 28, and did the same three days later in Pennsylvania and in Michigan just two days ago. The Clinton campaign announced it would join the recount effort.  Trump's lawyers have  filed petitions in all three states to block Stein's recount efforts. Michigan Attorney General Bill Schuette, a Republican, has also announced that he is filing a lawsuit to stop the recount.
Green vice presidential contender Ajamu Baraka has warned that the efforts risk making the party appear a tool of the Democrats, an anxiety Stein told the Observer she understood.
"I share those concerns," Stein said in an interview at the National Women's Political Caucus of NYC's 2016 New York State Conference of Civically Engaged Women this afternoon. "I think it's a real judgement call. It's very important that we maintain our political independence as a political party and we have to work very hard to clarify: this is not politically motivated."
"It's a judgement call and it also, it also lets the momentum of the Green Party that we worked very hard to build during the race, it puts it on hold for a couple of weeks, not for the whole party but for, you know, my part of it," Stein continued.
Stein—who promoted herself as a candidate who could continue Vermont Sen. Bernie Sanders' political revolution during the campaign—noted that requests for recounts are made at the behest of individual candidates, not parties. She also asserted that campaigns don't ask for permission from political parties and that they have to make decisions "very quickly."
"The Green Party doesn't have a decision-making process for a question like this, and the discussion that it has triggered is still ongoing and the jury is still out," she said. "Some people voiced their disapproval but lots of people also voiced their approval. This is actually part of the Green Party platform."
Trump recently claimed, without proof, that "millions of people" cast  ballots illegally, a statement in keeping with his campaign trail claims that the election would be "rigged." Stein insisted that her effort is targeting a different beast.
Stein said voting mechanics are insecure, unreliable and have a "built-in racist dimension to them" because the equipment does not get funded or maintained well in poorer areas—communities where she said "tens of thousands of votes or thousands of votes fall through the cracks," particularly in communities of color.  She called Trump's claims "the opposite of reality."
"The problem is not—and many studies have shown this—the problem is not that people are voting illegally or they're voting twice or they're voting across state borders," Stein said. "There's absolutely zero evidence of that but what there is evidence of is that millions of voters have been illegally taken off the voter rolls."
"This is on behalf of voters, especially communities of color who are most at risk for being shafted through electoral racism," she added.
During her speech, she railed against Clinton and Trump, saying that the election saw "most people voting against a candidate they were frightened of rather than a candidate they really supported."
She said the two parties have wasted money on wars, that Wall Street and the 1 percent are benefiting from Trump's election, blasted Clinton's position on fracking, called for open presidential debates and noted wage inequality for women of color.
She claimed that Trump received more than $4 billion in free primetime media, compared to more than $2 billion for Clinton and roughly $0.5 billion for Sanders, her primary opponent—but that she was squashed out.
"My campaign got essentially zip, almost nothing while I was running for office," Stein told the audience. "Now that I'm not running for office anymore, suddenly the doors of the media are quite open, but not when there was actually a real threat that could empower everyday people to stand up and also to hear our issues discussed."
Asked afterward if she would seek the presidency a third time in 2020, Stein told the Observer "who knows."
Disclosure: Donald Trump is the father-in-law of Jared Kushner, the publisher of Observer Media.