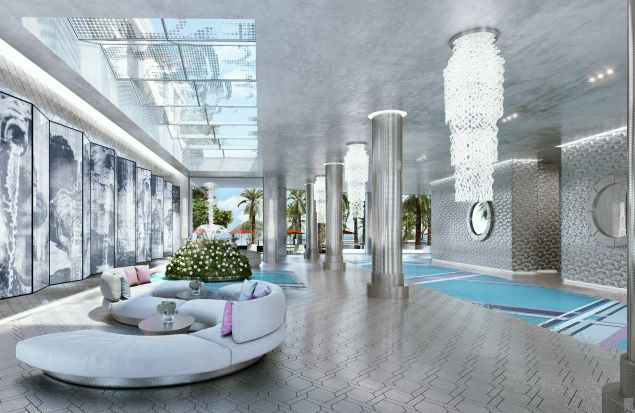 Art Basel festivities may have come to an end, but there's still big design news for Miami.
Karl Lagerfeld just revealed his interior plans for the real estate project he is working on, at the Estates at Acqualina in Miami Beach. Lagerfeld is designing not one, but two lobbies for the $1.5 billion project—it's his first foray into residential interior design in the United States, in partnership with Trump Group's Eddie and Jules Trump, the developers of the Miami Beach construction.
Thus far, Lagerfeld has released only his plans for the lobby of the South Tower, known as 777 Via Acqualina, but it does not disappoint.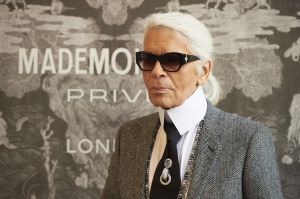 "Lobbies serve two purposes—they are the first impression of a building and a common living room for socializing," Lagerfeld said in a press release. As such, the design reflects a communal aspect that is influenced by the "traditional Roman piazza." Photographs taken by Lagerfeld himself, of Roman fountains and arches, will adorn the lobby, etched on the wall panels, ceiling screens and skylights. The floors are hammered metal, fashioned from mosaic tiles and inlaid with rugs that have been exclusively designed for this space. There's even a working fountain that has been installed in the space.
At the same time, Lagerfeld kept the Miami aesthetic in mind when selecting a color palette of cerulean blue, white, silver and gray, as well as shades of light pink.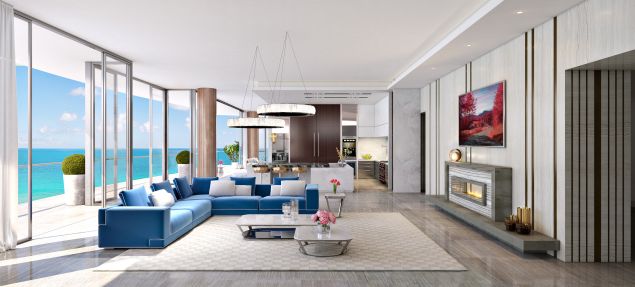 Once the Estates at Acqualina are completed in 2020, there will be a total of 244 plush residences, which will be delivered furniture-ready and priced from $3.8 million to $9.5 million. However, the penthouses will cost up to $29 million.
Sadly, we'll have to wait quite a bit before we get to see the finish project. Construction is taking place in two phases, and it doesn't begin until late 2017—the first phase includes the South Tower, which will be comprised of 152 units, as well as a lavish 45,000-square-foot amenity space, "Circus Maximus," with things like a bowling alley, spa and speakeasy. Seems the only thing missing is a Chanel boutique…