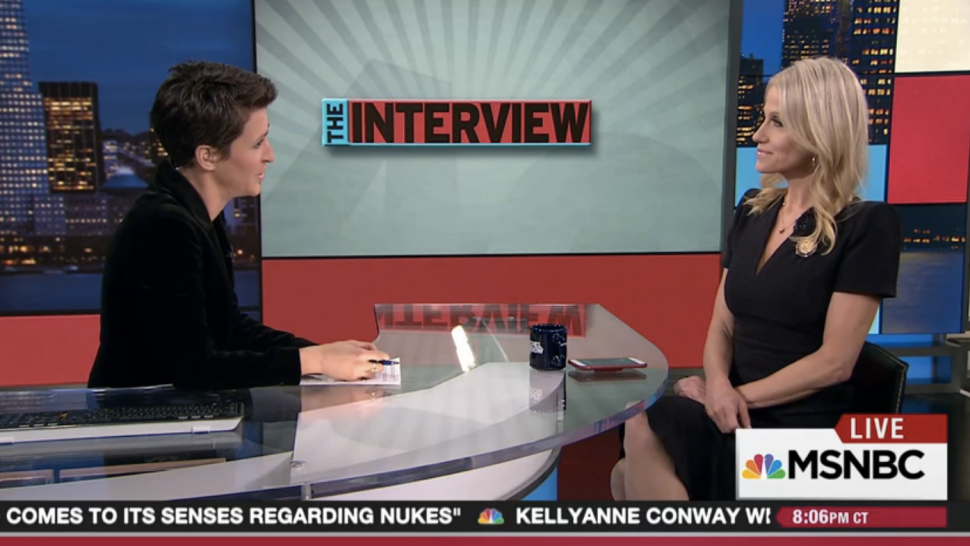 During Rachel Maddow's riveting interview with Kellyanne Conway Thursday night, the MSNBC anchor asked President-elect Donald Trump's newly-appointed "counselor" about retired Lt. Gen. Michael Flynn, who will serve the next president as national security adviser.
First Maddow noted that Flynn was being paid by Turkey during the Trump campaign and advocated on behalf of that nation while helping the Republican candidate.
"If he was on the payroll for a foreign government while advising your candidate," Maddow said to Conway, "would that be disqualifying for him as national security advisor?"
As always, Conway had a quick answer on the tip of her sharp tongue.
"Not necessarily," she said. "I would really need to know the facts."
In fact, Maddow had just told Conway—and the audience—the facts with her rhetorical question. Not to worry. That was just the verbal right jab that set up the rhetorical left hook.
"General Flynn accused Hillary Clinton of being involved in sex crimes against children," Maddow said. "His judgment is such that he did accuse Hillary Clinton of being a child rapist."
Conway parried by saying "No, no" and "that's a little hyperbolic." She tried to say Flynn had merely tweeted out a "fake news" story.
"Why would a person with judgment like that be national security advisor?" Maddow asked.
Wisely avoiding an answer to this rhetorical question, Conway changed the topic to Flynn's "overall credentials" and his "tours of duty" and his fine "resume."
Maddow's intelligence and her tough-but-fair interrogations are too valuable to be obscured by lengthy ego trips that serve as topic introductions.
While many cable hosts take time off in the holiday season, Maddow remained at the helm of The Rachel Maddow show this week to present an extraordinary series of programs that were perceptive and sobering even by her high standards.
On her Tuesday show, Maddow strongly implied that Michigan Republican Gov. Rick Snyder should be charged with serious crimes for the poisoning of the water of Flint, Michigan.
After two of Snyder's "emergency managers" were charged on Tuesday with crimes that could imprison them for decades, Maddow said:
"One of the big, looming questions now in Michigan and in the country is whether or not there may be  criminal charges ahead for the governor himself, who is the one person those two emergency managers reported to while they committed these acts, for which they have now been charged with multiple felonies."
On Monday, again on the subject of Flynn, Maddow referred to "the Gong Show, slash, Star Wars bar scene quality of the transition," particularly on national security issues.
"Most days, it is usually something approaching funny," Maddow said. "But it is national security and it is hard and dangerous, fraught with peril, even in good times."
After pausing dramatically in mid-thought, Maddow finished her segment with "I am, literally, praying that the transition gets better than what it is right now."
She returned to the subject of national security on Thursday when asking Conway about Trump's Twitter message earlier in the day concerning how the U.S. must "greatly strengthen and expand its nuclear capability."
Even by Trump's loose standards, this crude belch was unusually vague and menacing.
MADDOW: "He's saying we're going to expand our nuclear capability."
CONWAY: "He's not really saying that."
MADDOW: "He did. He did. He did literally say we need to expand our nuclear capability—"
CONWAY (interrupting): "And he may, and he may as president. What he's saying is—what he's saying is, we need to expand our nuclear capability, really our nuclear readiness, our capability to be ready for those who also have nuclear weapons. I mean, this is what happens."
Conway then changed the subject to "radical Islamic terrorism," the loaded religious language that suggests Trump will renew his demagogic campaign against Muslims.
Maddow then told Conway about how many American people perceive her Great Leader.
"A lot of people are hiding under the bed right now because it doesn't seem like he knows what he's talking about on this issue," Maddow told Conway. "That's a scary—"
CONWAY (interrupting): "That's not fair."
MADDOW: "Well, then how can you make policy on Twitter and say he's not making policy?"
Toward the end of the interview, Maddow turned the discussion to ABC's Martha Raddatz and she played a video of Trump ridiculing Raddatz for crying on election night over the results.
This was a lie—Raddatz never did it—as Maddow pointed out to Conway. That didn't stop Trump from repeating the lie several times during his Sore Winner victory tour before angry, chanting, jeering mobs.
"Is this how even a reporter like Martha Raddatz is going to be treated by this president?" Maddow asked.
"No," Conway replied, "and I would have updates, but they are privately held."
She went on to say she has discussed the matter with ABC News. The host wanted more.
MADDOW: "Will he correct this?"
CONWAY: "Apologies like that are not made public necessarily but—"
MADDOW (interrupting): "But the accusation was made publicly."
Should Conway continue deep into Trump's administration as his primary mouthpiece to cable news television, she could become his ambassador to Maddow, arguably the most progressive on what is perceived by some to be a liberal network.
Their continuing dialogue might enlighten—or at least entertain—Trump's critics on the left. But regular viewers of T.R.M.S. know that, to get to the good parts, they will need to endure Maddow's tedious, bass-ackward introductions to her topics.
Case in point came Tuesday when Maddow reported the felony charges in Michigan. She got to the point in only the 17th minute of the segment which opened with—we kid you not—a discussion of King Midas and the showing of a painting that included full, frontal male nudity on screen for more than 30 seconds.
This was one of those Maddow history lessons that remind you she is the smartest kid in homeroom and got the best score on her SATs. Her approach is self-indulgent and tries the patience of her audience. Her show succeeds not because of this habit but in spite of it.
Even the Conway interview—a fortunate "get" on the day of Conway's new appointment—began with a brief history lesson on how President Ronald Reagan started an unnecessary nuclear alert in 1984 by cavalierly joking into a live microphone that bombing of Russia would begin in five minutes.
This preamble—tied to Trump's loose talk of nukes Thursday—lasted only six minutes before Conway came on camera to be grilled about many other things, including conflicts of interest between Trump's business interests and his presidency.
As the star of her network in the coming era, Maddow's intelligence and her tough-but-fair interrogations are too valuable to be obscured by lengthy ego trips that serve as topic introductions. She's best when she gets to the point quickly and stays there.
Disclosure: Donald Trump is the father-in-law of Jared Kushner, the publisher of Observer Media.