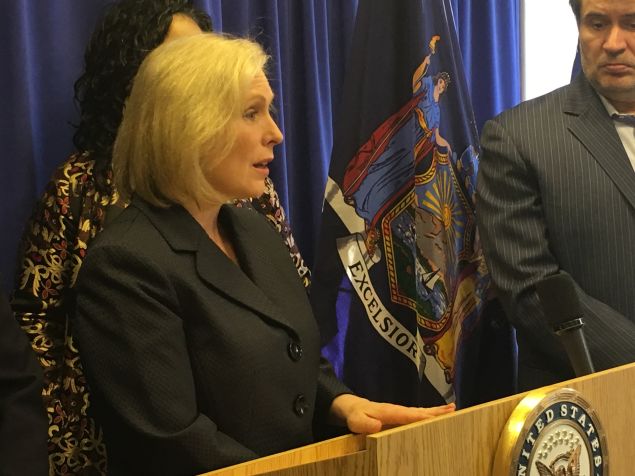 Sen. Kirsten Gillibrand today called on Washington to boost anti-terror funding for religious institutions in the New York City metro area from $20 million to $25 million in the wake of the spate of hate crimes following President-elect Donald Trump's victory.
Gillibrand, along with New Jersey Senators Bob Menendez and Cory Booker and faith leaders, has asked for the funding to be increased in the Fiscal Year 2017 Homeland Security appropriations bill for the Urban Area Non-Profit Security Program. The junior senator from New York referenced a recent incident in which a 19-year-old Muslim woman wearing a hijab was harassed on the subway by three Trump supporters who allegedly called her a terrorist and chanted "Donald Trump."
"Where in New York would you allow a 19-year-old girl to be harassed continuously while she's alone because she's wearing a religious scarf?" Gillibrand said. "It's disgraceful. Everyone should step in. They should step in and stand by her and outnumber the bullies and outnumber the people who are committing hate crimes."
The trio wrote a letter to Thad Cochran, chairman of the Senate Committee on Appropriations; ranking member Barbara Mikulski; John Hoeven, chairman of the Subcommittee on Homeland Security; and subcommittee ranking member Jeanne Shaheen, expressing concern about the rising number of hate crimes that plague the country.
In the December 4 letter, they noted that just last week the Federal Bureau of Investigation released their report on hate crimes indicating that there were 5,818 single-bias incident involving 7,121 victims—and of those victims, 59.2 percent were targeted because of a race, ethnicity or ancestry bias and 19.7 percent because of a religious bias.
"'No Jews,' swastikas, and racist messages have been spray-painted on streets, buildings, and sidewalks at locations across New York City, White Plains, and Ramapo, New Jersey, and in several other cities," they wrote. "Mosques across the country have received threatening letters and have been vandalized while women in hijabs have been assaulted. Meanwhile, members of the lesbian, gay, bisexual and transgender community face harassment and physical attacks."
Deputy Inspector Mark Magrone, head of the NYPD's Hate Crimes Task Force, noted that the annual year-to-date hate crime incidents in the city is up approximately 35 percent for the period of Jan. 1 to present—an increase that represents 90 crimes, which he said is "90 human lives."
"We believe that a person has a right of identity safety or identity predictability, meaning that a person has the right to walk down the street and feel safe in their own skin or their own religious beliefs or their own sexual orientation or what have you," Magrone said.
Gillibrand—a prominent Clinton surrogate who was among elected officials who said they were convinced she would win outside Javits Center on election night—has been named as a potential Democratic candidate for the 2020 presidential election, But she said today she's definitely not running.
"I'm running for Senate in 2018 and I really am very grateful for the opportunity to serve this state and believe it's a platform where I can really help the most vulnerable and work on issues like this and really make a difference."
She also wouldn't endorse any candidate for the Democratic National Committee chair position just yet, saying that she's only heard of one or two candidates—she said Minnesota Congressman Keith Ellison, one of the candidates, is a "fine leader"—and that "a couple have taken their names out."
"I don't know who's running yet," she said. "I've only heard of one or two candidates and a couple have taken their names out, so when it's closer to the actual vote I might have an opinion."
Disclosure: Donald Trump is the father-in-law of Jared Kushner, the publisher of Observer Media.