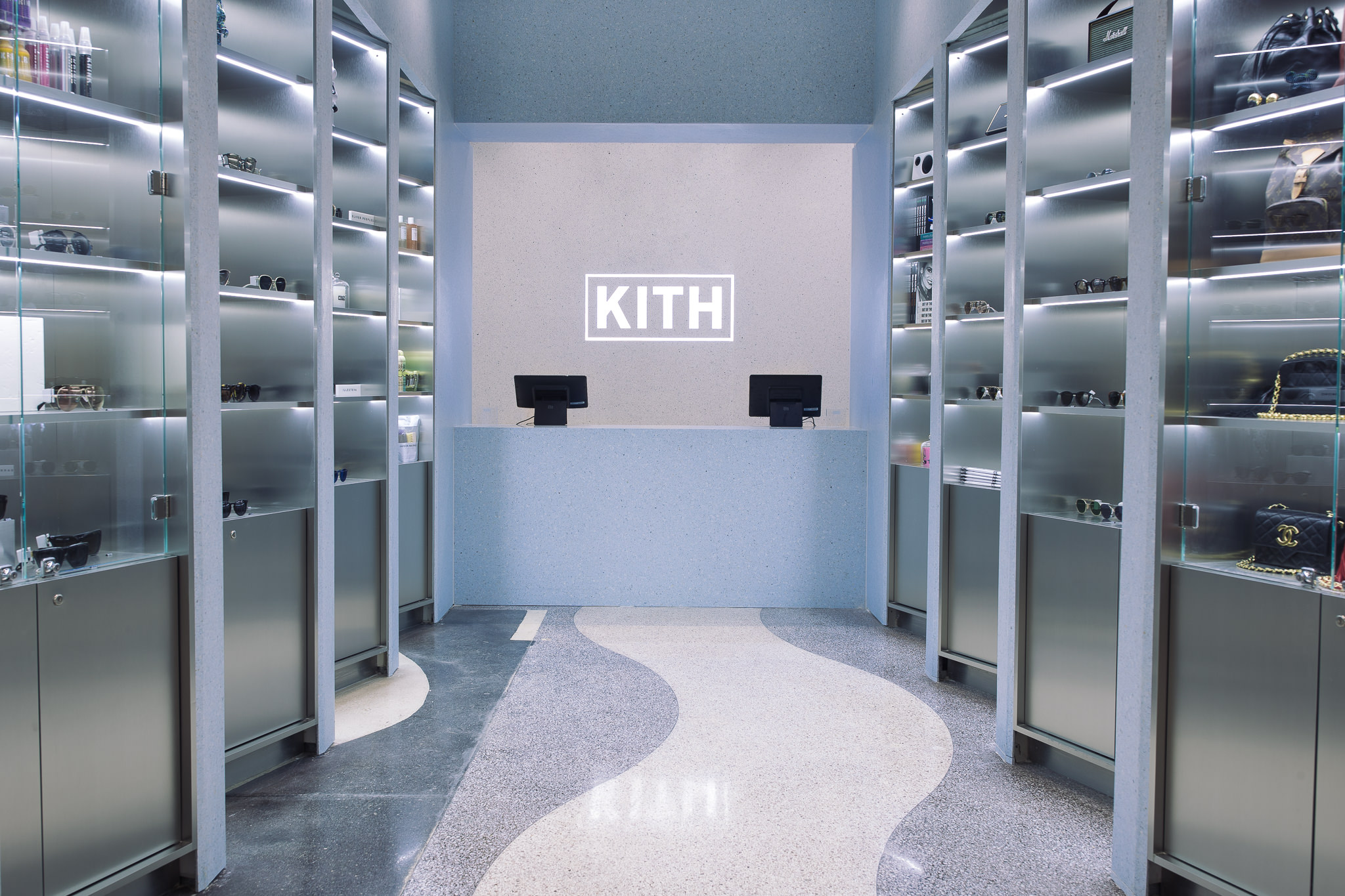 Late Sunday, there was a line to get into the Kith Miami store, three days after the location's debut. Walking through the lobby of the Fontainebleau or down Collins Avenue, the retailer's black bags were easily spotted, toted by teens and European tourists alike. Clearly, the new venture had already struck a cord with the city.
A year ago, Ronnie Fieg was in Miami, christening a milestone with ASICS. The collaboration fêted 13 iterations of the Gel-Lyte III. Just last month, he celebrated 50 collaborative silhouettes with the brand since 2007. For the Gel-Lyte project, he hosted a gallery exhibit and published a mini-book. This year, he returned to Art Basel to open the first permanent Kith location outside of New York—quite a feat with the brand's four New York locations (one inside Bergdorf Goodman and three standalones).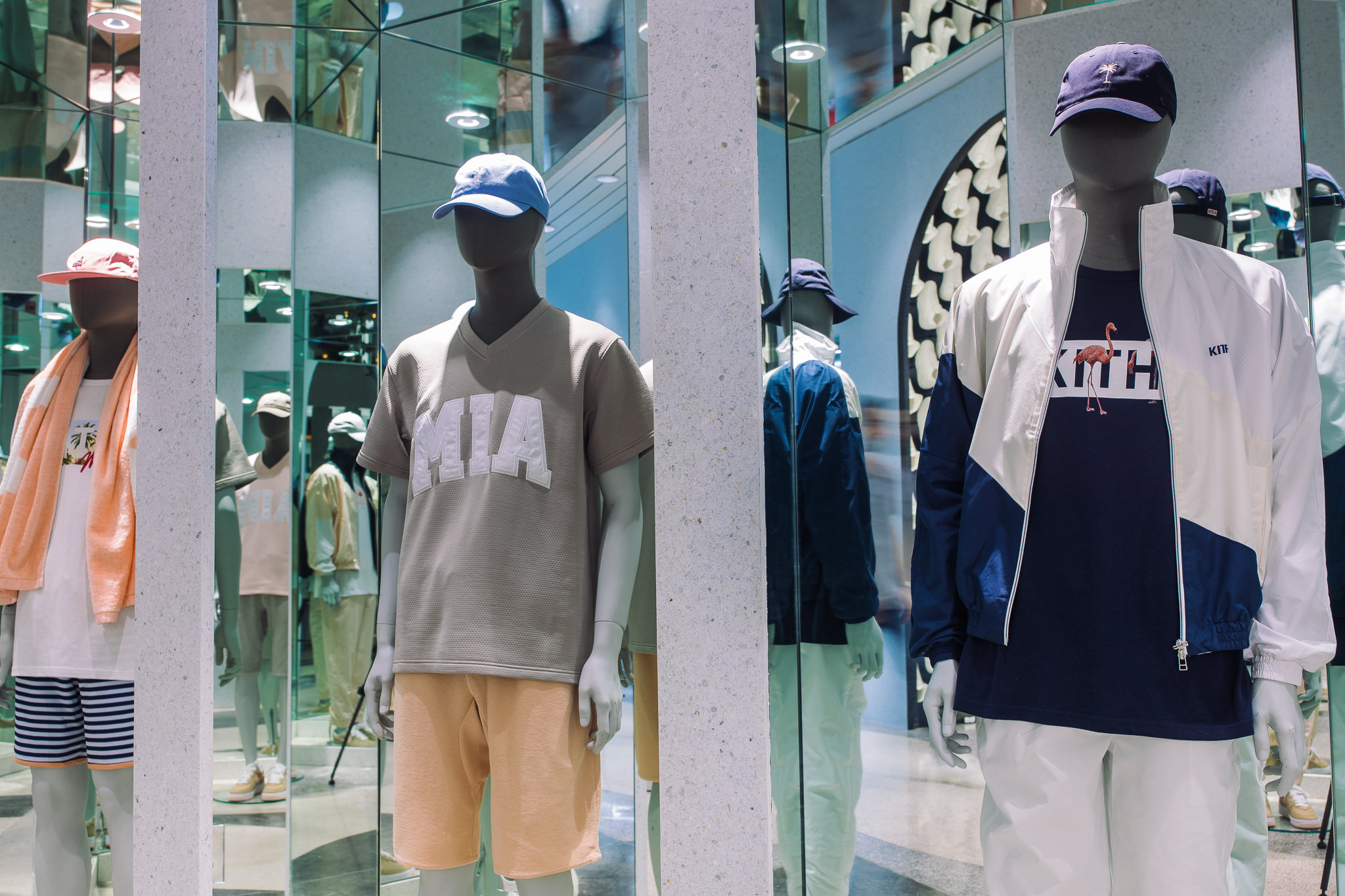 Kith Miami hosts the most fully realized version of the Kith woman of all of the brand's locations. "We launched the women's brand about a year ago and it's done really well in New York," Kith founder Ronnie Fieg told Observer via phone Friday. "In Miami we took over the Atrium space, and even though we completely gutted and demolished that space and started from scratch, they really did have an amazing following with women. That corner attracts women from all over the world with all the hotels so we thought it would be a really good opportunity to introduce the women's line to Miami as well as a multi-brand offering that we don't currently do in the city because we don't have the space."
As an entire wing of the 1931 Collins Avenue store, the women's division alone boasts four sections divided by category: advanced contemporary, daywear, athleisure and swimwear. The layout itself separates each section into it's own alcove, so when you enter the store the racks aren't visible. Everything from cutout sheath dresses from Cushnie et Ochs to Alexander Wang bags and 3.1 Phillip Lim tops are stocked, as well as swimwear from the likes of Kiini, Chromat and more. For athleisure, the usual suspects like Stella McCartney for Adidas are present. The assortment was personally curated by the store's buying director Carly Wikelius who was brought onto the team from the now replaced Atrium Miami.
The swimwear range is the jewel of the shop, although it's squirreled away in the back corner. In addition to the swimwear, the section hosts on-brand cover ups like oversized soft sweatshirts and jerseys from Kozi. Kith's own suits, which debuted at their blowout show in September, are on display alongside the other brands. And while Chromat and Kiini are a bit known in segments of the swim market, the retailer has also taken a chance with newer brands. Jonathan Simkhai's first swim collection (fully reversible and based on some popular silhouettes from his apparel) is there, as well as Jade Swim. That latter brand is a project by former Marie Claire editor Brittany Kozerski.
The women's hall of the store comes complimented with one for men half stocked with Kith's in-house line. Those racks (as well as the women's) include a few in-store Kith exclusives, like a pink MIA jersey. Other pieces from the brand's September show, including an Aimé Leon Dore collaboration, make their debut on the racks as well. Instead of the Alexander Wang bags on display in the women's wing, atop the men's shelves sit vintage pieces like a Louis Vuitton duffle. More vintage bags (Chanel and Louis Vuitton) sit in a third corridor alongside sunglasses from the likes of Dior, Garrett Leight and Specs. There are even KAWS statues available for sale, as well as a mini apothecary of sorts. "We want people to spend their day there," Fieg said. "We want to tell a full story; we're a lifestyle brand and a retailer. We want people to be entertained by the experience as they are shopping."
For some, the key hall of the store will be the sneaker section. While there are fashion sneakers in other areas of the venue, most of the shop's footwear is here. On these rounded walls sit brands like Puma, New Balance, Diadora and more. To christen the space, Fieg even partnered with Nike to re-release their Air Force 1 linen as a global exclusive. That limited-edition style is Fieg's "favorite shoe of all time" and hasn't been available since their 2001 drop. Expect more those sorts of drops in the future. As a design flourish consistent throughout all Kith retail ventures, a pathway in the space is lined with white cast Jordan Air Vs to signify the 5th Kith location.
At the front of the 6,500 square foot shop is the Kith Treats bar. That offshoot of the Kith business serves cereal and ice cream combinations at the brand's Manhattan and Brooklyn flagships and now does the same in this latest location. This fall, Treats got a bit of time in the spotlight when Fieg launched a collaborative cereal and pair of pop up shops with Cap'N Crunch.
One would think that the businessman would be winding down in December, but instead he seems to be doing the opposite. This weekend he is set to open his four-month seasonal space in Aspen. Before the year is out, he will launch a collaboration with Coca Cola. "You can expect something completely different in Aspen," Fieg said about the venue, which will be number 6 for the brand. "We want every store to be a completely different vibe." The store is expected to stock most of the ski-themed merchandise that was on view at the company's September show.
But it's all good business. Sam Ben-Avraham is clearly seeing returns as Fieg's business partner. All former Atrium locations, which Avraham founded, have now been converted into Kith venues which seem like a vote of confidence—the Atrium store in Soho is now a six month pop-up shop with Nike and Kith. Our industry sources indicate that largely due to Fieg's involvement, ASICS grew from a comparatively small company to a $100 million business. One can only imagine what Fieg has in store for 2017.
"There's some big things in 2017 that I can't speak about because I'm so busy thinking about the store I opened today and the store I'm opening next week," Fieg said. "There's a lot going on but we're going to concentrate on these for right now." And if the Kith filled streets of Miami this weekend were any indication, it's a good thing to concentrate on.