She may be one of the world's biggest pop stars, but Lady Gaga's life has still featured quite a bit of tragedy—she was cyberbullied while attending college at New York University, and she is also a survivor of sexual assault.
As a result of this emotional and physical turmoil, Gaga revealed this week that she suffers from post traumatic stress disorder (PTSD). She expanded on this in a letter posted last night on the website of the Born This Way Foundation, the youth empowerment nonprofit Gaga co-founded.
"It is a daily effort for me, even during this album cycle, to regulate my nervous system so that I don't panic over circumstances that to many would seem like normal life situations," Gaga, whose album Joanne was released in October, wrote. "The experience of performing night after night in mental and physical pain ingrained in me a trauma that I relive when I see or hear things that remind me of those days."
Gaga revealed that her PTSD was not taken seriously while she was on the Born This Way Ball tour, and she overworked herself so much because of this that she injured her hip and was forced her to cancel 22 concerts.
She also shed a light on the neurological aspects of her condition, writing that it causes her to dissociate, or detach from her surroundings.
"My mind doesn't want to relive the pain, so 'I look off and I stare' in a glazed over state," Gaga wrote, quoting from her recent hit single "Million Reasons."
As a result of this dissociation, the amygdala (the part of the brain which stores emotional memory) overrides the prefrontal cortex (which controls logical, orderly thought), leading to a "fight or flight" response.
"My body is in one place and my mind in another," Gaga wrote.
This sensation causes her to shut down and feel depressed—she can't take a shower, let alone sing in front of thousands of people. It also results in somatization, or "pain in the body caused by an inability to express…emotional pain in words."
Gaga revealed that she is using psychotherapy, along with other psychiatric medicines, to help her heal.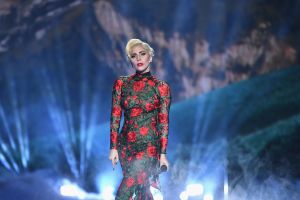 The pop star shows an impressive understanding of neurology, according to Dr. David Yusko, associate director of the Center for the Treatment and Study of Anxiety at the University of Pennsylvania's Perelman School of Medicine.
"There's a handful of commonly expected reactions to trauma, and she's describing some of the experiences in that range," Yusko told the Observer.
As the singer-songwriter pointed out, most people associate PTSD with members of the armed forces— indeed, 10 to 20 percent of military veterans suffer from the condition after returning from combat.
But the disease can still affect civilians—in fact, seven to eight percent of people will have PTSD at some point in their lives. Even young children and teens who have been involved in traumatic situations can show symptoms of the condition—between three and 15 percent of girls and one to six percent of boys develop PTSD.
"A traumatic event is defined by the potential or the threat of death, physical violence or sexual violation," Yusko said. "The civilian population is very vulnerable because of how prevalent physical and sexual assaults and child neglect are."
In light of this, Gaga hopes that her story can help young people and other civilians be open about their condition.
"Secrets keep you sick," she wrote. "And I don't want to keep this secret anymore."
Yusko hopes Gaga's announcement will help more people understand PTSD's physical effects on the brain.
"We know there's some neurology involved, but we don't understand it well," he said. "That's what leads to the stigma and secondary perspective of 'Oh, it's not a medical problem, it's a psychiatric problem that you can get past or get over.'
Most of all, however, Yusko applauded Gaga for telling her story.
"The more everyday people who talk about this, the more people are validated," he said. "Her courage to come forward is extraordinary."