It's the most wonderful time of year for Leonardo DiCaprio.
No, not just the holidays—it's also the season for the sacred event known as the Victoria's Secret Fashion Show, which is airing tonight. It also seems the show serves as an informal gathering of every blonde model that DiCaprio has dated or will date at some point in the future.
It has been a big year for everyone's favorite Dad Bod. He won his first Academy Award, and started dating his tenth Victoria's Secret model, Nina Agdal (who was absent from the Paris runway).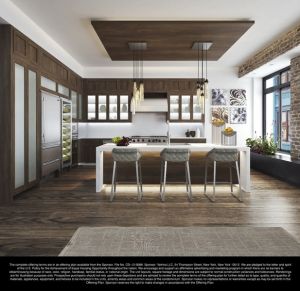 But it seems DiCaprio is also getting rid of a few things. Namely, his apartment at 66 East 11th Street. The actor bought the 3,663-square-foot condo in the eco-friendly, wellness-oriented building for $10 million just two years ago, using Malibu Colony Pch Property, LLC, for which his cousin and business associate Robert Hrtica is a representative.
He must have really wanted to get rid of the two-bedroom, 2.5-bath pad, which he just sold to 66 E11 LLC. After all, he offloaded the unit for just $8 million, which is $2 million less than what he paid in 2014. Plus, the actor apparently didn't actually reside there all that often—he was renting it out to Jonathan Orszag for $25,000 a month.
The wellness-focused apartment seemed as perfect a match for eco-loving DiCaprio as a blonde swimsuit model. He never publicly put the place on the market, but per the original listing, there are the Siberian oak floors, which are intended to "gently support your posture," as well as "in-duct aromatherapy," which provides a "subtle array of mood-enhancing aromas."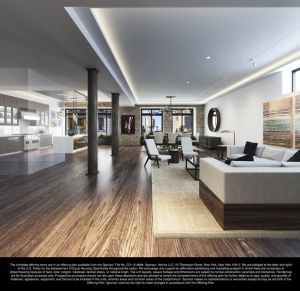 Not to forget about the situation in the master suite—there's a circadian lighting system, which provides the optimal lighting for your sleep cycle and daily activities. The onyx master bath includes a Jacuzzi Fuzion whirlpool with jets positioned on a reflexology path in order to promote balance and restoration. Oh, and there's a Vitamin C-infused walk-in steam shower.
We wonder why DiCaprio was so determined to leave behind the heath-centric pad. Maybe he simply decided he prefers his Battery Park apartment at 2 River Terrace. He does, after all, own two adjacent apartments in the also eco-friendly 2 River Terrace…perhaps he got around to combining the two.
Anyway, we doubt DiCaprio is sulking too much about the loss he took on the condo, but we imagine that the Victoria's Secret show tonight will definitely cheer him up. If nothing else, it should be fun to try and name the models he hasn't yet dated.