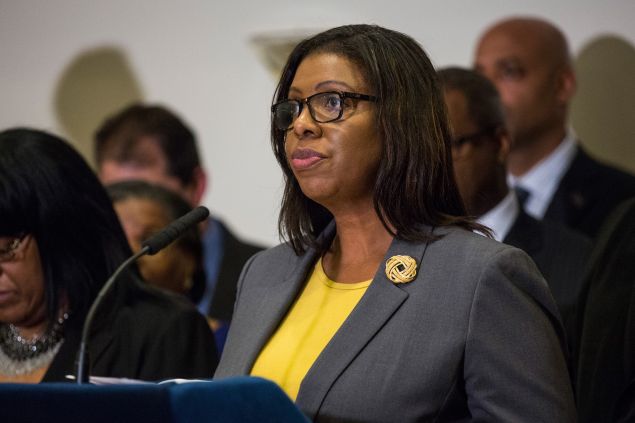 Over the summer, Public Advocate Letitia James unabashedly declared that Mayor Bill de Blasio deserves another four years in City Hall—but four-and-a-half months later, she maintains she hasn't endorsed him yet.
In an interview in August, James told NY1's Errol Louis that she is happy being public advocate when he inquired whether she would seek Gracie Mansion herself. And when he asked her if the mayor deserves reelection, she responded quickly.
"Yes, the mayor deserves reelection," she said then.
But today in the special "Ask the Public Advocate" segment with WNYC's Brian Lehrer—in place of de Blasio's usual "Ask the Mayor" feature—James sounded a bit more hesitant.
"I've not endorsed the mayor of the city of New York as of yet," James said. "We've not had any discussions with regards to the mayor's reelection. At this point in time, I am just focused on the reelection of Letitia James as public advocate of the city of New York."
James indicated that she found the news unnerving that U.S. Attorney Preet Bharara and Manhattan District Attorney Cyrus Vance have impaneled grand juries to contemplate charging the mayor and/or his top aides in two alleged schemes related to his political fundraising. 
"A grand jury investigation is very serious and for now I'm going to withhold comment pending the results of the investigation," she said.
Entrepreneur and former campaign manager for Mayor Michael Bloomberg Bradley Tusk, who founded the group NYC Deserves Better to recruit a candidate to challenge the mayor, interpreted James' comments as a sign of the possible outcome of the probe.
James has had a historically close relationship with de Blasio, dating to their shared years in the City Council. But she has butted heads with him at times on a number of issues, including increasing contracting opportunities for minority- and women-owned businesses and, more recently, especially on reforming the Administration for Children's Services.
In the aftermath of several high-profile killings of minors, James asserted ACS Commissioner Gladys Carrión had done a poor job. De Blasio called her assessment "dead wrong," a position he maintained even following Carrión's resignation earlier this month.
James at the time snapped back, "what's 'dead wrong' is dead children."
They even clashed after the city announced it was appointing an independent monitor to examine the agency, on on orders from the state Office of Children and Family Services. James noted the de Blasio administration previously resisted an independent monitor for foster care cases, which would have filled many of the same responsibilities. The administration pointed out recent child abuse deaths were in the area of preventative services, not foster care.
The public advocate also has some history of backtracking on endorsements. In January 2015, she committed to supporting Hillary Clinton for president if she ran. But after Clinton declared her candidacy in April, James initially refused to say whether she would honor that promise, instead saying that she was "looking forward to the conversation with Hillary Clinton." (The public advocate's office now disputes that report.)
A day later, she announced her endorsement of Clinton in an email to her supporters paid for by her 2017 campaign account.
She also caused confusion and controversy in 2014 with her endorsement of Democratic Councilman Fernando Cabrera, a fierce opponent of gay rights, for State Senate. Lawmakers sent an open letter to James recalling Cabrera's socially conservative record, which contrasted with her own.
And at a press conference, gay City Council members asked James to reconsider her endorsement. After reporters pressed her on the matter, James' defense was that she only "endorsed Cabrera on paper," and did not actively campaign on his behalf.
Today, James again indicated she would not run to replace late Brooklyn District Attorney Kenneth Thompson, as rumors once suggested she would.
"It's really flattering that my name has been thrown about," she said. "At this point in time, I'm fully focused on my work as public advocate and look forward to my reelection."
Council Speaker Melissa Mark-Viverito, for her part, told Lehrer recently that she will support the mayor's reelection bid.
For now, de Blasio's only opponents in the Democratic primary are State Senator Tony Avella and former Brooklyn Councilman Sal Albanese, both longshots who appeal mostly to conservative outer borough whites. Real estate developer Paul Massey has announced his intention to challenge the liberal mayor as a Republican, while GOP Queens Councilman Eric Ulrich has enlisted Ohio Gov. John Kasich to fundraise for an exploratory committee for his own prospective bid.
Supermarket magnate John Catsimatidis, who unsuccessfully sought the GOP nomination in 2013—and subsequently donated to the progressive political efforts that have landed de Blasio in trouble—is believed to be considering running again.
This story has been updated to reflect that Public Advocate James' office disputes the Politico report that James backtracked on her endorsement of Hillary Clinton for president and to include a comment from Bradley Tusk, former campaign manager for Mayor Michael Bloomberg.