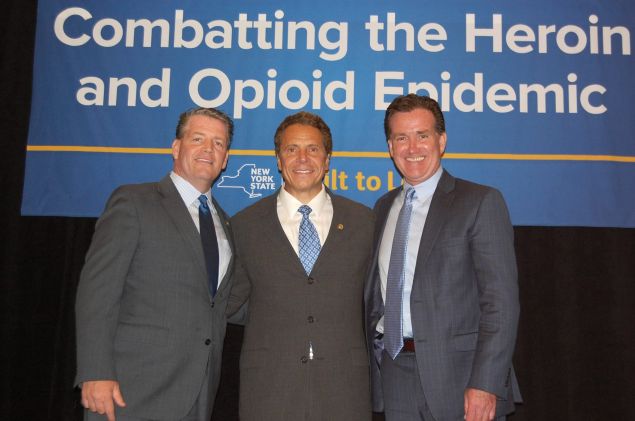 After the results of a recount on Long Island appear to have given registered Democrats a numerical majority in the State Senate, progressives are demanding the reluctant Gov. Andrew Cuomo step in to unite the splintered caucuses and ensure his own party dominates Albany—a move that would make New York one of just seven states nationwide completely under Democratic control.
In the latest tabulation, Democrat John Brooks came out 41 votes ahead of incumbent Republican State Senator Michael Venditto in Nassau County, though the GOP has vowed to fight the outcome in court. If Brooks' victory stands, 32 seats in the State Senate—the bare minimum—needed for a majority, will belong to Democrats.
Yet the party's delegation is far from united: seven belong to Bronx State Senator Jeffrey Klein's breakaway Independent Democratic Conference, which had a co-leadership arrangement with the GOP since 2012, while Brooklyn State Senator Simcha Felder caucuses with the Republicans. The main Democratic conference today called on Cuomo to wield his considerable political and institutional clout to forge a compromise agreement that would leave the State Senate, like the Assembly and the governor's office, in Democratic hands.
"We need Governor Cuomo to fulfill his role as the leader of our party and unite Democrats for the good of New York State," said Mike Murphy, spokesman for Democratic Leader Andrea Stewart-Cousins, in a statement to the press.
Murphy claimed Stewart-Cousins has engaged Klein in "productive" negotiations about a new power deal between the Democratic caucus and the IDC—which Klein's office swiftly disputed.
Senator Andrea Stewart-Cousins has not spoken to Senator Klein in nearly a month, and so we have no idea what her grand plan is for Democratic unity," said spokeswoman Candice Giove. "Leaders lead by engaging directly. The IDC will continue to do what's in the best interest of New York's working- and middle-class families."
Klein has hinted strongly that he will again seek rapprochement with the Republicans. Two years after founding the IDC in 2010, he struck a compromise with the then-minority State Senate Republicans that enabled them to jointly run the body.
After the GOP regained a numerical majority in the 2014 elections, they changed the arrangement, allowing Klein to keep his title of "co-leader" but stripping him of much of his power over legislation and the chamber's internal operations.
Cuomo did not respond to requests for comment. In June 2014, the governor brokered a short-lived deal between the IDC and Democrats to collaborate in the 2015 session should they have enough seats to form a majority. That did not occur.
The governor has long enjoyed a warm relationship with State Senate Republicans, the moderate faction from Long Island. In his first term, they allowed him to pass gun control legislation and gay marriage legalization, and supported his larger business-friendly agenda.
In return, Cuomo refused to campaign or raise money for State Senate Democrats.
But after an anemic win over longshot progressive challenger Zephyr Teachout in 2014, Cuomo has banked to the left. Republican State Senate Majority Leader John Flanagan cooperated with him in passing a minimum wage hike earlier this—and declined to back Democrat Todd Kaminsky's bid in a special election to fill the Long Island seat of former State Senate Majority Leader Dean Skelos.
Kaminsky triumphed anyway and, as the governor looked to burnish his national profile in the run-up to the presidential election, he helped in State Senate Democratic campaign efforts. But the sweeping down-ballot successes expected to accompany Hillary Clinton in November failed to fully materialize.
What did materialize was a great deal of hype about Cuomo's 2020 presidential prospects, and pledges from the governor that he would turn New York State government into a bulwark against Donald Trump. To do this, liberal groups insisted, he must forge a unified Democratic government in the state capital—an endangered species nationwide after the devastating election cycles of 2014 and 2016.
"This is a leadership test for Governor Cuomo. He has yet to use the full powers at his disposal to unite Senate Democrats. The urgent threats that Trump and State Senate Republicans pose to millions of New Yorkers demand that he to do so right now," said Bill Lipton, state director of the labor-backed Working Families Party, which has a fraught history with Cuomo. "If the governor wants to help lead the national opposition to Trump, he can start in his own backyard."
Immigrant organizing group Make the Road Action echoed Lipton's assertion that the New York State GOP is "is of the same ilk" as Donald Trump. Make the Road Action has long viewed the Republican State Senate as the primary obstacle to the passage of the DREAM Act, which would extend New York's college tuition assistance program to undocumented students.
"At a time when immigrant communities, Muslims, and communities of color are under attack by the incoming Trump administration, it is more important than ever for Democrats to work together to protect New Yorkers from Mr. Trump and the Senate Republicans that have copied his anti-immigrant playbook," Javier Valdés, the group's co-executive director, said in a statement to the media. "We ask Governor Cuomo to work hard to restore a united Democratic majority to the Senate."
To forge a coherent Democratic majority, Cuomo would have to unify not only the IDC and the larger Democratic deputation, but also Felder—who has already promised to again sit with the Republicans. He would also have to prevent Harlem State Senator Bill Perkins from leaving Albany to run for City Council, a departure that would leave Democrats and Republicans stalemated at 31 seats each.
Disclosure: Donald Trump is the father-in-law of Jared Kushner, the publisher of Observer Media.