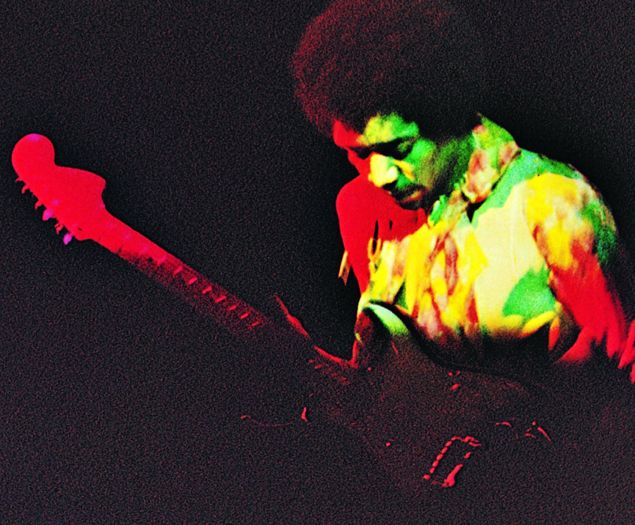 The reason why the Band of Gypsys period remains to this day arguably the most influential and beloved period of Jimi Hendrix's career was because it marked the beginning of a heavier, funkier direction with his old Army buddy Billy Cox on the bass and Buddy Miles of Electric Flag fame on vocals and drums.
It was a union that signified a cognition in the changes going on in African-American culture with the bold moves being made by Sly Stone, Miles Davis, George Clinton, Eddie Hazel and Bernie Worrell, clearly evidenced in the bag of new material the trio brought with them on New Year's weekend as 1969 turned into 1970 at the Fillmore East.
These songs, including "Who Knows", "Machine Gun" and renditions of original Miles compositions ("Them Changes", "We Gotta Live Together")—all of which appeared on the original Capitol LP Band of Gypsys—have been cited as the roots of such groundbreaking acts as Death, Living Colour, Fishbone, the Wu-Tang Clan and D'Angelo. Hell, even Drake.
There were four shows, two on New Year's Eve and two on New Year's Day, and the whole run was recorded for what would become the final album Hendrix would see released in his name before he died. However, the majority of the tracks from the original Band of Gypsys LP came from the two New Year's Day shows, while other releases like 1999's Live at the Fillmore East, contained just a smattering from all four shows.
But thanks to Legacy Recordings in conjunction with Experience Hendrix, we can now hear full performances from each concert, starting with the trio's blistering first show on New Year's Eve.
A 75-minute testimonial to the material Hendrix, Cox and Miles had been working on since October of '69, which comprised the entirety of their set, time-honored Hendrix faves such as "Purple Haze", "Voodoo Child (Slight Return)" and "Red House" were eschewed for the proto-funk blues of "Ezy Ryder", "Bleeding Heart" and "Earth Blues".
Forget about any other version of these Fillmore East shows you've owned in the past. This one's the real deal.
If you want to hear the Band of Gypsys at their hottest that weekend, a notion Cox wholeheartedly concurred with during our exclusive conversation about Machine Gun: The First Fillmore East Show, it was indeed on this first night. And as the sole survivor of both of Hendrix's bands, including the legendary Jimi Hendrix Experience, Cox is indeed a national treasure. As a fan of Hendrix since I was 9, it was an honor to discuss that weekend with him—a microcosm of time that ignited a whole new funk that still resonates in 2016.
[youtube https://www.youtube.com/watch?v=W-M16K6UlQg?list=PLczpGkMwunmopT4JKHzIVg7NurqC-1Rfw&w=560&h=315]
For all the music Jimi had done in the late '60s, it was definitely this Band of Gypsys period that seemed to have achieved the biggest impact in terms of inspiration for other artists, and across a wide spectrum of sounds at that.
We just fused jazz, blues, classical and R&B together in our own way. We made it work.
And the music you had brought to that first Fillmore show was essentially all new material, right?
It was new, it was fresh, and we were anticipating going onstage. And when we went on, we were ready to attack this stuff, because we had rehearsed it and we had it down. I think it was a flawless performance, this first show. I sat back and listened to it and it was flawless. Band of Gypsys, for me, was a group about growth and evolution without ego interfering. We were just plain old musicians loving each other and loving the music and we were motivated.
How far back did you both of you guys go with Buddy?
I had met Buddy when I got to New York. I was a big fan of The Electric Flag, but I never thought I'd have the opportunity to meet Buddy let alone work with him. He was out playing drums for Wilson Pickett when he was 16 years old, but his parents didn't necessarily approve of that because they wanted him to get an education.
So he figured out a way to play out during the times when he was not in school. He came up early in the music scene. Everybody knew Buddy, but he couldn't get out the way he wanted to because his mom kept a reign on him [laughs]. She wanted him to get a quality education, but it was rough because music was pulling at him.
Jimi Hendrix was no golden throat, but he did have an effective and distinctive singing voice. However, when you and Buddy Miles were backing him up on vocals, it was pure magic.
Our harmonies were so tight, sometimes it sounded like just one voice, because we got into the music so closely. And I think that's perhaps the one thing that made this music so unique and different from what Jimi was doing before. You heard those overtones and that harmony being draped over top of the music, and then Jimi would take his guitar and go way out on a limb with it while we were just laying down the rhythm for him. It was an incredible feeling, especially in concert.
Indeed.
Sadly, the group was short-lived because Jimi had contractual things to do, and then the management sees it one way, the group sees it another way. So when you're under contract, you got to go where the people who have the power tell you to go and what to do. And a lot of them, they not musicians and they think their way is right, and that causes groups to disband and then things happen.
One thing I can say about the music though was that we worked all this out ourselves. There wasn't a guy with a suit on telling us, "Oh you're doing this right, you're doing this wrong." We were permitted to put this together ourselves and consequently, it came off very perfect for that date in time. But I think a lot of times, people get involved in music who are not musicians, and I think that messes things up.
One thing I always wondered about in regards to this whole New Year's weekend that you guys had spent playing the Fillmore East was what you all were doing before the shows, like during the day. How did you spend those hours leading up to the shows, especially this first one that was just released?
Oh man, we hung out and we ate. We were all about the same age, we were friends, and we all came up in the Southern Chitlin' Circuit together, so we shared many of the same likes and dislikes. We all talked the same lingo. We had been rehearsing for this thing at Baggy's.
We knew we had this concert to do, and I believe that the very first show was probably the best show that we had done. I'd like to give you a quote that the great Miles Davis and what he had to say about the Band of Gypsys. And I quote, "It's that GDMF'n 'Machine Gun' " when Miles was questioned on what he heard in the music of Jimi. Then you can find this in his autobiography on pg. 293, where he says, "The best [Jimi] sounded to me was when he had Buddy Miles on drums and Billy Cox on bass."
And that was really classic, because we all respected Miles so much. He had a lot of personal things I didn't necessarily agree with, but when it came to music he was as pure as can be, because Miles—to me—was a genius.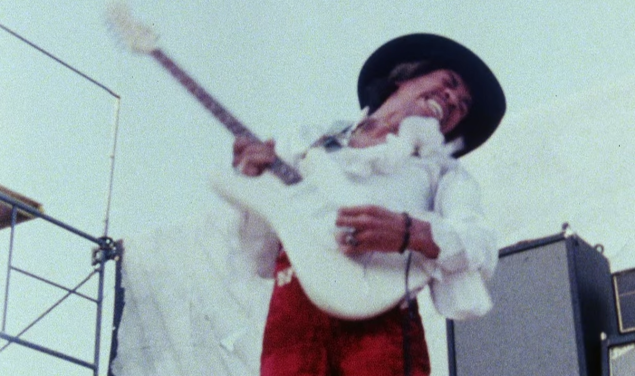 It's well known the mutual admiration Jimi and Miles had for one another as well.
Jimi loved and respected Miles, and the feeling was mutual. In fact, they had planned on doing a project after Jimi had gotten out of his contract and things like that, but it never happened. But I can say there were plans in the future for Miles and Jimi to get together. Man, that would have been incredible.
Who made the call to record the whole run of shows for Band of Gypsys?
What had happened was Jimi was being sued at that particular time for $15 million or something like that, I forget the denomination. And he says to me, "Man, I don't know what I'm gonna do. I don't got no money to give these people, and they talking about suing."
So I said to him, "Well, give them a record, give them a concert, give them something!"
So a couple of days later he decided he was going to give them an album, but we get to keep our songs and we get paid for it, etc., etc. So I said, "O.K.! I'm in!" And then he talked to Buddy who was over in Europe, and we decided to help him out. It was a one-time deal. So we all got together as friends and consequently, the Band of Gypsys was born; out of a necessity.
Is the plan to release each show as its own album moving forward, to your knowledge?
That will be a decision made by Experience Hendrix. But there's a lot of stuff in the can that needs to be looked at as part of the Band of Gypsys the group and the stuff that we did. When they first released the Band of Gypsys album, it was very raw and I was really picky about my mistakes, going like, "Oh, I should have picked up on this spot," or "My string was out of tune."
But now there's some things in the can that was made in the studio between me, Buddy and Jimi that were completed and man, it's smokin'. I'm waiting for that to be released. Experience Hendrix does a great job with this music, and there's some new stuff on the horizon they should bring out.
Truly one of the biggest what-if's in music to this day was where Jimi Hendrix would have gone had he lived to see the '70s, '80s, '90s and the millennium. As a fan who hears elements of Jimi in so much new material coming out, and especially in modern R&B, it's a hypothetical I wonder about quite often.
Jimi always wanted to get into some other areas of music, he just didn't live long enough. But he had a lot to offer. This music, even the music he's doing now today posthumously like Machine Gun still sounds new, because he had a knack.
And all the great ones—Beethoven, Gershwin, Miles, Bob Dylan—made their music sound so important was because they had the knack to write in the now. Not every musician could write in the now. That's what put him in the class with the masters.