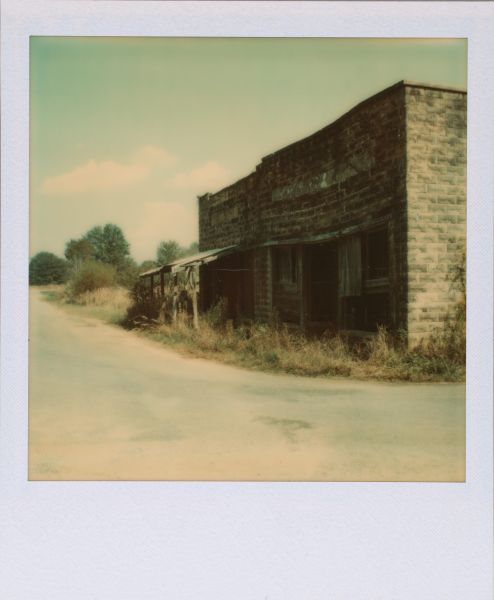 In landscape photography, as they say, the sky is the limit. Call it the great outdoors, and the range of work now on view from the collection in a small new show at the Metropolitan Museum lives up to that name, albeit mocking it some of the time. It's all the more impressive because of its own designated place, a corridor off a corridor where the museum has its contemporary photography galleries.
The exhibition, "The Poetics of Place: Contemporary Photography from the Met Collection," is contemporary if your sense of that period goes back to the 1970s. Think of a selection bookended by tiny polaroids taken in rural Alabama by Walker Evans in 1973 and a wall-sized projection of still images of the Hudson River from a point-and-shoot Olympus by Wolfgang Staehle (2004-6). And there's a lot in between.
The Evans pictures, in color, are of places in and around Hale County, the Alabama region that Evans immortalized (if that's the word) on his trip in 1936 when he observed struggling families there in Let Us Now Praise Famous Men (published in 1941 with a text by James Agee). Those were black and white portraits of anguish on the faces of people ravaged by the Great Depression. On his return to Alabama in October 1973, Evans deliberately avoided reconnecting with those who figured in his portraits. Too few?  Too grim? The polaroid landscapes, which have a pastel feel from exposure to light over decades, give the places a faint restful near-nostalgic glow, like sunlight on grass that grows over a grave, like moss in the darker pigments.
By the time that Evans's career was revived with an exhibition at MoMA in 1971, much of the art world thought that the veteran photographer who disappeared from view for a long time had died. The polaroids that reveal the enduring lyricism of ordinary places also brought new life to his reputation. You can't help but be drawn to them.
The same can be said about other southern landscapes that echo the subdued power of the Evans pictures. Next to the Polaroids is Untitled (Near Morton County,Mississippi) by William Eggleston, a view from 1972 of a gentle slope of red earth that inclines upward to the horizon. It's taken from far enough away so as not to be tactile, as many of Eggleston's pictures are, yet he (and you) are still close enough to the place he's depicting so the red soil can feel like a rising wave. Eggleston is a great colorist, and he reminds us of that gift with elegant subtlety. The picture doesn't overwhelm you, but pulls you into a hypnotic flow.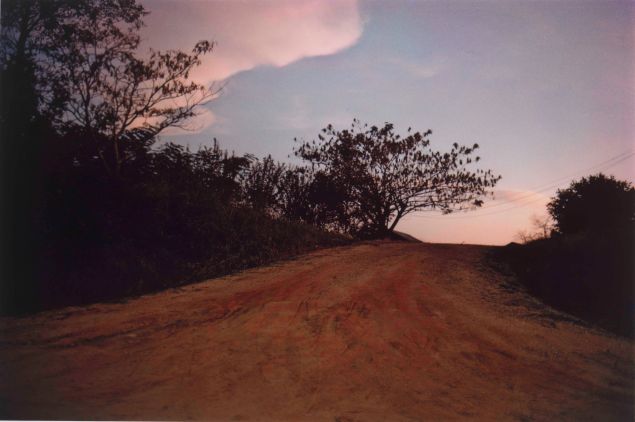 Across the narrow gallery is a dark silhouette of hills  by Sally Mann, Untitled (Virginia).  Mann is from the Shenandoah Valley, and her picture (1993, printed 1997) with a mostly undifferentiated foreground suggests a view of early morning from a Matthew Brady photograph taken during the Civil War. (It was in photographs by Brady and company that northerners first saw the American South.) The difference between sky and earth here feels like it comes from the early days of photography, with a mystery that also draws on Magritte.  Like Walker Evans in Alabama without portraits of aggrieved sharecroppers. Mann's Virginia without her children's skin bathed by the sun shows a serene side of an artist whom we thought we knew.  She knows how seductive darkness can be, and Sally Mann knows seduction.
Alongside Mann's Virginia hills is Dong Thap, Southern Vietnam, from 1994, by An-My Le. It's literally an image of a backwater, with a structure on the distant shore of the still marsh that looks like the South Vietnamese version of what you might find in a swamp in the American South. More Faulkner than Corot. Toward the margins, the focus blurs, suggesting the fuzziness that surrounds so much of memory.
There are plenty of memorable images in "The Poetics of Place." Roe Ethridge's magical New York Water: Osgood Pond (2001) reminds you that landscape isn't only something that you see, but that you see through, as tall vertical trees form a frame within a frame.
New York Water is vertical. So is Da Fu, Le Chan Sichuan China by Lois Conner. This view of a densely patterned riverside promontory, has the majesty of a Chinese brush painting, and the confounding inscrutability of a vision by M. C. Escher.  It's a glimpse from above that forces your eye to solve a puzzle.
Another essay in readjustment (among other things) is La Jibarita IV by Jan Henle (1991-94). Henle gets so close to the surface of the ground that he is photographing that his picture feels like a thickly textured abstract canvas. Too much reality at too close an exposure becomes a bolt of colorful abstraction.
On the other chromatic extreme is 1691082u2 (Demolition of Madison Square Garden, 1925) by Matthew Brandt of Los Angeles. The faded image is an archival photograph of the structure, long since dust, that once stood in Madison Square Park. The pigment used is dust from that site – concrete material memory from a man-made landscape suggesting memories that are slipping away, if they were ever there for Brandt and his generation.
In scale, the dominant landscape in The Poetics of Place is Eastpoint (September 15, 2004), a projection of still images taken over 24 hours by Wolfgang Staehle, a German who has been in New York since the 1970's. The camera observes the Hudson and the hills that rise above it from a site across from West Point. As the image shifts slightly with each of 8100 exposures, you have the sense of nature breathing or bearing its burdens in silence, or both.  The pictures all come from that cheap point-and-shoot, nonetheless monumental for the no-budget technology. It's minimalism on a grand scale, endless variations on a landscape that seems unchanged.
"The Poetics of Place" is up through June 25, 2017.