It's never been easier in Los Angeles to casually eat food from star chefs known for formal dining. If Providence is too expensive or elaborate for you, seafood master Michael Cimarusti has Connie & Ted's and Cape Seafood and Provisions. If getting a reservation at Trois Mec is too difficult, you can walk into Petit Trois next door (or, soon, into its forthcoming Sherman Oaks location) or grab a chicken sandwich from Ludo Lefebvre's LudoBird. If Melisse is too extravagant to be your Westside go-to, Josiah Citrin is bringing the fire at Charcoal.
And now two of L.A.'s most celebrated and influential Italian chefs have joined this relaxed-vibe parade.
Celestino Drago, who's from Sicily and has been a towering figure in L.A.'s pasta scene for more than three decades at spots including Beverly Hills' pioneering Celestino and downtown's Drago Centro, has just opened Drago Ristorante at the Petersen Automotive Museum. This sleek restaurant is geared (heh heh) to satisfy museum-goers in search of a quick pizza after checking out the Bugatti exhibit across the hall or the Pixar cars that will make Lightning McQueen fans scream ka-chow! 
But the tablecloth-free Drago Ristorante is also a place where those in search of transporting pastas might want to linger with a few glasses of wine before dessert and espresso. The user-friendly and gently priced menu (pastas start at $13) is there to let you know that the paccheri (with Drago Farms organic tomato sauce) is large rigatoni and that the farfalle (with vodka sauce and prosciutto) is bowtie pasta. That farfalle, rich and elegant, is rarefied comfort food for whatever counts as winter in L.A. More adventurous diners will also be game for the sumptuous house-made cavatelli with venison ragu and porcini mushrooms, or perhaps the pappardelle (that's wide-cut housemade fettuccine, in case you don't know) with pheasant and morel mushroom sauce. For those who also want a main course, options include steak, a veal chop, braised short ribs or sauteed jumbo scallops over polenta.
The stylish and airy surroundings might remind globetrotters of modern wine bars in Rome or perhaps dining at one of Italy's gloriously comfortable Autogrill rest stops, and the yellow McClaren you can see from the dining room enhances the experience of enjoying salumi with fried bread or puntarelle with an anchovy/garlic vinaigrette. This is a restaurant for tourists on L.A.'s museum-laden Miracle Mile, but it should make a lot of locals happy too.
Less than two miles away on Beverly Boulevard is where you'll find Gino Angelini's new Angelini Alimentari. It's next door to Angelini Osteria, the beloved and tightly packed dinner destination that the famed chef, who was born in Italy's San Clemente region, has been running since 2001.
Angelini Alimentari, a coffee bar and market, doesn't even serve dinner. It's a chill daytime hangout with counter seating plus a few colorful tables in its European-style courtyard. For breakfast, there are assorted pastries as well as uova in purgatorio: baked eggs with cherry tomatoes, onions and spicy 'nduja that will jolt your palate while the requisite espresso works on waking up the rest of your body. For lunch, there are sandwiches with prosciutto or beef-and-pork meatballs or whitefish Milanese. This being L.A. in 2016, you can also order ricotta toast. When I visited, I convinced myself that feasting on porchetta over tomatoes and arugula counted as a healthy salad. The gelato at Angelini Alimentari is made in-house daily.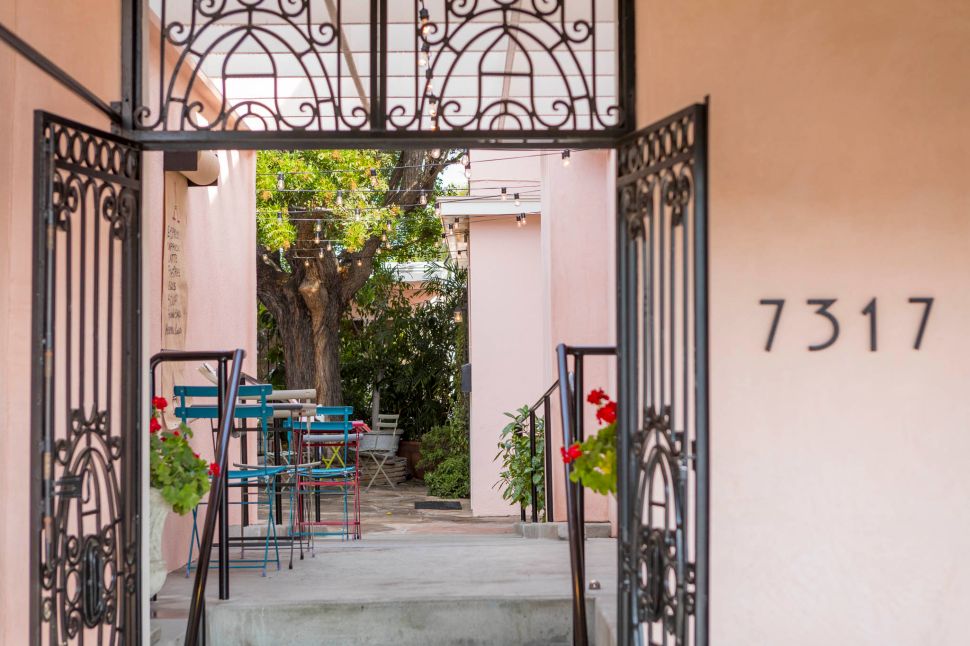 You know how Europeans can spend all day sitting at a cafe, looking around at nothing in particular, slowly sipping coffees and having a snack here and there? Angelini Alimentari has that kind of essence, so, yeah, this place works for tourists as well as locals too. Come here as an escape or come here to pick up a jar of Angelini's wonderful amatriciana sauce to eat at home. Either way, you'll be reminded that you don't have to get fancy for food in L.A. to take you on a journey.