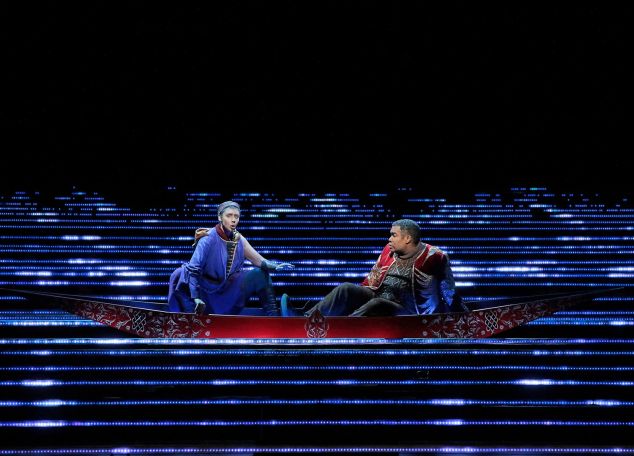 Early in the first act of Kaija Saariaho's L'amour de Loin, which enjoyed a successful Metropolitan Opera premiere last night, a dreamy troubadour describes his ideal lover as "belle sans l'arrogance de la beauté," that is, beautiful but without having the arrogance of beauty. That phrase could just as accurately be applied to Saariaho's shimmering music: gorgeous, if a bit self-effacing.
But perhaps that's the effect the composer—the first of her gender to have an opera performed by the Met in over a century—was seeking. The wan libretto by Amin Maalouf tells, as the title indicates, of "love from afar," the fascination of a French poet for a countess half a world a way in exotic Tripoli. Saariaho's music hypnotically evokes the distance between the loves with downcast modal melodies and a vast, impressionistic palette of soundscapes evoking the sea.
Less successful is the vocal writing, a stiff arioso almost always in a sedate moderate tempo. Maalouf's French text emerges with admirable clarity, but with little sense of individualized emotion. The characters sound as "afar" from their own feelings as they are from each other geographically.
The sense of cool, aestheticized distance in the piece is amplified by Robert Lepage's magical production. Freed from the constraints of depicting character and relating narrative that so stymied his Ring production at the Met, the director has created a stunning stage picture that is both literally and figuratively iridescent, with thousands of LED lamps evoking the restless sea that parts the lovers.
The visual highlight of the evening, and indeed one of the most breathtaking sequences I've ever witnessed in an opera house, is Lepage's depiction of a storm across the ocean, an ideal visual counterpart to Saariaho's lurching brass fanfares.
That the Met orchestra, which sometimes tends toward the bombastic, played throughout with such delicacy indicates that conductor Susanna Mälkki has both exquisite taste and a phenomenal sense of control. In lesser hands this piece might end up as diffuse as a dish of lukewarm Jell-O, but Mälkki made everything cohere into a web of precise gossamer.
As the star-crossed lovers Jaufré and Clémence, bass-baritone Eric Owens and soprano Susanna Phillips sang handsomely and sensitively, though neither artist wields the sort of vocal or visual glamour that might help enliven the diffuse storyline. (During Clémence's extravagant final aria, I couldn't help wondering how it might sound performed by the Met diva seated just across the aisle from me, a Titian-tressed, brocade-swathed Anna Netrebko.)
On the other hand, Tamara Mumford's wine-dark mezzo infused the secondary character of the Minstrel with gravitas; even seemingly throwaway lines seemed to boom with portent. Kudos go also to the Met chorus, who warbled, whispered and hissed Saariaho's tricky music while cavorting in Lepage's "sea" like so many golden-voiced dolphins.
No, Il Trovatore it's not. But if you're in the right frame of mind, L'amour de Loin could send you on a journey to operatic bliss.