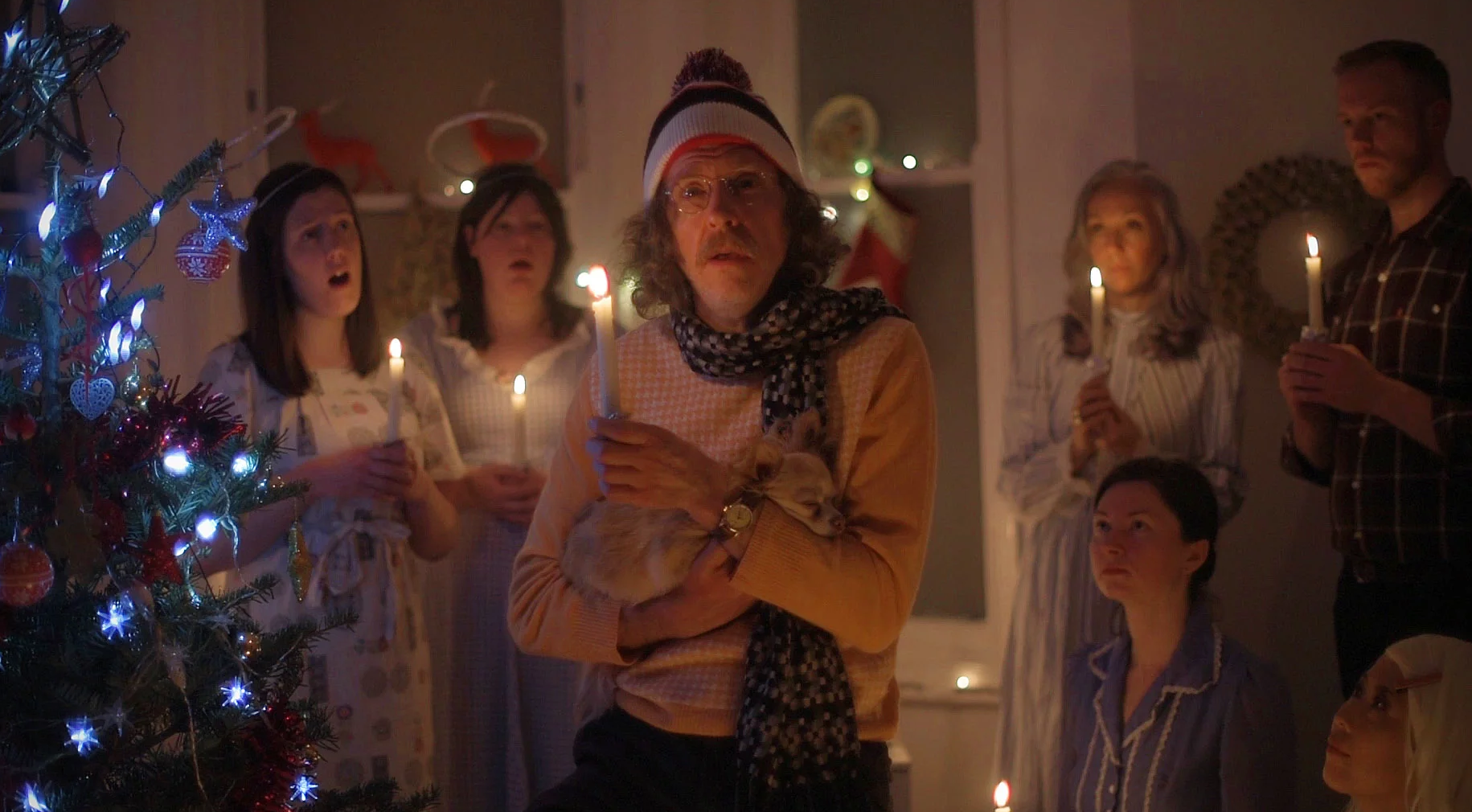 Whether you celebrate Christmas or not, your local drugstore does not discriminate when it comes time to roll out that annual looping torture soundtrack of Bing Crosby and Burl Ives. At this time of year, no one escapes the pain (or pleasure, if that's how you see it) of Christmas joy in musical form. But it's 2016, a.k.a. the shittiest and hottest year on record, and artist Martin Creed is here to free you from the shackles of merriment with a less than cheery holiday song.
Creed's newest release, It's You, comes on the heels of his album Thoughts Lined Up, and is currently playing in the front window of Hauser & Wirth's London gallery for all to enjoy. It's not an ode to crisp white snow or egg-flavored holiday drinks, but to…you, the viewer. And it's also not a very cheerful tune either. Rather, Creed and co., seemingly dressed in pajamas from another decade, layers of woolen scarves and an impressive assortment of winter hats, chant a gloomy hymn by candle light that's wide open for interpretation. Switching outfits every few lyrics, and managing to look more and more downtrodden as he belts on, Creed cradles the sleepiest tiny dog and sings:
Whatever you feel
Whatever you want
Whatever you do
Whatever you don't…
It's you in the front
And it's you at the back
It's you, it's you, it's you
Creed's work is known for being cheeky. The artist won the Turner Prize in 2001 for a conceptual piece which featured the lights in an empty room turning on and off on a timer. And a film in his recent show at the Park Avenue Armory in New York depicted people defecating on camera. Since he's been writing and releasing music for years, it's about time that the holidays' most dreaded tradition got the Creed treatment.
[protected-iframe id="9dfa879f7c7a6c2109cb507582b9c52d-35584880-70888234″ info="https://player.vimeo.com/video/186266073?title=0&byline=0&portrait=0″ width="640″ height="360″ frameborder="0″ webkitallowfullscreen="" mozallowfullscreen="" allowfullscreen=""]
"It is a joke about sentimentality. Where tacky Christmas songs pile on fake feeling and kitsch emotion, Creed explores how feelgood culture works," The Guardian's Jonathan Jones wrote about the song, which he called an "anti-carol." "Perhaps this is a love song after all, and perhaps it contains hope and faith."
The real star of my new favorite Christmas jingle (which I intend to sing with impunity at my family whenever the Christmas spirit hits me) is that tiny dog. His participation is key. Just watch him get increasingly more sleepy as the song goes on and then pass out hard. He is all of us as we bid 2016 adieu forever.