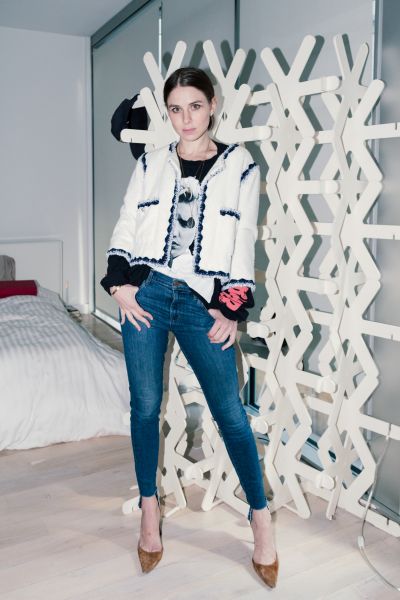 For anyone who keeps up with fashion writers, the name Ruthie Friedlander has become a household one. She's not even 30 years old, and yet she's established herself as the digital fashion content whisperer. Seamlessly shifting between iconic clothing houses like Chanel and The Row, to major editorial roles as the Deputy Editor of Elle.com and most recently as the newly appointed Site Director of InStyle.com, she has established herself as a force to be reckoned with in the fashion landscape.
Truthfully, the world of magazines and fashion hadn't been on her mind much as a child, when she was growing up in New York. She was dead set on being a singer/actress/dancer as a child (she logged eight years of theater camp, mind you) and thought her sister's habit of buying all the fashion magazines every month was silly and a waste of money. Like most great career stories, she started as the personal assistant of a media bigwig, Dan Abrams, the current chief legal affairs anchor for ABC News, former general manager of MSNBC and founder of Abrams Media. Unlike most recollections of being a personal assistant though, Friedlander has only positive things to say about her time in this often unglamorous role. "I had this incredible boss in Dan Abrams. I think being a personal assistant is the greatest job that you can have because you learn a little bit about everything. I had redone floors but I also had launched a web site [Styleite, which I served as senior editor of] and mastered a huge budget. I felt like I could go anywhere in my career from there," she told the Observer.
That "anywhere" ended up being Club Monaco, where she had a brief stint as a marketing coordinator, followed by three years at Chanel. Then she was tapped by the Olsen twins to run digital for The Row. However, her love of editorial came calling and her next role was as the deputy editor of Elle.com. This rather major career shift might appear challenging to an outsider, but Friedlander makes it look easy. "Being on the brand side you learn a lot about what it means to work for the entirity of that brand. When you walk into those offices, you are a part of that brand. People may not think that about magazines, but it's a brand also. When you walk into InStyle there is a woman we are there to support, there is a look we are going for. [Coming] from that obvious place of branding is a big help."
If you've already assumed that Friedlander is one of those "clacker" fashion people whose favorite topic is couture and who has no sense of humor, you're entirely wrong (seriously, she doesn't even wear heels on Fridays.) In fact, she's also ben dubbed a "chic cat lady" by The New York Times. That title came to fruition after she detailed how her relationship with her beautiful cat, Gracie, got her through a tremendous breakup in a piece for Elle in 2014.
"Gracie gets me out of bad dates. It takes a guy who really likes you, even loves you, to get turned on when you start talking about how much you love your cat. Shockingly, the moment I start talking about Gracie, the drinks start to come to an end. I've learned to use this to my benefit. The second I've decided the date is a 'no,' I wax poetic on how my adorable cat Gracie is the best thing about me. I even share photographs of the two of us," Friedlander wrote in the piece. Gracie has been featured in other Elle editorials including a makeup tutorial in which the cat does Friedlander's makeup. Who else would you trust to give you a perfect cat eye? Though a cat doing makeup is pretty funny, it's Friedlander's witty prose about setting her kitty up on a date, even though she is a shut-in, that keeps you watching. It's that quirky sense of humor mixed with high fashion knowledge that keeps Friedlander in demand. Her Instagram is the perfect mix of cat pictures and Friedlander romping around in amazing high-fashion ensembles.
Other memorable stories she penned for Elle includes profiles on power jeweler Anita Ko, a guide to living like an Instagram famous pet, explaining the popularity of that dang swan float, and answering the age old question: How do you dress fashionably when it is hot outside, but cold AF in your office?
Working alongside massively talented individuals has also helped Friedlander's career get further along. Take, for example, Laura Brown, InStyle's new Editor in Chief, who handpicked Friedlander for the Site Director role; the two first crossed paths when Friedlander was an intern at Harper's Bazaar. Friedlander doesn't make any major life decisions without consulting her former Chanel boss, Iana Dos Reis Nunes, who is currently the Chief Global Communications Officer at Marc Jacobs. "[She taught me] you don't have to have an answer for every single question. Often times 'I don't know' it is the right thing to say." Friedlander often feel the pressure of being the youngest person in the room (she also notes that her youthful looks don't help much), but tries to use it as a motivator. "I try to think of it as another important reason to prove myself which is a challenge that I like. But specifically at InStyle, Laura really empowers me which really helps and my age helps us relate to our audience really well."
Friedlander does have her work cut out for her at InStyle, but her game plan is strong. Her focus on video, which was something she really spearheaded at Elle, will also be brought to her new role. "Video will not be an afterthought in the way we tell stories. The priority right now is finding out what our voice is, who the InStyle reader is, what do they love. We know that she loves to shop, but you can write about that in so many different ways and finding the look and feel of that is very exciting," she said.
Telling a story in a unique way in digital is vital, but getting clicks on that story is absolutely imperative and Friedlander is well aware. "It's a huge brand and the traffic needs to reflect that. We're going to increase our traffic exponentially," she said, noting that November was already the site's best month ever traffic-wise. "With the amazing talent we have on the print side, there should be no reason we can't capitalize that on the digital side. On the internet so many of the same stories happen on every single web site, the question is how do we write this story in an InStyle way? Our voice and our authority is already strong, so it's really just about elevating and tightening it." Friedlander's signature voice has already produced some young, fun headlines including, "12 Evening Flats So Chic You'll Need an Uber"and "15 Accessories to Kiss on New Year's Eve Instead of a S.O."
Though the field she works in never takes a break, Friedlander insists that she must, in order to do a good job.  "I try my best to set boundaries. Monday nights are 'me' night," she said. Ballet Beautiful is her go-to stress reliever and her space for self care (and a great excuse to wear the occasional tutu it seems, according to Instagram.) Trips to the Christie's Auction House, where her sister works, during the holidays as well as checking out the windows of fine jewelry houses is also a favorite pasttime for the lifelong New Yorker. The editor's parents, both of whom are rabbis, reside on the West Side and she spends a lot of time with them, when she isn't working.
Though starting her own magazine or fashion label seems like it would be a natural next move, Friedlander insists that is not on her career roadmap. In a very non-millennial school of thought, Friedlander says she really likes having a boss. "I feel so grateful to have such a strong leader in Laura and I really work best in that capacity. I prefer to be part of things that are already amazing and just help them get better," she said. "I want to make you laugh, think and shop." Seems like she's doing a pretty good job of that.