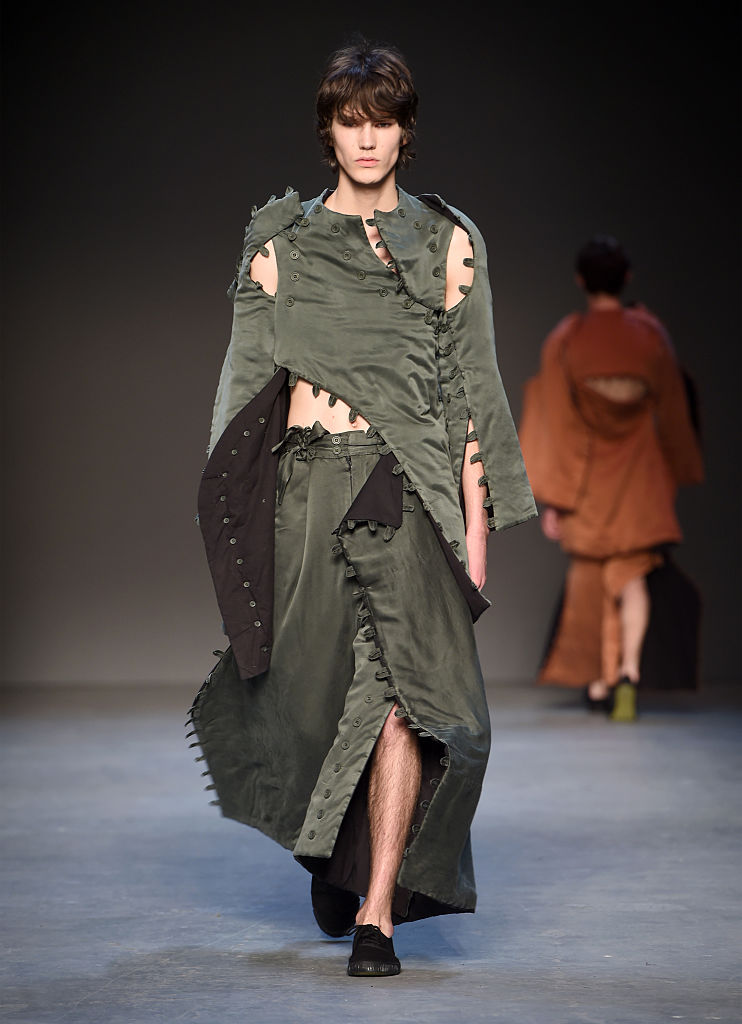 The Winner
Who: Craig Green
Signature Style: Sports and military inspired urban wear.
Journey to the top: A graduate of London's world-famous Central St. Martins art college where Green took his Masters in menswear design. He presented his first winter collection in 2013 as part of Topman/Fashion East's showcase. Green showcases his collections in London. In 2014 he was given a coveted window to display his designs in Comme des Garcons' Dover Street Market.
Famous Fans: Tim Blanks, Business of Fashion's editor-at-large, says, "Craig Green is fearless in his idealism. His clothes are grand gestures, but they're poetic and romantic too. People sobbed at his spring 2016 show. Fashion craves that emotion." Drake and Kanye are both fans of Green's designs.
Something else: The British tabloid press has been more skeptical of Green's creativity. His use of masks made of splintered wood in one of his first shows inspired the Daily Mail to write, "What a plank" (slang for an idiot) under a picture of one of Green's wood accessorized models.
The Future Looks: bright. Green has just won the Menswear Designer of the Year 2016.
The Maverick
Who: Grace Wales Bonner
Signature Style: A three-quarter-sleeved ivory silk shirt flowing over cropped leather motocross is a typical hybrid of Romantic tailoring with detailing and craftsmanship taking inspiration from Africa and Jamaica.
Journey to the top: Wales Bonner graduated from Central Saint Martins in 2014. She was awarded the LVMH Prize in 2016 recognizing young design talent which gave her fledgling business a cash injection and helpful support from the French luxury conglomerate.
Famous Fans: A$AP Rocky, Rihanna.
Something else: Wales Bonner formerly assisted stylist Camilla Nickerson at American Vogue before presenting her graduate collection, titled "Afrique" which shown on a cast of black models.
The Future Looks: interesting. Wales Bonner's inspiration from non Western sources is likely to keep her inspired for years to come going her a unique vision in a sometimes derivative fashion world.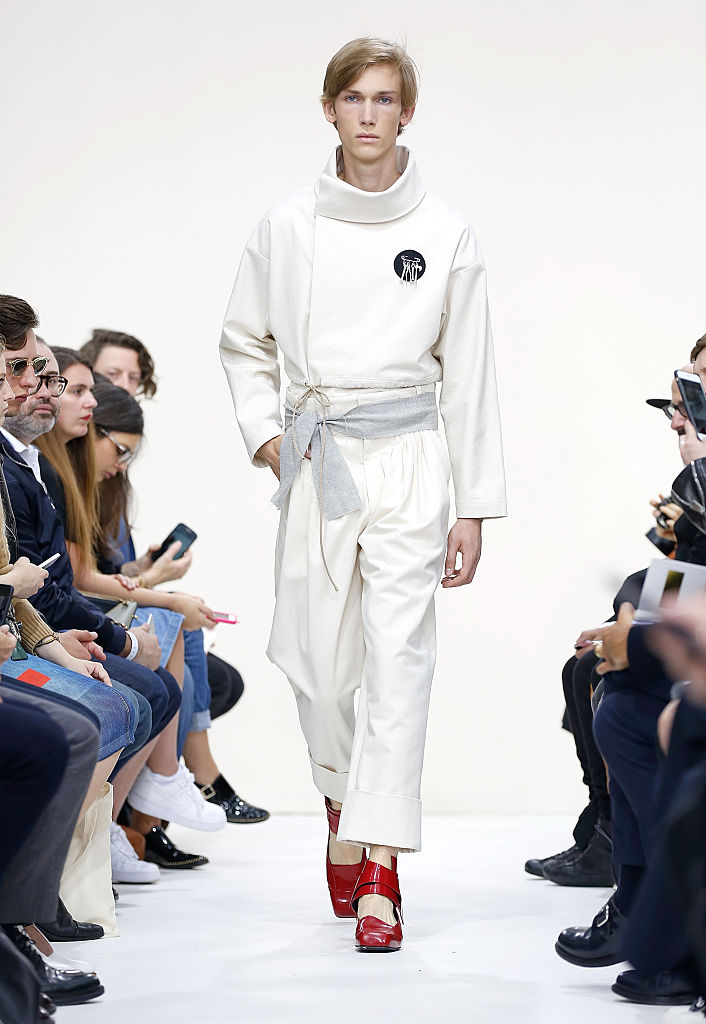 The Futurist
Who: Jonathan Anderson
Signature Style: An outsize graphic, extra long-sleeved T-shirt over narrowed cropped trousers with platform sneakers. Three words describe Anderson's aesthetic: streamlined, futurist sportswear.
Journey to the top: An alumnus of London College of Fashion, Anderson initially pursued a career in acting at the Studio Theatre in Washington, D.C. This inspired an interest in costume design which led to the Northern Ireland native to complete his degree in menswear design graduating in 2005. Since 2013 he has been creative director of Spanish luxury house, Loewe. In 2015 Anderson was awarded both womenswear and menswear designer of the year at the British Fashion Awards.
Famous Fans: A$AP Rocky collaborated with Anderson with a collection in June 2016
Something else: Anderson worked briefly as a visual merchandiser at Prada, under the tutelage of Miuccia Prada 's right hand, Manuela Pavesi before relocating to London to launch his eponymous label.
The future looks: intriguing. Anderson's boundless creativity, output and playfulness means his collections always garner attention.
The Creative
Who: Tom Ford
Signature Style: Broad lapeled suits and luxuriously appointed sportswear and accessories often channeling 1970s decadence. Advertising his fragrances with nude or seminude models seals the deal for Ford as one of the sexiest creators in fashion.
Journey to the top: Texan-native Ford's headline-grabbing relaunch of feted label Gucci in the 1994 turned the moribund Italian fashion house into a multibillion-dollar global mega-brand. From here Ford went on to launch his own label in 2006 with menswear and fragrance before eventually launching womenswear. Tom Ford the company turned over $1 billion in 2013.
Famous Fans: Idris Elba, Jay Z, Justin Timberlake. In fact any A-list actor or musician heading to a red carpet would be well advised to wear a Tom Ford suit.
Something else: With the critical and commercial successes of Ford's new career as a film director and screenwriter with movies A Single Man and Nocturnal Animals, some fashion insiders are wondering if the talented Ford will eventually use his fashion empire to primarily fund his burgeoning film career.
The future looks: creative. Whatever Ford turns his hand to: a fragrance or a movie, it's never less than interesting and often downright arresting.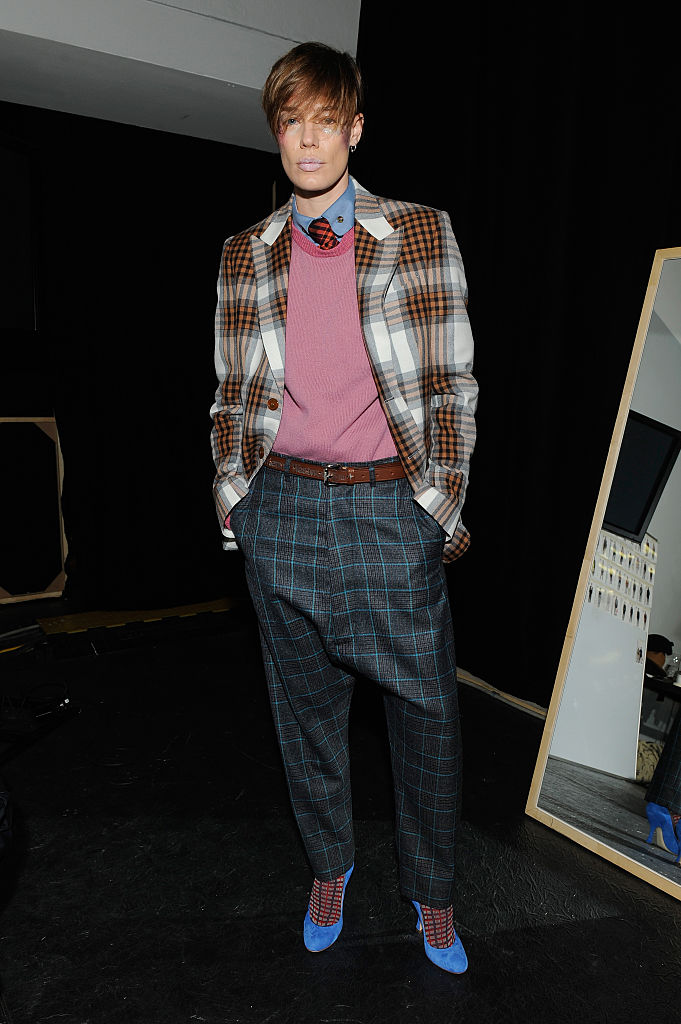 The Eccentric
Who: Dame Vivienne Westwood
Signature Style: Wild tailoring, layers, romantic swathes of fabric and print. A mantra: More is more and then some more, sums up Westwood's design aesthetic.
Journey to the top: Westwood's career has near mythic status in the annals of fashion. In the 1970s with her then business and personal partner, Malcolm McLaren (manager of punk band, The Sex Pistols) Westwood designed bondage trousers, torn T-shirts printed held together with safety pins and chains sold from their shop SEX on London's King's Road. She and McLaren created the look of punk rock. Inspired by the history of fashion, particularly the 18th Century, Westwood since the 1980s has used arcane cutting techniques and references to create a unique and wholly original fashion language that attracts near cult devotion amongst her fans around the world. The Japanese seem to have particular love-in with Westwood's designs.
Famous Fans: Gavin Rossdale, Nas, Matthew McConaughey
Something else: Westwood is a vocal and punchy polemicist often using her collections to comment on poverty, the excesses of disposable fashion and advocacy of green politics. In Britain, Westwood is regarded by many as a national treasure inspiring feelings not dissimilar to those felt for the Queen.