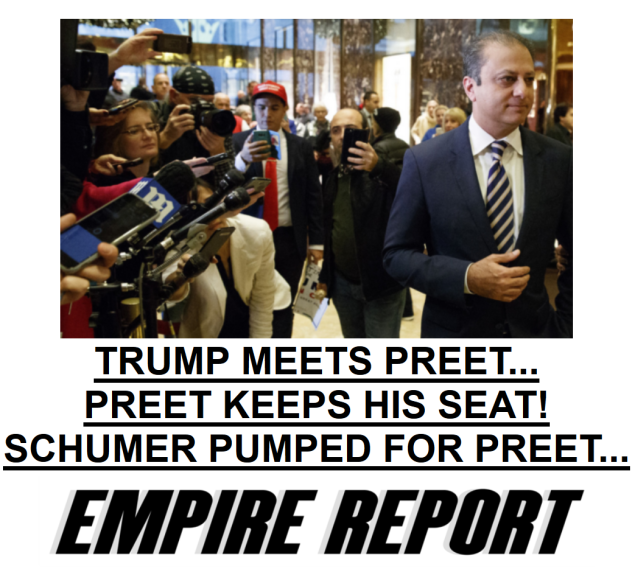 A new challenger has emerged to New York's long-running political news gatherers—an aggregator in the style of Matt Drudge's famous Drudge Report, and founded by a veteran of Massachusetts Gov. Mitt Romney's 2008 and 2012 presidential campaigns.
J.P. Miller, who handled Romney's relations with Wall Street during his two unsuccessful attempts at the White House, launched the Empire Report in May, emulating both Drudge and the similarly conceived CT Capitol Report. Despite his background in GOP politics, and subsequent work for the hedge fund Tiger Ratan Capital, he maintains his site lacks a political slant and intends only to engage readers with breaking city and state political news.
"We are non-partisan but aim to be provocative, informative and entertaining," Miller told the Observer. "New York consistently has a lot of exciting news from dozens of sources around the state. We bring the best stories together in a an informative and entertaining format."
The site has gotten plaudits from both Democrats and Republicans, ranging from Syracuse Mayor Stephanie Miner to former Gov. George Pataki. The Manhattan-based Miller went to work full-time on the site in July, in time for the heat of the presidential race, and its ramifications across New York.
He shared statistics with the Observer from the tracking site Alexa, an Amazon subsidiary that estimates online pages' popularity, which showed the Empire Report's traffic taking off in August and substantially surpassing that of older, more established sites like City & State and NY State of Politics (unlike the Empire Report, however, those sites feature original reporting along with links gathered from other outlets). The stats show a slight leveling off in December, which Miller has already moved to counteract by releasing a mobile app, available for Android and iPhone.
"2016 has turned out to be a great year to start this news site—there has been a lot to cover in our own backyard," Miller said.