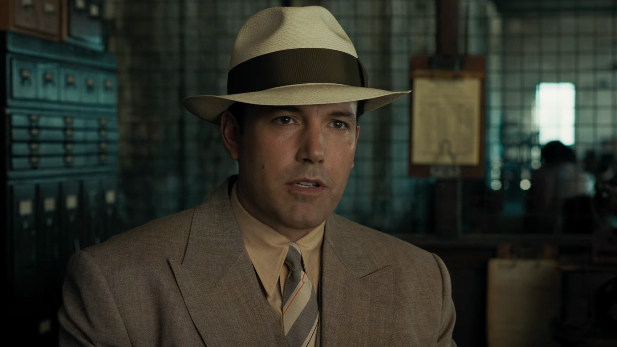 As a director, Ben Affleck has a passion for three things: great camerawork, the right actors and colorful settings that show off his hometown of Boston. Live By Night has all three. So why is this flaccid, fumbling gangster flick based on another novel by Dennis Lehane, whose twisted crime drama Gone Baby Gone marked Affleck's debut as a film director in 2007, such a dud? Frenetic and overheated, with a lot of overt violence and even more covert logic, it's an old-fashioned epic about Prohibition rum and the many people who killed each other for it in Boston, made with the kind of straight-faced seriousness that tries to convince you somebody cares. Given the explosive right-wing political fever in the air this post-election holiday season, there's a scene in which Affleck stands up to the KKK that some might consider timely. But that scene fades fast, disappearing without much forcefulness, like the rest of the movie.
---

LIVE BY NIGHT ★★
(2/4 stars)

Written and directed by: Ben Affleck
Starring: Ben Affleck, Scott Eastwood and Zoe Saldana
Running time: 129 mins.

---
It begins well enough. Returning home to Boston from fighting the Huns in France, war veteran Joe Coughlin (Affleck) is so disillusioned that he vows never to follow orders again, so he becomes an outlaw. The movie follows him through the 10 years before he finally gets caught—a decade of crime and reckless mayhem in which a different kind of war is played out, tit for tat, by the Italians vs. the Irish. At first, Joe refuses to get involved with the gangs on either side, preferring to rob banks without guns, but that changes when he falls dangerously in love with a gun moll named Emma (Sienna Miller) who is the mistress of the Irish mob boss Albert White (a convincingly lethal Robert Glenister). After a bank job goes awry and Joe finds himself mysteriously betrayed and sent to prison, believing Emma has been murdered, he joins the Italian mafia run by Maso Pescatore (Remo Girone), to the horror of his Dad, Boston police deputy superintendent Thomas Coughlin (Brendan Gleeson). Torn between the law and his love for a son going down the tubes, the honest cop tries to dispense advice, but Joe is determined to avenge his girlfriend's death and get even with White, who has been dispatched to Miami to run Florida's rum-smuggling racket. From here, the movie takes off in so many directions and introduces so many tertiary characters that figuring out who's who and what's going on is like a enrolling in a graduate course at the Massachusetts Institute of Technology without a high school diploma.
Taking on the liquor-import criminals with his loyal sidekick (Chris Messina) while struggling to open a casino, marrying a black Cuban with a wardrobe of X-rated gowns (Zoe Saldana) who turns him into a target for white supremacists run by a leering, slobbering Ku Klux Klan monster who is the brother-in-law of the local sheriff, Irving Figgis (Chris Cooper), a sadist whose daughter Loretta (Elle Fanning) comes home from a failed movie career in Hollywood and gets whipped and tortured into becoming an evangelist covered with cigarette burns…but why go on, even though this endless farrago of contrived shoot-outs and over-plotted political agendas threatens to go on forever, unveiling contrived characters who are never explained and numbing plots that are never resolved. The navy-blue cinematography of Boston is well lit, the Florida atmosphere looks like a commercial for Dade County orange juice, the actors all look like they are awaiting directions from Affleck by cell phone. Live By Night boils over with ambience and charged with details, from Roaring 20s flapper costumes to shootouts in period cars, but too many aborted narratives in Affleck's lifeless screenplay intertwine, fanning the confusion, while other subplots are abandoned altogether. (The eventual return of the notorious Emma, for example, seems like an afterthought, and the final fade is a clichéd cop-out.) Wasted actors fumble for something to balance an infinite amount of incredible pitiless violence, but there is not enough tension or pathos in the dialogue to make their presence worth the effort.