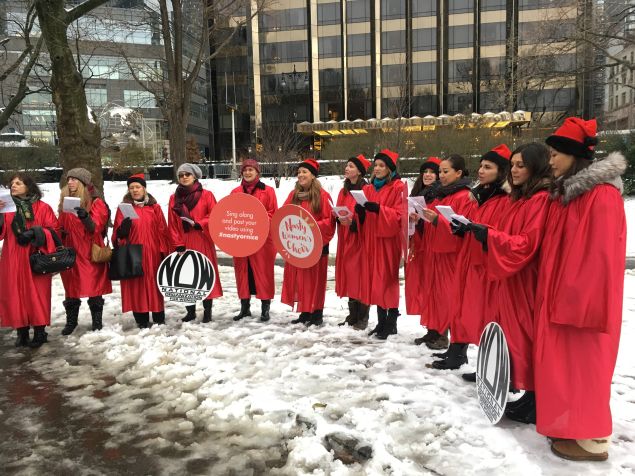 A self-proclaimed 'Nasty Women's Choir' gathered by a national feminist activist group traveled to Trump International Hotel to spread "nastiness" to President-elect Donald Trump through a series of revised holiday songs attacking the president-elect's anti-reproductive rights stances.
The #NastyorNice contraception campaign—a reference to Trump's characterization of Democratic nominee Hillary Clinton as "such a nasty woman" during a presidential debate—was organized by the National Organization for Women. Roughly 13 a capella singers sang popular songs revised to criticize Trump and promote women's reproductive choices and their right to determine their own healthcare decisions. The organization handed out a "Nasty Women's Choir Songbook" consisting of the songs.
The campaign—which drew 150 to 200 people who appeared along the way—was inspired by the rise in searches for intrauterine devices following the election. According to Google Trends, Google searches for IUDs spiked exponentially in the hours after President-elect Trump was declared the winner, the group said.
"We are here spreading, spreading our nastiness because this guy and those people do not know what we are made of because this is what democracy looks like," May Nazarene, development manager for NOW-NYC, told the crowd, pointing to Trump International Hotel.
The campaign comes just two days before the Electoral College is scheduled to cast its vote for the presidential election, with advocates and elected officials across the political aisle calling for that vote to be delayed in light of President Barack Obama, the Federal Bureau of Investigation, the Central Intelligence Agency and politicians from both the Democratic and the Republican parties confirming Russian interference in the election.
The songbook that included songs such as "Donald Trump is Coming to Town," "Hark! The Nasty Women Sing," "Hark! The Herald Angels Sing," "Little Trumper Boy" and "Have Yourself a Nasty Little Christmas." In the songs, Trump was characterized as the "first orange president" and "a threat to women's rights" and stated that his presidency appeals to "Republican friends with conservative views—misogynists, whites, supremacists too."
"He's making a list and checking it twice, gonna find out who's nasty and nice," the group sang in Donald Trump is Coming to Town, garnering laughter and applause from the audience. "Donald Trump is coming to town. He sees you when you're screwing, he knows which boobs are fake. He knows if you are straight or bi, don't be gay for (Vice President-elect Mike) Pence's sake!"
In October, the Washington Post published obscenity-filled footage dating back to 2005 in which Trump bragged to then Access Hollywood host Billy Bush about women letting him kiss them and "grab them by the pussy" without their consent. Women's reproductive rights advocates have also blasted Trump's pro-life position, which he adopted somewhat recently. And Pence, governor of Indiana, once signed legislation that bans abortion in cases where women seek to have one after discovering the fetus has a disability.
Alyssa Cannizzaro, NOW-NYC's executive assistant, said the organization searched for singers to participate and rally around the cause.
"They're volunteers here for the day," Cannizzaro told the Observer. "So we've all been talking, getting to know each other. We put out calls for a capella group singers in New York saying, 'If you wanna sing and stand up for reproductive rights while doing it and be part of a good cause, then come join us.'"
Nazarene said the organization employed a different form of activism: taking advantage of the holiday spirit to encourage people to get in the spirit of raising their voices in a way that's smart, educational and funny—she said that as a result, people said, "Hey, wait a minute, stop. Let me just listen to that again."
"At the same time, it's talking about two messages—one, take your control of your reproductive health and two at the same time recognizing that this, the incoming administration is against everything of that nature," Nazarene said, "that this administration does not want women to have choice, does not want women to have access to contraceptives and basically wants to control and have a say in their bodies."
And though Trump Tower is typically the location of choice for protesters seeking to rally against the president-elect so that the message hits close to home, Nazarene said that the sites the group chose give people the most access and more inviting.
"(There's) people with guns there, that's not what we're about, you know, that's not a safe place to listen to this and have a laugh and also be really thoughtful," she continued, likely referring to the heavy cop presence around the building.
Linda Greenberg, one of the singers, said that the incoming Trump presidency reminds her and many other people of 1936 Germany, calling him "completely, so dangerous." She said the holiday campaign was a way to make people laugh compared to Trump, who she said "has no sense of humor about himself."
"He's a demagogue, I mean, he doesn't believe in anything. About two years ago, he believed in abortion," Greenberg said. "From one moment to the next, he changes his views. He even said once—and it's on tape—he always gives money to everyone because then when he needs a favor, he knows they'll do something for him."
Disclosure: Donald Trump is the father-in-law of Jared Kushner, the publisher of Observer Media.