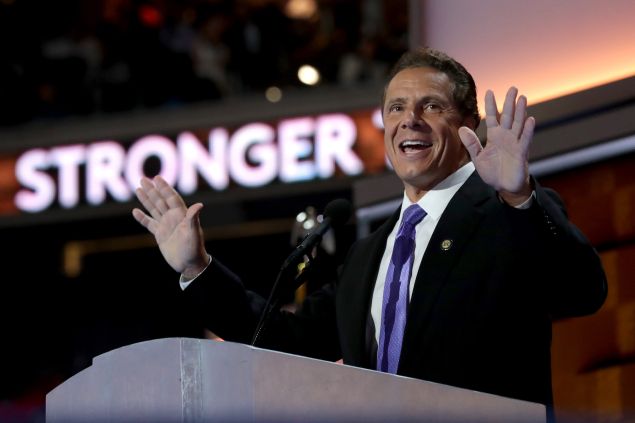 A Washington, D.C.-based group dedicated to producing Democratic-run state capitals has become the latest advocate to lean on Gov. Andrew Cuomo to help his party take control of the fractured, fractious State Senate—and to thus make New York only the seventh state in the nation with a solid-blue government.
A recount in Long Island last week appears to have granted registered Democrats the narrowest of majorities—32 seats—in the upper chamber of the State Legislature. But Brooklyn State Senator Simcha Felder, a nominal Democrat, has pledged to sit with the Republicans for the fourth year in a row, and the seven-member Independent Democratic Conference has indicated it hopes to renew the power-sharing arrangement with the GOP that it has enjoyed in some form since 2012.
The Democratic Legislative Campaign Committee today joined the chorus of liberal groups urging Cuomo, who leads the state Democratic Party, to use his considerable institutional and political clout to unify the splintered caucuses.
"New Yorkers elected a Democratic majority to represent them in both chambers of the legislature, and Gov. Cuomo has an obligation to stand up and ensure that the will of the voters is respected in the New York Senate," said Jessica Post, the group's executive director, wrote in an email release this morning.
Post alluded to Cuomo's post-Election Day promises to shield vulnerable populations from the policies of President-elect Donald Trump, and the swelling rumors that he will seek the White House himself in 2020.
"As a national Democratic leader, he needs to firmly establish the Democratic governing trifecta voters clearly wanted when they cast their ballots in November," Post said. "New York is in a position to be a leader in the fight against Trump's dangerous and regressive agenda, and I hope Governor Cuomo capitalizes on this opportunity to establish his state as a firewall against Trump's extremist policies."
The governor has long enjoyed a warm relationship with Bronx State Senator Jeffrey Klein, the leader of the IDC. In June 2014, he brokered a short-lived deal between Klein's caucus and the mainline Democrats to collaborate in the 2015 session should they have enough seats to form a majority.
But Republicans rode that year's red wave into power, unseating Democrats across the state.
The governor has also cultivated tight ties with the State Senate GOP, particularly the moderate faction from Long Island. In his first term, they allowed him to pass gun control legislation and gay marriage legalization, and supported his larger business-friendly agenda.
In return, Cuomo refused to campaign or raise money for State Senate Democrats.
But after his re-election two years ago, the governor has tilted left in an effort to build his national profile. Anticipating downballot gains from Hillary Clinton's campaign this year, he raised money for his own party's delegation in the State Legislature for the first time.
Those gains largely failed to materialize, and the governor indicated yesterday he had done enough.
"I worked very hard to elect Democrats and that was my role and I believe many of the things that I wanted to get done," he told reporters at an unrelated event in Albany. "Obviously that was not a successful effort, electing democrats to control the Senate, allowing for the situation as it existed. But the situation in that caucus—you have personal rifts, you have personal agendas, I mean that has gone back for years and that they're going to have to work through, if it's going to be worked through. So that, I will leave to them and it's not my place to get involved in that and I have no desire to."
Disclosure: Donald Trump is the father-in-law of Jared Kushner, the publisher of Observer Media.