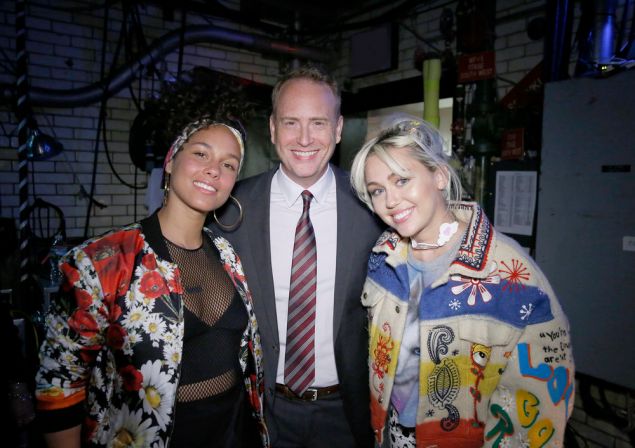 Nobody wants to work for a loser.
This is exactly what Robert Greenblatt was thinking when he was offered the top job at NBC in 2011. NBC was in last place among the broadcast networks, and often finished even behind the Spanish-language net, Univision.
"The opportunity came to me and I thought it would be a challenge," said Greenblatt, now Chairman of NBC Entertainment, as he addressed a roomful of media insiders at the Paley Center in Los Angeles. "After Friends and ER went off the air in 2004, the net went to [last place] for ten years. Everyone said, 'There's cable and all kinds of new media and broadcast TV is a dying form. You'll never be able to turn that network around."
Prior to taking the position at NBC, Greenblatt had successful stints at FOX and Showtime.
He admits that navigating a reversal of fortune at NBC wasn't easy. "The first two years were really difficult. We just rolled up our sleeves and tried to come up with things that would get people's attention and break out of the clutter of the millions of networks that there are now."
To do this, Greenblatt and his team decided to take some chances. "The cupboards were really bare at the time. NBC was not the place that was anyone's first or second stop [with new material] so we really had to work to get new ideas in the building."
One of those concepts was a singing competition show, one that would help propel the network forward quickly. "The Voice was a Dutch property that was optioned before I got there," explained Greenblatt. "American Idol was at the top of the game at the time. I thought, 'Are we just going to be the second placed Idol?' But, we thought we should go for it, get the right coaches and develop the format in the right way."
Greenblatt says that he felt NBC had nothing to lose by launching The Voice.
"The great thing about taking those kinds of risks is that you can go, 'ok it didn't work, let's move on if it fails.'
But, The Voice didn't fail. In fact, it became a big hit and a programming cornerstone for the network. "It premiered – it wasn't Idol ratings but it did well — and it became the engine for the next three years to push the network as the lead-in to other shows. It buoyed us up [and allowed us] to get other stuff going. If not for The Voice I'm not sure we would have turned it around so quickly. That was a big risk that paid off."
NBC's next big event is Hairspray Live! set to air Wednesday, December 7th.
Broadcasting live musicals on the net was solely Greenblatt's idea, one that was not exactly embraced by his colleagues, he himself admits. "I think for a while it was known as 'Greenblatt's Folly' around the building. Until the day after it aired and 18.5 million people watched it. I grew up in theater and I just thought, 'this is an idea that excites me and I hope it excites other people.' I selfishly kind of did it because I wanted to do it. It was kind of whim."
Greenblatt explained that the idea came to him in a rather simplistic manner, but blossomed quickly. "I was on the way to the office one morning and I was listening to the Sirius XM Broadway channel and I heard Hugh Jackman singing Oh What a Beautiful Morning from Oklahoma! Then I called [producers] Craig [Zadan] and Neil [Meron], who are old friends of mine. I said, 'What if we went to Jackman and said, 'You can do Oklahoma! on TV?' They said to me, 'That's a good idea, but we have another, let's do The Sound of Music' and do it live."
Only after he agreed to produce the live musical did Greenblatt realize that he wasn't really sure exactly how to go about it.
"I didn't really know what I was saying at the time. I think what I was really saying was, 'Let's figure out how to do it.' The Sound of Music was really like our R&D because it's a massive undertaking. We didn't know if anyone would want to do it with us, much less live. We talked to some movie stars and no one would go near it [because it was] live. We were fortunate to get Carrie Underwood and she was fearless to do it. I would have been thrilled to get eight or nine million viewers and would have justified that as a success."
The Sound of Music didn't get the eight or nine million viewers Greenblatt had hoped for. It drew 22 million, a number essentially unheard of now that there are nearly 200 television networks and splintered viewing across those properties.
That success has made it easier to attract talent, says Greenblatt, evidenced by the all-star cast that will take part in Hairpsray Live!; Jennifer Hudson, Arianna Grande, Harvey Fierstein, Kristin Chenoweth, Dove Cameron, Derek Hough and Martin Short will star, with special appearances by Billy Eichner, Sean Hayes, Andrea Martin and Rosie O'Donnell.
Continuing this trend, NBC has announced that their next musical endeavor, in 2018, will be Bye Bye Birdie starring Jennifer Lopez. "She came to us and said, 'I love this show,'" said Greenblatt.
Even with these successes, staying at the top is an ongoing challenge, admits Greenblatt. "You want everybody — young and old, men and women. The very definition is that you're a 'broad' caster. It's hard to define what you do. In cable it's much easier – you can have your own identity."
Greenblatt says that The Voice gave the network a 'positive' identity and that now this informs much of their programming.
He points to the recent success of newcomer This is Us as an example. "It's one of those unabashedly humane shows and it really works for us and who we are. It's also a matter of timing. It's an antidote to the time we live in."
In an interesting twist, Greenblatt compares This is Us to another surprise hit series, one from the past.
"On some level, this is like The X-Files in the '90s. That show hit during a time when conspiracy and supernatural theory was big. You hope every now and then that timing works for you because that's a big element. You can't predict it, force it or buy it; you have to hope that it just happens. When it does you get a hit and it lifts everything up. That's what we work for."
Hairspray Live! airs Wednesday, December 7th at 8/7c on NBC.