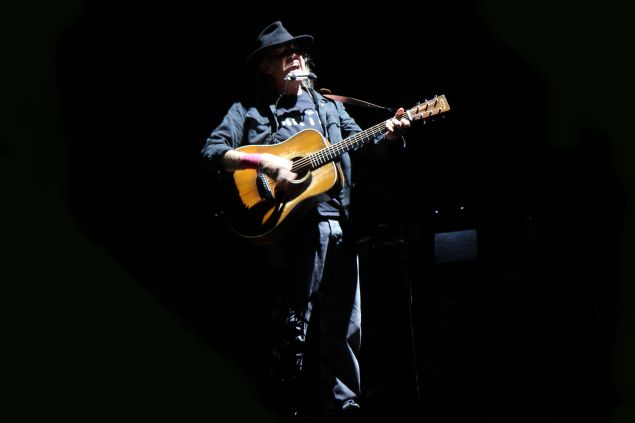 Neil Young just turned 71, and still doesn't give a shit what you think of him.
The unwavering master of his own narrative has always been equal parts impulsive and prolific, as his recent string of seven albums in the last five years shows, and that drives critics mad. At odds with his rich history and illustrious career are the decisions that could have only come from Young's mind—his oft-maligned 1982 vocoder album, Trans, in particular—and these are the projects that most have the hardest time warming up to. But if George Clooney once said, "I make one for them and one for me" when explaining his career choices, Young is decidedly less interested in compromise. He makes all of them for himself.
That's important to remember, especially in this recent trilogy of albums that started with 2015's anti-GMO screed The Monsanto Years, included a live record of that tour overdubbed with autotune and animal noises called Earth, and culminates with his 40th album, Peace Trail, out today.
All records categorically seek to resurrect the hippie dream, as Young plays reporter and muckraker to the problems unfolding around us. At a Monsanto Years show in Bethel, N.Y., one of the stars of the canceled Orange County Choppers TV show got up to get more booze when the songs against Starbucks and big box retailers began.
"I still have to Google 'self-righteous' because I've got to figure out what it means, to see if it's a good thing," Young told the Los Angeles Times about Peace Trail. "Somebody said that about the record, and maybe it's true, because that's the way I feel. Could that be a bad thing? I can't figure it out. But I'm O.K. with it either way."
"Peace Trail" is thrilling for its raw, unordained, hasty existence.
Had the Orange County Choppers dude listened closely that night, though, he would have heard a man reckoning with issues of agribusiness because they feel personal to him.
"People Want to Hear About Love", for example, questions the very nature of why "protest music" infuriates us so, decrying the "pipeline politicians" and citing scientific studies that pesticides may be responsible for causing autism in children. Considering Young's son, Ben has Cerebral Palsy, the lyrics come from a father concerned at the unnatural chemicals exposed to our kids. Repurposing his Crazy Horse number "Mother Earth" into a pump organ dirge, he stated as much—"Respect Mother Earth and her healing ways/ Or trade away our children's days."
But Young goes even further into self-reflection on Peace Trail, a collection of songs about the Dakota Access Pipeline protests on the Standing Rock Sioux reservation that find this archetypal loner reckoning with unity. Peace Trail is thrilling for its raw, unordained, hasty existence—recorded in seven days at Rick Rubin's Shangri La Studios, it's a mostly acoustic affair that resurrects the essence of protest music. And considering that the U.S. Army Corps of Engineers said they would not approve the current DAPL route through Standing Rock, it exists to document the power, and triumph, of organizing.
[youtube https://www.youtube.com/watch?v=CM-NkM-dIDA]
Not so fast, says Young, who penned an open letter to President Obama following the news that the DAPL would be re-routed. "The question now is whether President Obama will send in law enforcement or the military to halt DAPL from drilling without a permit," he wrote, supplementing a powerful post-Thangsgiving piece about Standing Rock he co-authored with his girlfriend, Daryl Hannah. "Otherwise, today's announcement will have no enforcement. It will be seen as another US and corporate ploy to send home water protectors, and thousands of veterans, now at Standing Rock Camp, where more than 10,000 are camped."
"There's a battle ragin' on the sacred land," he sings on "Indian Givers. "Our brothers and sisters had to take a stand/Against us now for what we've all been doin'/On the sacred land there's a battle brewin'."
Young's not just showing up for the photo-op, either. He spent his 71st birthday at Standing Rock with Hannah and his guitar, singing for water protectors at base camp. "Up in the rainbow teepee sky, no one's looking down on you or I, it's just a mirror in your eye," he sings on Peace Trail's opening title track. By the end of the tune, the trail is internalized—"I think I'll hit the peace trail, I know that treasure takes its time/I have to take good care, when something new is growin'."
Personal responsibility and responsibility for the world we're leaving our kids are inexorably linked in Young's mind, and by going inward, Peace Trail effectively captures a more revelatory look at Young than we've had in years, maybe since "Ramada Inn" off of the last Crazy Horse album, Psychedelic Pill.
[youtube https://www.youtube.com/watch?v=bp9w_1dLsfA]
"This record has a good feeling," he said in that L.A. Times interview. "When something may be worn out, thank God or the Great Spirit or whoever for something new that is coming. That's the greatest news you could ever have. Maybe it's a baby, maybe it's a movement, maybe it's a way of thinking, maybe it's evolution. Who knows? But it's a big deal, and it's not a bad feeling."
The good feelings extend into prayers for women, too, on "Show Me"—"When the women of the world are free to stand up for themselves/And the promises made stop gatherin' dust on the shelves/Show me."
It's not hard to hear Young reckoning with the finality of his divorce, as those feelings likely came to the fore when Hannah took him to Standing Rock and educated him on what was going on. Young doesn't try to clean up the broken pieces of glass that symbolize his broken marriage on "Glass Accident", but leaves a note that they're there so no one else steps on them and hurts themselves. "Danger on a scary skull and crossbones/ A piece of paper on the floor /Covered broken pieces of a love dream lingering there/ That could do some damage for evermore," he sings.
In a funny nod to Trans' synthetic sounds, autotune harmonies invade the otherwise earnest "My Pledge", a largely spoken-word number wherein Young remembers his relatives coming over on the Mayflower and the plane crash that killed Buddy Holly, Richie Valens and The Big Bopper, all while Hendrix plays on his t.v. If this is a record about making peace, Young's making peace with technology, too, which comes to a climax as he plays with a new digital assistant he got on Amazon on closer "My New Robot."
"Like water on the garden of activism, America's surprise president brings a bounty of opportunity."—Neil Young
Young's long hated the poor bitrate and audio quality of digital music, which led him to delay re-releasing his masterpiece On The Beach for years, champion the SACD technology in its day, and create a portable lossless audio player, Pono. Last year he also had all of his music pulled off Spotify, again protesting the poor audio quality of the service. But early lat month, his whole catalog reappeared on the streaming service. Young seems to have made peace with that, too.
"You know those one-hit wonders, cherished because their thrown-together cacophonies somehow conjure a moment in time?" writes Jimmy McDonough in his thorough Young biography, Shakey. "Nearly all of Neil's work contains that spark."
True to these words, Peace Trail is of our time—messy, thrown-together and confused. But it's also looking forward to the future. "Like water on the garden of activism, America's surprise president brings a bounty of opportunity," wrote Young and Hannah after Thanksgiving. "The great issues of our time are now brightly illuminated and people are becoming more aware of them than ever, from sea to shining sea, from Standing Rock to Wall Street.
[protected-iframe id="58170c516fb7c1c662221e436c3669d7-35584880-59143305″ info="https://www.facebook.com/plugins/video.php?href=https%3A%2F%2Fwww.facebook.com%2FNeilYoung%2Fvideos%2F10157769848485317%2F&show_text=0&width=560″ width="560″ height="315″ frameborder="0″ style="border: none; overflow: hidden;" scrolling="no"]
"Do not be intimidated by the surprise presidents' cabinet appointees as they descend the golden escalator. Those who behave in racist ways are not your leaders. The golden tower is not yours. The White House is your house.
"Your growing activism in support of freedom over repression, addressing climate change, swiftly replacing a destructive old industries with safe, regenerative energy, encouraging wholistic (sp) thinking in balance with the future of our planet; that activism will strengthen and shed continued light on us all. These worthy goals must be met for the all the worlds children and theirs after them."
For all its blemishes of rushed production and unfocused themes, Peace Trail's triumph rests with Young's ability to make the outwardly directed energy of protest inward. By protesting himself, he challenges himself to become a better man, "planting seeds until something new is growing." It's the same, old adage that change starts from within, and we should all be so lucky to experience such an awakening at 71.
Young discovered a long time ago that by largely avoiding the press and giving very few interviews, he increased the levels of loner mystique that have become so tied into his mythos. And maybe that's what confounds critics so much about these recent releases—with all their soap box directness, that air of speculation largely evaporates. But Young has given fans a gift much greater than some elusive misanthrope's breadcrumb trail to follow—he's walking alongside us.